If you believe that single-family homes are likely to appreciate in value over the next several years, American Homes 4 Rent (NYSE:AMH), organized as a REIT, is a company worth keeping an eye on. AMH is less than one year old, having concluded its initial public offering last August, but its common stock has risen over 10 percent since then.
AMH offers investors three preferred stocks - AMH-A, AMH-B and AMH-C - all with cumulative dividends and introduced shortly after the company's August initial public offering.
The REIT structure was created during the Eisenhower administration in 1960 with the signing of the unlikely named Cigar Excise Tax Extension of 1960. The primary objective of the REIT structure is to provide individual investors with a way to participate in the long-term appreciation of U.S. real estate, without having to actually own any. By purchasing equity shares of a REIT (common stock or preferred stock), individual investors who are unable to afford a home of their own, or a shopping center for that matter, can still benefit from the appreciation typical of real property.
Wildly successful, the REIT model has now been adopted all over the world. Ironically, though, while the REIT model has been applied to just about every type of commercial properly - shopping centers, hotels, apartments, office buildings and the like - individual investors have been less able to take advantage of the REIT structure as applied to single-family homes.
Sources: Common stock data, SeekingAlpha.com; Preferred stock data, PreferredStockInvesting.com
Description and History
American Homes 4 Rent, originally formed in 2012 as a private company, now has a market capitalization of $3.27 billion and owns more than 26,000 single-family homes in 41 markets located in 22 states (ending April 2014).
But it is the company's founders and executive management team that has attracted investors. All of these key individuals spun off from Public Storage, the country's highest rated REIT, including Public Storage founder Wayne Hughes (see "Hughes's American Homes 4 Rent Seeks $794 Million in IPO", July 19, 2013, Bloomberg.com)
The company, with only a handful of competitors, was born out of the real estate crisis and has been able to snap up distressed properties at bargain prices. But their edge goes well beyond highly capable management and the homes in the company's portfolio; it is AMH's business model, and the implementation of a nationwide infrastructure that allows them to execute that model, that is most responsible for their success.
As CEO David Singelyn put it during the company's Q1 2014 earnings call with analysts
With a professional operating platform we are able to bring structure and consistent performance to an industry historically dominated by small mom and pop landlords.
The company uses very specific criteria to select the homes they buy.
We have concentrated our acquisitions in newer built homes within middle to upper middle class neighborhoods…We purchased our properties at prices below replacement cost and continue to see a steady flow of opportunities in our target markets.
And properties need to be located in high quality neighborhoods with highly-rated schools.
There are also strict underwriting criteria for tenants, fueling the belief that higher quality tenants pay on time, stay longer and limit capital expenditures. The average annual income of AMH's tenants, with 2.0 adults per property and 1.2 children, is $85,000.
This business model, combined with its high tech, nationwide infrastructure, allows the company to enjoy 81 percent occupancy of its properties, 95.1 percent once you subtract out recent purchases that are still being readied for tenants.
For the two full quarters since their August 2013 IPO, AMH has put up impressive numbers, including a 14 percent increase in Funds From Operations during the first quarter of this year.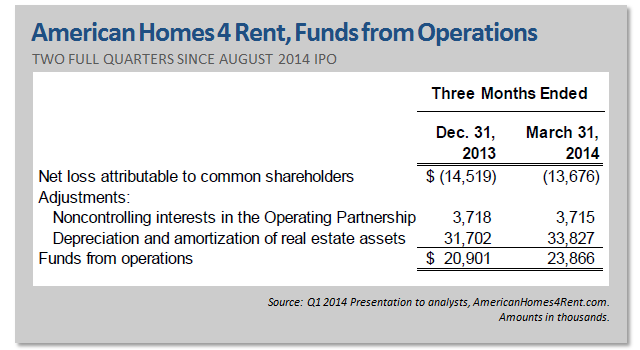 For property REITS, FFO is more meaningful than net income since net income includes a deduction for property depreciation, greatly distorting the company's actual performance.
While their business model makes a lot of sense and they definitely have the right management team and infrastructure in place, the ultimate success of this company depends heavily, if not entirely, on two factors: (1) that single-family home values in their markets will appreciate and (2) that the current increased preference of families to rent, rather than buy, will continue.
Sources: Q1 2014 Presentation to analysts, AmericanHomes4Rent.com; earnings call transcript, SeekingAlpha.com.
AMH's Preferred Stock
We are in a 7 percent market for the highest quality preferred stocks trading on U.S. stock exchanges (investment grade, cumulative dividends, etc.). Knowing that, why would a preferred stock buyer pay the $25 par value of an unrated preferred stock with a 5 percent dividend issued by a company that has been in business for less than one year?
While owning more than 26,000 single-family homes is impressive, it's not cash. To monetize the value of these homes, AMH has issued preferred stock and notes. The three preferreds stocks - AMH-A, AMH-B and AMH-C - raised about $375 million, offer cumulative dividends but are unrated so your own due diligence is required here.

The notes were issued on May 13, 2014 against 3,852 homes, raising $481 million. Moody's has assigned investment grade ratings to the note's four tranches - Aaa, Aa2, A3 and Baa2 (see "Moody's assigns definitive ratings to American Homes 4 Rent 2014-SFR1", May 21, 2014, Moodys.com).
While performing your due diligence, many preferred stock investors will be understandably turned off by the complexity of AMH's three preferred stocks. No doubt about it, these are among the most complex preferred stock terms that I have ever read.
But if you believe that home values are likely to go up over the next several years, it may be worth your while to understand the unique terms of these securities.
While paying a below-market dividend now, if the values of the homes in AMH's markets appreciate in the years ahead, those holding shares of the company's preferreds get a piece of that action. For each of AMH's preferreds there is a special provision that adds a Home Price Appreciation Factor ("HPA" Factor) to the $25 par value ("initial liquidation preference" amount), hence increasing your dividend income if home values rise. The HPA Amount is updated quarterly and was $0.331 per share at the end of December, 2013 (so $25.331 was used to calculate dividends rather than $25.00). The enhanced par value is also due to shareholders in the event the preferred shares are redeemed downstream.
It sounds great, and it just might be, but there are a variety of important cut-off dates, limitations and conditions that you should take a look at in the prospectuses (links provided below). For example, all three preferreds have a four year call period from IPO, at which time the company regains its right to redeem the shares or convert the preferred shares to its common stock. And your return is capped, just in case home values skyrocket.
Be sure to use the below prospectus links to review the details of these provisions more specifically. For those confident of increasing future home values, these securities, while time consuming to evaluate, may be worth a look.
Sources: SEC prospectus for AMH-A, AMH-B, AMH-C; HPA Factor, AmericanHomes4Rent.com.
What's Next?
AMH's preferred stock structure allows the company to monetize the value of its real estate holdings, converting the asset's value into cash while passing a good deal of the risk and benefit associated with investing in single-family homes to investors.
The company has gone a long way to structure these preferreds in a way that allows preferred stock investors to share in a recovery of the value of single-family homes throughout the United States, while limiting their own exposure in the event that no such recovery materializes or materializes in an unsustainable way.
Disclosure: I have no positions in any stocks mentioned, and no plans to initiate any positions within the next 72 hours. I wrote this article myself, and it expresses my own opinions. I am not receiving compensation for it (other than from Seeking Alpha). I have no business relationship with any company whose stock is mentioned in this article.
Additional disclosure: The CDx3 Notification Service is my preferred stock email alert and research newsletter service and includes the database of all preferred stocks used for this article. Securities identified within this article are for illustration purposes only and are not to be taken as recommendations.