One of the world`s largest solar companies, Canadian Solar (NASDAQ:CSIQ), has increased its second quarter profits by 113.3% from the prior quarter, posting net income of $3.2 million, or $0.07 per diluted share, for the three months ending June 30 2010, versus profits of $1.5 million, or $0.03 per diluted share in the first quarter of this year, as demand and pricing in the solar industry continue to be strong.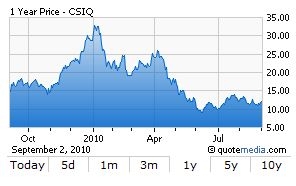 Net revenues decreased slightly from the last quarter to $328.7 million, compared to $336.9 million, but went up by 187.8% on the prior-year quarter from net revenues of $114.2 million. Gross margin was 13.6% for the second quarter, versus 12.4% in Q1 2010, due to a boost in internal capacity.
Above the company`s prior guidance, Q2 2010 saw shipments of 181.2 MW, compared to shipments of 185.0 MW for the first quarter of the year and shipments of 48.2 MW for the second quarter of 2009.
The company's sales came from the key solar industry markets worldwide, with Europe continuing to be the its largest contributing geographic market, it said, with 86.4% of revenues descending from the region in the second quarter of 2010.
"Demand and pricing continued to be strong for the quarter, a situation we expect to continue throughout 2010. We reduced our purchase of third party solar cells in order to improve our gross margin, a practice we will continue in Q3 and Q4. The rapid expansion of our internal capacity made this strategy possible. We manufactured 110 MW of cells internally in Q2 and purchased the balance," said chairman and CEO Dr. Shawn Qu.
The company expects to increase its internal quarterly cell output to 127 MW in the third quarter and 180 MW in the fourth quarter.
Since March, Canadian Solar has been shipping several new products, including enhanced selective emitter modules and its New Edge modules.
"Our enhanced selective emitter cells significantly increase the unit power output of our solar modules, while the New Edge modules permit rapid and inexpensive rooftop installation of solar systems," said Qu.
Indeed, its cell conversion efficiencies using its proprietary enhanced selective emitter technology have exceeded 18%.
The company has said that it expects these products to help it gain market share and give it better pricing power going forward.
Based on its current order book and customers` forecasts, Canadian Solar anticipates shipments of approximately 190 MW to 200 MW in the third quarter, with a gross margin of around 14.5% to 15.5%.
For the full year, the company has re-iterated its shipments guidance of approximately 700 MW to 800 MW.
"We are on track to expand our annual internal cell manufacturing capacity to 800 MW by the end of 3Q10. We expect to complete our third cell building by early 2011, and ramp up our total internal cell production capacity to 1.3 GW, of which 620 MW will be higher conversion efficiency cell capacity," the company said in a statement.
Canadian Solar hopes its solar system business will start generating meaningful income in the fourth quarter, and will continue to grow in 2011, concluded Qu.
As a vertically integrated provider of ingot, wafer, solar cell, solar module and other solar applications, Canadian Solar designs, manufactures and delivers solar products and solar system solutions for on-grid and off-grid use to customers worldwide. It has operations in North America, Europe and Asia.
Disclosure: No position