The latest numbers on the forward curve for copper show something interesting. Copper went from contango steeply into backwardation again in just a month (see chart below, created by Correlation Economics). This indicates price strength in copper.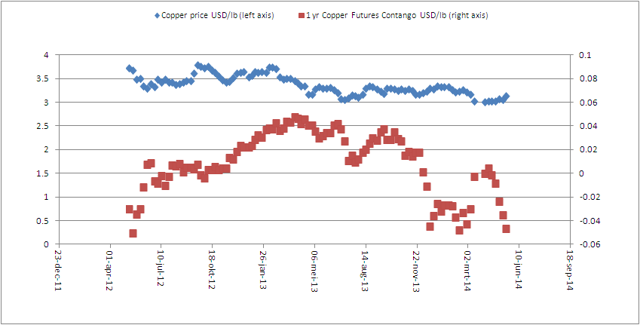 Click to enlarge
And consistent with our correlation between copper backwardation and LME stock levels, the LME stock level went down as well, hitting multi-year lows. We are hitting below the 200,000 tonne level, never seen since 2008 (See chart below from Kitco).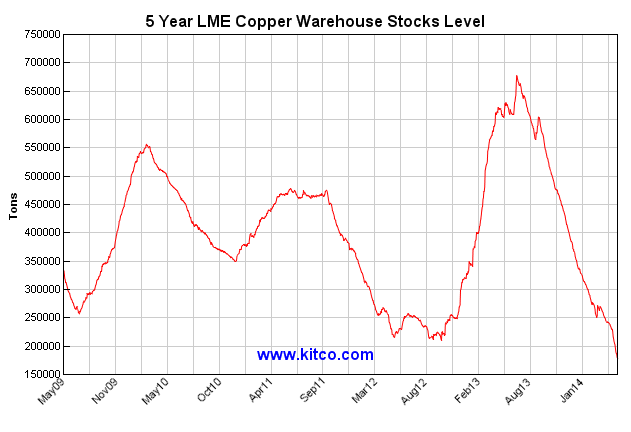 This indicates to me that there is a tight supply of copper. We may have a surplus in copper concentrate, but what is off the radar is the deficit in global refined copper. That deficit stands at approximately 600,000 tonne this year. If this trend of backwardation widens in the coming months when LME stock levels hit critical low levels, copper could rise some more in price.
It's possible that the concerns around China's growth weren't such a problem after all. The yuan has now returned to a stable condition against the USD (see chart below from Yahoo Finance). The stable USD/CNY exchange rate also points to a diminished risk of a collapse in the copper financing deals.
Furthermore, China has now scaled back its copper exports and the latest numbers on copper imports in April were positive. China's copper imports rose 52.1% year-on-year in April. With this news, I think I am turning bullish on copper again.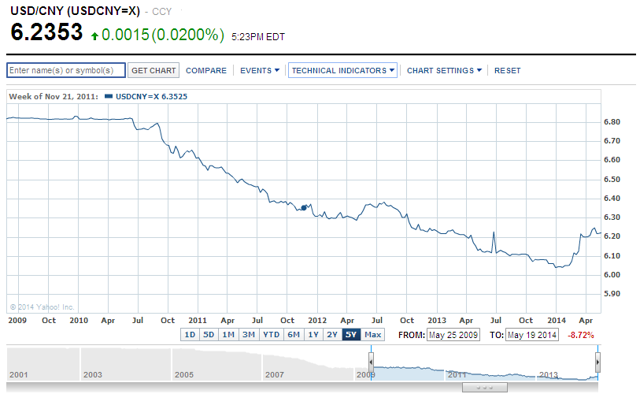 Click to enlarge
On the other hand though, China's GDP growth is still weakening. When we take into account the latest April 2014 power consumption numbers, we don't see significant strength in the Chinese economy yet. But at least it isn't falling off a cliff (See chart below created by Correlation Economics).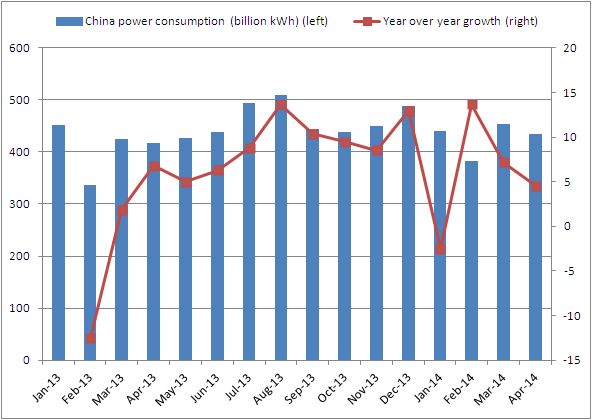 Overall I'm bullish on copper when looking at the forward curve. And even though China's growth is slowing down, I believe the longer term outlook is still bullish.
Investors could speculate on higher copper prices using these vehicles: Copper producers such as Freeport-McMoRan (NYSE:FCX) as well as copper ETFs/ETNs like iPath Pure Beta Copper ETN (NYSEARCA:CUPM), United States Copper Index Fund (NYSEARCA:CPER), First Trust ISE Global Copper Index Fund (NASDAQ:CU) and Global X Copper Miners ETF (NYSEARCA:COPX).
Disclosure: I have no positions in any stocks mentioned, and no plans to initiate any positions within the next 72 hours. I wrote this article myself, and it expresses my own opinions. I am not receiving compensation for it (other than from Seeking Alpha). I have no business relationship with any company whose stock is mentioned in this article.