Fiat SpA (FIATY) is an Italian car manufacturer that assumed full control of Chrysler at the beginning of the year. Following the full merger between Fiat and Chrysler, the new group Fiat Chrysler Automobiles (FCA) announced a few days ago its new strategic plan for 2014-2018, offering a very aggressive operating plan and ambitious targets.
It is targeting a huge improvement on unit sales, and also an improvement in market share, profitability, and debt reduction. Usually, when companies present ambitious targets, their stock price goes up, but in this case, Fiat's stock price has actually sold off following the unveiling of its new strategic plan. This happened because investors have serious doubts that FCA will be able to reach the targets set, and how it plans to finance its plan was unclear.

Source: Yahoo Finance
Business Plan
FCA's business plan is clearly ambitious and has very impressive targets. The key targets include annual sales growing from 4.4 million to 7 million units, revenues rising from €87 ($119) billion to €132 ($180) billion by 2018, EBIT surging almost three-fold from €3.5 ($4.8) billion in the past year to €8.7-9.8 ($12-13.4) billion, and debt decreasing from the current €10 ($13.7) billion to €500 million to €1 billion ($685 million to $1.37 billion) by 2018. Its net income is projected to be around €5 ($6.85) billion by 2018, or €4 ($5.5) per share. No capital increases and no dividends are included in the plan.
The group is betting big on a major expansion of both the Jeep and Alfa Romeo brands, which should have the highest growth rates within the group over the next few years. Jeep is expected to increase its annual unit sales from 0.7 million to 1.9 million by 2018 (CAGR of 22%), and Alfa Romeo should grow from only 0.1 million to 0.4 million in the next five years (CAGR of 40%).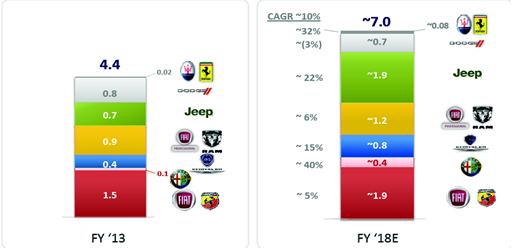 Source: FCA Investor Day
To achieve these targets, FCA is expecting industry growth across the world, will invest heavily on new models, and aims to increase its market share in key markets, such as China, the U.S., and Brazil. For instance, in China, the group wants to improve its market share from 0.6% achieved in 2013 to 2.8% by 2018. Its major market is expected to be NAFTA, representing about 50% of the group's revenues by 2018.
FCA is also targeting a major improvement on profitability. It aims to achieve an EBIT margin of around 7%, which is close to the industry's most profitable mass-market manufacturers Volkswagen (OTCPK:VLKAY) and Hyundai (OTC:HYMTF), and above its closest peers Renault (OTC:RNSDF), General Motors (NYSE:GM) or Ford (NYSE:F). This improvement should be driven by product renewal, globalization of the Jeep brand, and growth of Maserati and Alfa Romeo volumes globally. It also targets higher margins through cost reduction at its mass-market FIAT and Chrysler brands, due to sharing of technology, architectures, and components.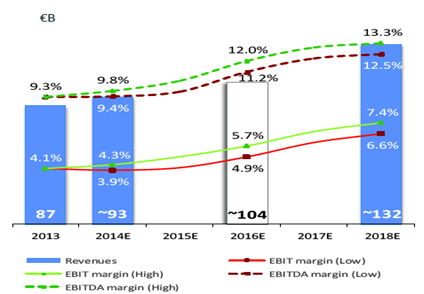 Source: FCA Investor Day
FCA's bottom line improvement is even more impressive, given that it is targeting a CAGR of 40% throughout its business plan. By 2018, FCA's net income should be close to $7 billion, which is a huge improvement from $1.23 billion achieved in 2013. A large part of this increase comes after 2016, when FCA expects to significantly reduce its indebtedness, leading to much lower interest charges. Until 2016, the group expects its interest charge to be about $2.75 billion per year, and for it to reduce thereafter due to lower net debt.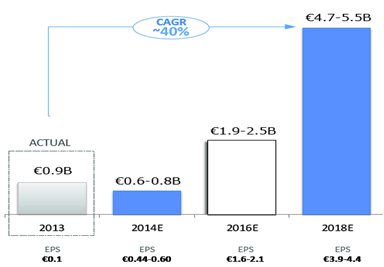 Source: FCA Investor Day
Wishful Thinking?
The automotive sector is cyclical and suffers heavily during economic downturns. In Europe, the sector is also affected by structural overcapacity and high fixed costs, leading to rapid swings from profit to losses during bad times. Like many mass-market auto manufacturers, Fiat's free cash flow generation is weak, and during economic recessions, its cash burn may put the company on the brink of bankruptcy.
In its new strategic plan, instead of addressing its overcapacity issue and eliminating factories in Italy, Fiat is relying on higher unit volumes to be sustainable. The plans to improve profitability seem primarily based on going more upmarket and using Europe as more of an export center to improve capacity utilization. This is based on the assumption that growth in the global markets will indeed be as good as FCA's bullish forecasts.
This strategy leaves very little room for error, relying too much on aggressive growth projections both at the industry and company levels. Although FCA will embark on a period of heavy investment and brand re-positioning during the next three years, the automotive sector is characterized by brand loyalty and sticky quality perceptions. The FIAT and Alfa Romeo brands currently don't have much appeal and are usually perceived as low-quality cars. Therefore, to change that image in such a short period of time will certainly be a tough task. On the other hand, Jeep has a relatively strong brand appeal and its growth over the past few years has been impressive, which gives some credibility to FCA's growth ambitions for this brand over the coming years.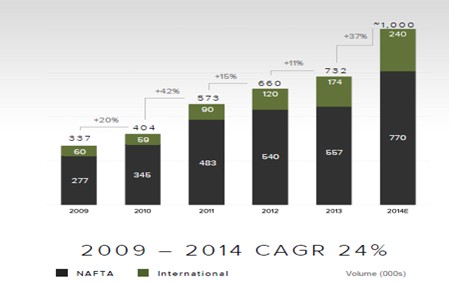 Source: FCA Investor Day
The projected increase in Jeep's worldwide sales from 732 thousand last year to 1.9 million in 2018 is the centerpiece of the ambitious five-year plan. Jeep aims to revamp the existing models and expand the brand's range.
Nevertheless, the automotive sector is very competitive and margins are thin, thus to believe in the 2017-18 profit returns, a major leap of faith is required. Execution of the business plan has to be outstanding and the global economic cycle must progress positively, providing a tailwind for FCA's unit sales and revenues. Moreover, other global carmakers like Volkswagen or Toyota (NYSE:TM) are also pushing hard to win market share, thus competition in the industry is fierce and should continue to be over the next few years. Additionally, all the competition is increasing their footprints in emerging markets, so market share gains in countries like China or Brazil may be difficult to achieve.
Another issue is Fiat's capital structure. The company has a net industrial debt, without considering debt from its financial services segment, of about €10 ($13.7) billion. The company's balance sheet has deteriorated since 2010, while most of the rest of the industry enjoys a net cash position. Although its net debt-to-EBITDA ratio is acceptable at about 1.3x, the company is free cash flow negative and should continue to be, at least until 2016. Moreover, Fiat does not have access to Chrysler's cash due to payment covenants in bonds and loans documentations. This is not expected to change over the next couple of years, so Fiat's ability to access Chrysler's cash flow through dividend payments is limited.
Moreover, Fiat ruled out any major disposal in its strategic plan, specifically saying that a divestment of Ferrari was not on the cards. Thus, it is quite hard to believe that FCA will be able to finance its investment program until 2016 without equity raising, a stable net debt, and negative free cash flow as assumed in its plan. This seems to be one of the main market's issues regarding FCA's strategy, and one reason why its stock price has sold off over the past few days. The company should not change its stance regarding a capital increase over the next few months, but more clarification may happen after the newly combined group is listed on the stock exchanges in New York and Milan, which is expected by October 1, 2014.
Valuation
Fiat is currently trading at relatively low valuation multiples compared to its closest peers, except for earnings and dividends. Currently, Fiat is trading at 12.5x its 2014 estimated earnings, at a premium to its peers. However, its 2014 EPS does not represent its earnings power forecasted going forward, as the company expects to boost EPS over the next five years. Based on enterprise value multiples, its valuation appears much more undemanding. It is trading at only 3.2x EV/EBITDA and only 0.3x EV/Sales, significantly lower than the average of its peer group. Based on dividends, Fiat is clearly less attractive than peers, given that it does not pay dividends and should not change its policy during the five-year plan.

Source data: Yahoo Finance and Bloomberg
Fiat's low valuation reflects both its current fundamental woes, but also the low credibility of its strategic plan. If the company delivers its ambitious targets, its potential share upside may be huge. For instance, assuming stable P/E multiples by 2018 and an EPS of €4 ($5.5), its stock price could trade at around $70 by end-2018, or more than five-fold its current price. However, the likelihood of this extreme bullish scenario being carried out is quite low. Assuming a more conservative scenario and that the company only achieves half of its EPS target, its stock price could go to about $35 per share, still much higher (240%) than today's price.
Conclusion
Although FCA has clearly ambitious targets and may have very good growth prospects ahead, the automotive sector is not a growth industry and competition is fierce. Also, most competitors also have growth ambitions and are targeting the same end-markets for growth as FCA, namely, emerging markets. Success on FCA's growth ambitions implies both a golden era for the global automotive industry, as well as a relatively favorable competitive landscape over the next five years. This seems to be naïve or maybe just too much "wishful thinking".
Furthermore, FCA's targets are highly dependent on major expansion at the Jeep and Alfa Romeo brands, which makes execution very demanding at these two units. Taking into account that Alfa Romeo's brand appeal is relatively low within the luxury segment, this plan seems clearly risky. However, Jeep deserves the benefit of the doubt, because the brand value can be exploited internationally and lead to strong growth over the next five years.
For those willing to wait to see if FCA can deliver its ambitious growth targets, the upside potential may be huge. However, investors will certainly have to wait, as most of its profitability jump will only occur after 2016, so FCA's investment potential will certainly only be reflected in its share price over the long term and if it can avoid new equity issuance.
Disclosure: I have no positions in any stocks mentioned, and no plans to initiate any positions within the next 72 hours. I wrote this article myself, and it expresses my own opinions. I am not receiving compensation for it (other than from Seeking Alpha). I have no business relationship with any company whose stock is mentioned in this article.
Editor's Note: This article discusses one or more securities that do not trade on a major U.S. exchange. Please be aware of the risks associated with these stocks.