There is no doubt that the island of Puerto Rico is undergoing economic turmoil. Puerto Rico's economy is plagued with extreme income inequality. In 2012, according to census data, its median household income was $19,429 compared with the U.S. figure of $51,107 median annual income. The island has $70 billion in outstanding debt. Its bonds have been downgraded to junk status by credit rating agencies in recent weeks.
Amidst these seemingly insurmountable odds, there are beacons of light that suggest Puerto Rico is "down but not out." There is a systemic effort to invest in Puerto Rico's tourism industry. For example, Matt Karp, who is the Chief Acquisition Officer and Principal of the Caribbean Property Group (CPG), was actively involved in the successful financing of the world class Ritz Carlton Reserve Project in Dorado, Puerto Rico. In addition, hedge fund billionaire John Paulson is investing $260 million this year in an ambitious project, which brings two hotels to Puerto Rico's capital San Juan. Multiple hedge funds have expressed interest in investing in Puerto Rico's future.
Mr. Paulson was quoted saying the following: "We are investing here because we feel we are getting involved in the ground floor. I think tomorrow the island will develop into the Singapore of the Caribbean." One major benefit to investing in Puerto Rico and Singapore is a law that allows new residents to avoid taxes on capital gains. Capital gains are the central focus for several hedge funds and high-end investors. Paulson believes Puerto Rico's future is bright because its economy is getting better. Also, Former Secretary of Labor and current candidate for Mayor of San Juan, Miguel Romero suggested a new law that would eliminate the construction tax. This law will entice new businesses from the mainland to invest and set up shop in Puerto Rico.
Furthermore, there is an effort to stabilize and strengthen Puerto Rico's main bank, Banco Popular. Matt Karp was in charge of commercial acquisitions with loan balances ranging from a million dollars and above, during the recent Banco Popular sale of $540 million in non-performing commercial and construction loans and real estate. Under the terms of the sale agreement, Banco Popular will provide an advance facility of approximately $35 million. The facility will cover cost-to-complete amounts and expenses of certain projects. Banco Popular will also provide approximately $30 million in the form of working capital line to fund certain operation expenses interest for the borrower. In return, Banco Popular will receive approximately $99 million in cash, a note for approximately $182 million as seller financing and a 24.9% equity interest for the borrower.
Mark Lipschutz, partner and CEO of Caribbean Property Group, stated the following after the acquisitions and commercial revitalization. "This transaction evidences that our commitment to Puerto Rico remains as strong as ever." The commitment of economic investments can provide the panacea for Puerto Rico's economic woes. In similar fashion during the 50's, Laurence Rockefeller had a vision to the Dorado property into a resort and historic natural gem sanctuary. Mr. Rockefeller's dream was completed and displayed to the public on December 1, 1958.
Also, Richard Carrion, the current chairman and CEO, President of Banco Popular, assessed Puerto Rico's economy by focusing on two important factors during a recent interview. "I think the most important thing is to regain growth," said Carrion, who is particularly concerned about two statistics: the fall of the population and low labor force participation rate, which is around 40%. "I had never seen it before. It is a fundamental issue that needs to be reversed."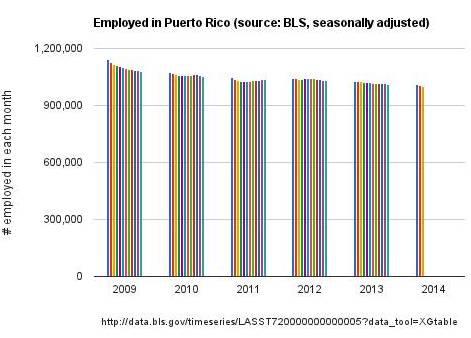 Total employment in the island has declined from 1,139,878 in January, 2009 to 1,009,555 in January 2014. Over the past decade, 450,000 citizens in Puerto Rico have left the island.
According to statements made by Puerto Rico's representative in Congress, Pedro Pierluisi, Puerto Rico loses between two and three billion dollars because of its territorial status. Recently, there has been a trendy "movement" towards Statehood status. In the most recent referendum (2012), Puerto Ricans voted 61.6% for Statehood, 33.34% for free association (the current Commonwealth status) and 5.49% for independence.
As stated by the Puerto Rico's Federal Affairs Office, more than 10,000 Puerto Ricans are active duty members of the U.S. military and the island is home to more than 120,000 veterans. Also USAG Fort Buchanan consists of 746.16 acres between the municipalities of Bayamon and Guaynabo, Puerto Rico and has a real estate value estimated at $560 million. This real estate value continues to grow exponentially. Fort Buchanan serves a population of approximately 130,000 combined between military personnel and their dependents, retirees, veterans, civilians in Puerto Rico.
The time to invest in Puerto Rico is now by establishing tangible assets. Enterprising groups can purchase real estate properties, like factories and prime outlets with several tax incentives. All of these developments are indicators that Puerto Rico is still of strategic value to the United States and its economic engine will have a sustainable growth impact. Puerto Rico has been hit hard by the poor economy. Nevertheless, the island was able to sell a record $3.5 billion in bonds last March.
For those searching for market-traded investments, PowerShares insured New York Mini Bond ETF (NYSEARCA:PZT), currently yielding 3.93%, is a valuable option to consider. The ETF has several Puerto Rico bonds which comprise a substantial percentage of the New York portfolio. For instance, 5% of the fund's assets are in the Puerto Rico Commonwealth Aqueduct bonds with a coupon yield of 5.125%. Additionally, it has over 4.2% of its funds in Puerto Rico Commonwealth Highway and Transit 5.25% bonds. Many investors believe Puerto Rico's economy is getting better and will reach its apex in three to four years.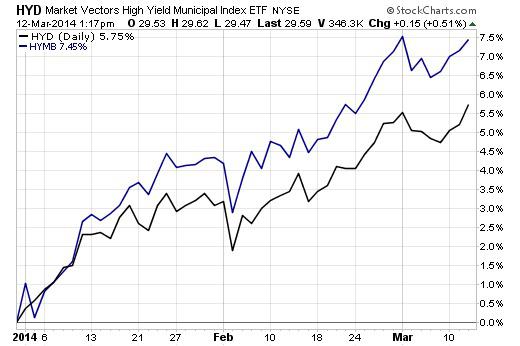 Tax benefit flows through ETFs. The biggest benefit in investing in Puerto Rico bonds is their exception of state and federal income tax.
Disclosure: I have no positions in any stocks mentioned, and no plans to initiate any positions within the next 72 hours. I wrote this article myself, and it expresses my own opinions. I am not receiving compensation for it. I have no business relationship with any company whose stock is mentioned in this article.