It looks like it's time for a hard look at closed-end fixed-income funds. There have been broad moves up across the CEF fixed-income space, resulting in deep compression of discounts across the board. Two such PIMCO funds that I have followed here are: PIMCO Dynamic Income Fund (NYSE:PDI) and PIMCO Dynamic Credit Income Fund (NYSE:PCI). Both are managed by teams that include Dan Ivascyn, who assumed a deputy CIO position at PIMCO following Mohamed El-Erian's departure earlier this year and has turned in some outstanding performances during his years at PIMCO.
PIMCO's income CEFs are well known for carrying massively outsized premiums. Witness PIMCO Global StocksPLUS & Inc. Common (NYSE:PGP) - also managed by Ivascyn - with its astonishing 66% premium, a premium that has held near that level for five years. Or the Bill Gross-managed PIMCO High Income Fund (NYSE:PHK), currently at 51% premium and holding well above 40% for all but a brief period since Spring 2009. By contrast, PDI and PCI could look like bargains.
Both PDI and PCI have had seen run-ups this year, both on their market and NAV prices. This is congruent with the bond rally that SA contributor Jeff Miller appropriated termed "an ongoing mystery" in his weekly summary this morning, which I took to reinforce my cautious view of the fixed-income space today. The chart below plots YTD for the funds' market and NAV values: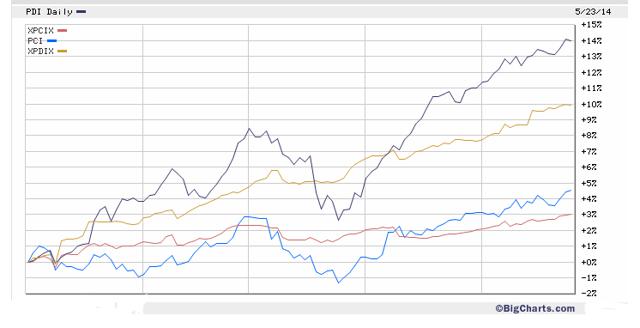 The market values are shown in black and blue. NAVs (tickers XPDIX and XPCIX) are presented in yellow and red. Clearly, PDI has had the much better year to-date; it's up 10% on NAV and 14% on its market price vs. 3% and 4.5% for PCI. PDI's discount has moved from a recent low of -8.19% (December 2013) to today's virtual par value (0.09% premium). PCI retains its discount, but it has moved from just under -10% to -5.12% in the past six months.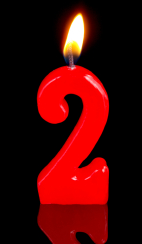 Distribution rates tend to determine premium/discount values in closed-end fixed-income funds. In large measure, the remarkable sustainability of those hefty premiums for PGP and PHK hinge on investors' willingness to pay dearly for their market distributions of 8.88% and 11.24%. For PDI and PCI, distributions at the current prices are 6.90% and 7.95%. Both funds are monthly payers. PCI has had a stable distribution since its January 2013 inception, and PDI has had one increase in its two-year history. (An aside: Let's wish a "Happy Birthday" to PDI. I write this on 25 May, the second anniversary of its inception).
So, for PDI, we have a fixed-income fund carrying 45% leverage and paying less than 7%. Now don't get me wrong here, 7% is an attractive yield, but 7% is not the sort of yield that drives premium valuations in a highly levered, fixed-income CEF. For the full spectrum of Pimco's CEFs, PDI has the lowest distribution and the highest leverage. Indeed, if one looks to the cefconnect.com fund screener for taxable fixed-income funds, one finds PDI deep into the lower middle of the pack on yield and at the very top of their list of 299 CEFs for leverage. Remember, for CEFs, discounts/premiums are tightly tied to yield, so this cannot bode well for further upward moves on PDI's recent move into premium territory.
How about PCI? A lot of what looks wrong to me for PDI right now appears less wrong for PCI. Leverage is a significantly less heady 28.4%. Its 7.95% yield is a full percentage point higher than PDI's. The discount has shrunk a bit, but its upward trend seems to be poised to continue, and it seems to me that discount compression has much less likely run its full course for PCI relative to PDI.
Portfolios. The two funds are very different, as is seen in their portfolios. Securitized credit accounts for three-quarters of PDI's portfolio, while PCI is 90% in corporate bonds.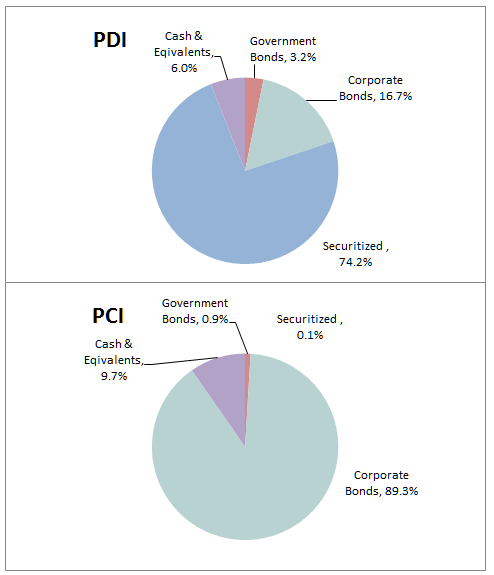 Notably, PDI holds more than half its portfolio in various mortgage-backed securities: Agency-backed (1.48%), Non-agency Residential (55.16%) and Commercial (2.59%). PCI's holdings in the mortgage-backed security space? A mere 0.11%.
Clearly, we have very different funds here. PDI, as presently constructed, is almost a mortgage fund. Should we be satisfied with 7% yields from a 45% leveraged mortgage fund? Before you answer that, take a look at the chart comparing PDI's year-to-date returns with those for UBS ETRACS Monthly Pay 2X Leveraged Mortgage REIT ETN (NYSEARCA:MORL), which is, as the name implies, a 2x levered mortgage ETN.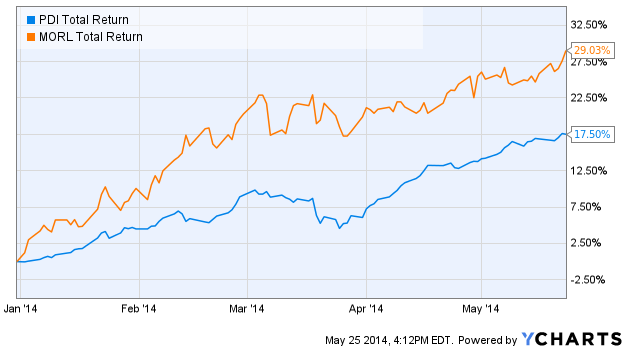 PCI, by contrast, is a corporate bond fund. Its exposure is global, with emphasis strongly (93.6%) on North America and the UK. At 28% leverage, its 8% yield sounds reasonably consistent with expectations for that type of fund.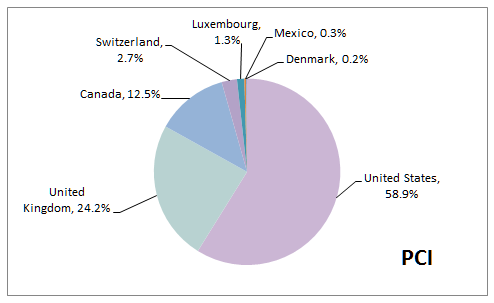 I've been in PDI for more than half its young life. I increased my position substantially last fall, when its discount's abrupt fall shouted "buying opportunity here." I bought it then with the thought that I could turn a nice profit as the discount reverted to its mean. At the time, I told myself this was an aberration that had to correct, which has turned out to be the case. But now that it has, I'm not feeling very positive about PDI's near-term future.
Let's review. PDI: Leverage is high, very high. Yield is modest. Discount is gone. Likelihood of sustaining a premium or even par pricing at its modest yield is, in my view, low. So the only reason to hold the fund right now is with the expectation that NAV will continue its near-linear increase over the coming months and market price will follow. Doesn't sound like a good bet to me. I think I'll move on to something else.
PCI, on the other hand, still looks reasonably attractive to me. I'll not be buying more, but I'll be holding my position in this one.
Sources. Data for this report comes from Morningstar (portfolio compositions), cefconnect.com (premium/discount data and historical pricing), BigCharts, YCharts. I looked at Allianz Global Investors (to the extent possible, but I was unable to load anything other than the quote pages, perhaps because it was a holiday weekend).
Disclosure: I am long PDI, PCI. I expect to exit my position in PDI over the next 72 hours. I wrote this article myself, and it expresses my own opinions. I am not receiving compensation for it (other than from Seeking Alpha). I have no business relationship with any company whose stock is mentioned in this article.