Qualcomm (NASDAQ:QCOM) seems to have developed an SoC, for wearable devices. While, the wearable product category hasn't fully emerged, it's certainly encouraging to see the world's most dominant mobile semiconductor company put the pedal to the metal and get this show on the road.
According to Fudzilla:
Qualcomm CDMA Technologies Taiwan president Eddie Chang has mentioned that Qualcomm has been working on a wearable chip that is about to go into mass production soon. He didn't mention any specific devices, but he promises that there will be devices shipping based on Qualcomm wearable chips later this year.
It's not surprising to see Qualcomm gain design wins in this new category. This should extend Qualcomm's mobile lead against competitors and allow it to reach its 3G/4G device shipment estimates.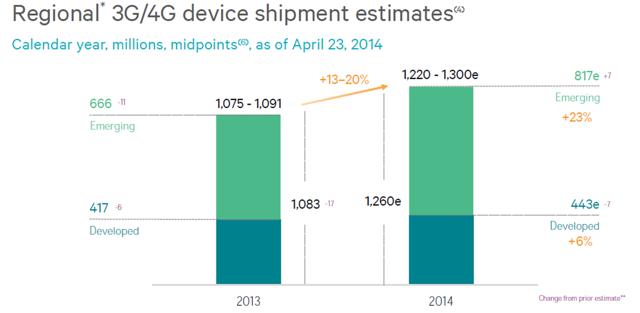 Source: Qualcomm
Qualcomm expects 6% growth in developed markets, with shipments at 443 million. Qualcomm's SoCs will go into 1.22-1.3 billion devices this year. This represents a consolidated growth rate of 13-20%. Because Qualcomm operates at such economies of scale, the company has a lot of flexibility when it comes to pricing.
While, it's likely that Intel (NASDAQ:INTC), and Nvidia (NASDAQ:NVDA) are designing chips for this category, it's unlikely that they'll easily win significant design wins. Qualcomm will remain dominant in 2014, and may continue that trend going into 2015.
Qualcomm's technology roadmap is largely intact, as indicated below.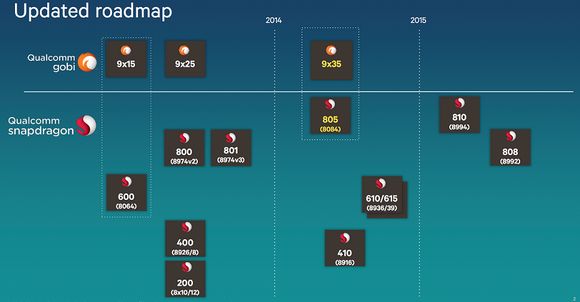 Source: AnandTech
The Snapdragon 805 is slated to be released sometime in the second half of 2014. Based on performance benchmarks, the Snapdragon 805 will be the most dominant chip in its category when it comes to CPU, GPU, and modem technologies.
It's expected to make its entry into Samsung's flagship phablet line i.e., the Note 4. Also, some have speculated that the release of the Snapdragon 805 will overlap with the Sony Xperia Z3, extending Qualcomm's lead in flagship smartphones. Furthermore, Qualcomm comes with integration advantages that keep costs relatively low, and it's likely that production is starting to ramp up. This gives Qualcomm the ability to forecast 1.22-1.3 billion in device shipments to begin with.
I don't know what the code name for Qualcomm's chips for wearable devices are. In fact, no one does. But based on what was said earlier, Qualcomm will have chips in wearable devices in the 2014 calendar year. Given the roadmap, it's likely that the manufacturing tech on these wearable chips will use 28 nm manufacturing technology.
Deep down, I don't think early adopters of smartwatches will really care about manufacturing tech. Shopper's pay closer attention to technical specs when they reach the second and third generation of a new device category.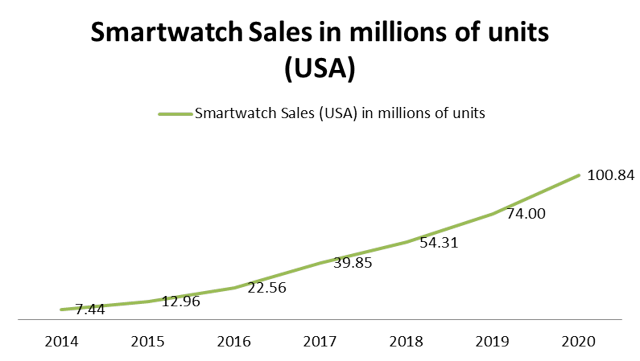 Source: AlexLeAnders
In a previous article I wrote months ago, I highlighted the emerging category of smartwatches. To read how I arrived at my unit shipment assumption, I recommend you read my previous article. However to get you a basic idea on how I arrived at this conclusion, I used a key-demographic that was likely to adopt the product in its first generation, then projected a longer-term growth rate based on the historical penetration rate of smartphones in the United States.
Overall, I have high conviction that this new product category will allow Qualcomm's growth rate in developed markets to re-accelerate. Currently, Qualcomm anticipates 26 million in year-over-year 3G/4G unit gains in developed markets. However, with the addition of 5 to 7 million additional devices in a different product category, it's likely that Qualcomm will hop over its own 2014 calendar year guidance. It won't take much to move the needle in other words.
Also, the Samsung Galaxy Gear 2 uses Bluetooth for connectivity. Qualcomm's 2014 release of a SoC will include Qualcomm's modem technologies, but in an even smaller format. The modem designed for wearables will most likely go into the Galaxy Gear 3, iWatch, and Android smartwatches.
Qualcomm has more room to grow, especially in developed markets.
Disclosure: I have no positions in any stocks mentioned, and no plans to initiate any positions within the next 72 hours. I wrote this article myself, and it expresses my own opinions. I am not receiving compensation for it (other than from Seeking Alpha). I have no business relationship with any company whose stock is mentioned in this article.