Domestic equity markets have shown signs of life recently, as several positive data releases in recent days have sparked optimism on Wall Street. On the back of impressive sales from retailers, an uptick in M&A activity, and strong commodity prices, stocks have rallied in recent sessions. But these gains have come on relatively light volume, as investors have viewed these positive developments with understandable skepticism. The real test will come on Friday with the release of the latest jobs figures.
Today, the U.S. government will be releasing the unemployment numbers for the second quarter of 2010. Unemployment last came in at 9.6%, and is expected to remain the same for the most recent quarter. But if unemployment rises, equities will likely feel a pinch, as that would only further concerns of a recession on the horizon. A high unemployment figure will also put pressure on the Fed to step in, further propping up equity markets and spurring job creation. However, indications of organic job creation–in the form of a lower unemployment rate–should give markets a boost, proving that there is something to the latest rally.
With the release of this major economic data on tap, the HOLDRS Merrill Lynch Retail (NYSEARCA:RTH) figures to be active in Friday trading. This fund has holdings in some of America's top retailers, including Wal-Mart (NYSE:WMT) (20%), Target (NYSE:TGT) (9%), Walgreens (WAG) (5.9%), and CVS (4.8%). The fund focuses entirely on the consumer services sector, with nearly all of its securities falling into the giant or large cap categories.
After surging on Thursday, RTH could be dealt a fresh setback if unemployment comes in higher than expected; that would point to lower spending power for the average consumer, spelling bad news for America's retail giants. But lower unemployment would create a positive outlook, as an increase in jobs will correlate to a boost in buying power.
The end of August and beginning of September is usually a strong time for many retailers, as back to school sales help fuel sales gains. And this year has been no exception; August saw surprisingly high retail sales, which may point to a rebound in the industry, but without job growth this seems unlikely. High unemployment could act to erase the positive month that many retailers have experienced, while low figures could set retail sales back on the right track.
click to enlarge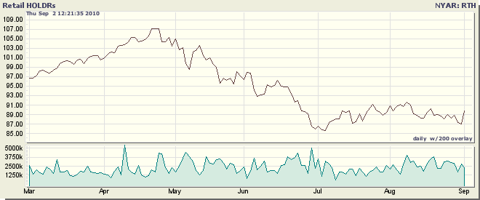 Click to enlarge
Disclosure: No positions
Disclaimer: ETF Database is not an investment advisor, and any content published by ETF Database does not constitute individual investment advice. The opinions offered herein are not personalized recommendations to buy, sell or hold securities. From time to time, issuers of exchange-traded products mentioned herein may place paid advertisements with ETF Database. All content on ETF Database is produced independently of any advertising relationships.