As of this time, nobody can actually say if the BlackBerry (NASDAQ:BBRY) Z3 was a hit in Indonesia or not. I still believe that the Foxconn-made BB10 smartphone can help BlackBerry sell 10 million handsets this year or next year. Yes, Indonesia was an acid test for the Z3 but I believe that a 3-day promotional launching event in Jakarta is not enough to gauge its commercial success.
John Chen still wants to make money with handsets. BlackBerry's fortune was made and lost in phones. Chen's turnaround efforts for the company will not really be complete if he doesn't achieve a comeback for BlackBerry handsets.
Despite its recent disastrous performance in smartphones, BBRY's journey back to $15 is hugely dependent on how Chen can make the phone division profitable again. The rise and fall of BBRY was and still is closely tied with how many smartphones it sells.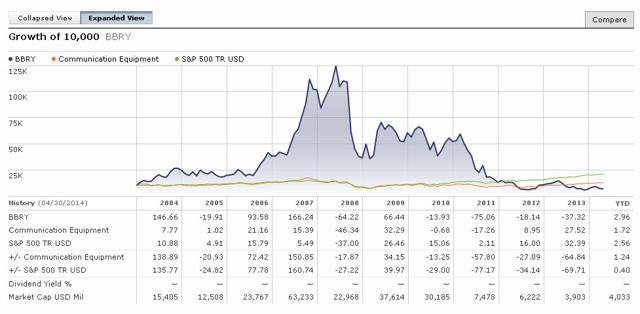 Source: Morningstar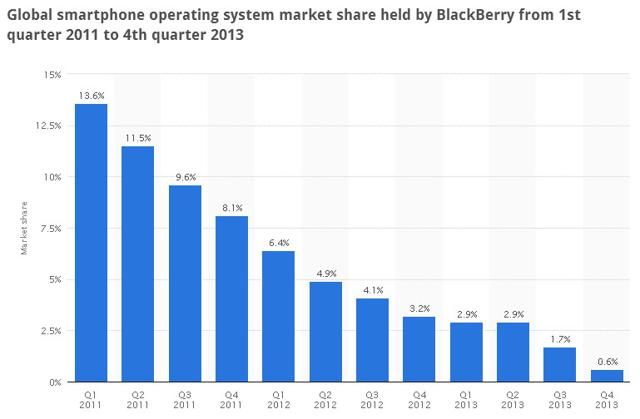 Source: Statista
I am hoping that the Z3 will at least improve the 2014 smartphone market share of BlackBerry. One percent global market share in smartphones is still acceptable if BlackBerry makes money hitting the said forecast.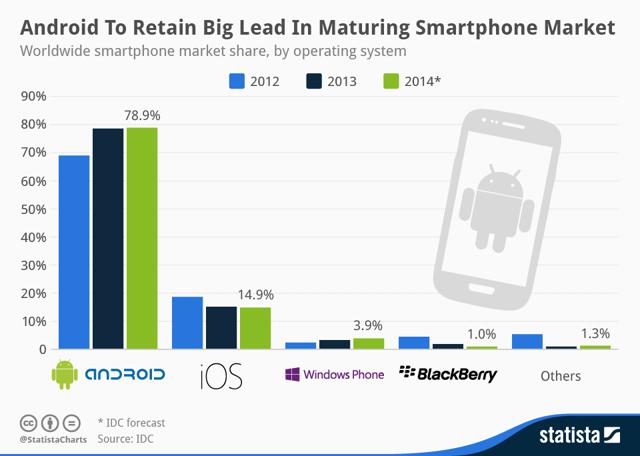 BBRY believers can take comfort that another crown jewel of the company, QNX, is playing a vital role for BlackBerry's new Project Ion. John Chen is covering his bet on smartphones by making a side bet on the Internet of Things (IoT) revolution. If BlackBerry can't hack it out on smartphones, maybe the company can get back to its 2008 glory by making QNX the default OS in majority of smart devices.
Project Ion is Recovery In Motion
Project Ion is BlackBerry's new solution for companies to quickly implement machine-to-machine communication for smart devices or appliances. Project Ion lets developers build secure communication between people and smart machines. The real-time gathering and exchange of data between machines helps companies create highly personalized products and services to individual customers.
Based on the power of QNX, Project Ion is Chen's big bet to make it big in Internet of Things and Machine-to-Machine (M2M) pervasive connectivity. It's an end-to-end solution for enterprise clients. Chen is leveraging the company's huge presence in enterprise mobile device management to boost Project Ion's chances of winning a big share of the projected $8.89 trillion IoT market by 2020.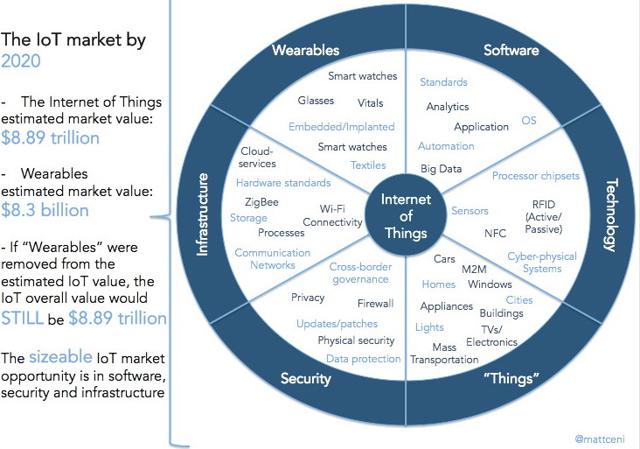 Source: Matt Ceniceros
Chen sees QNX as the keystone for all the billions of interconnecting IoT devices. QNX is already the cornerstone for automotive in-vehicle infotainment system right now. BlackBerry hopes that Project Ion leads to QNX becoming the dominant OS for all smart machines. The company is also emphasizing its vaunted security protocols to prevent unauthorized breach in the trillions of daily data transactions that M2M does.
The exponential growth in IoT/M2M is a huge tidal wave that BlackBerry can surf back to profitability. The versatility of QNX and the high security of BES should boost Project Ion among enterprise clients eager to mine the bonanza of Internet of Things.
QNX is already being used on all the industries where M2M applications are prevalent.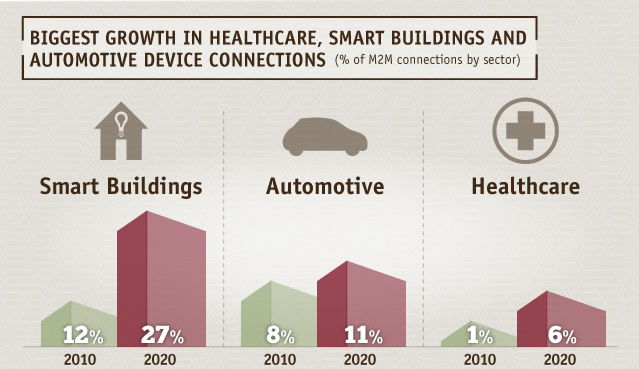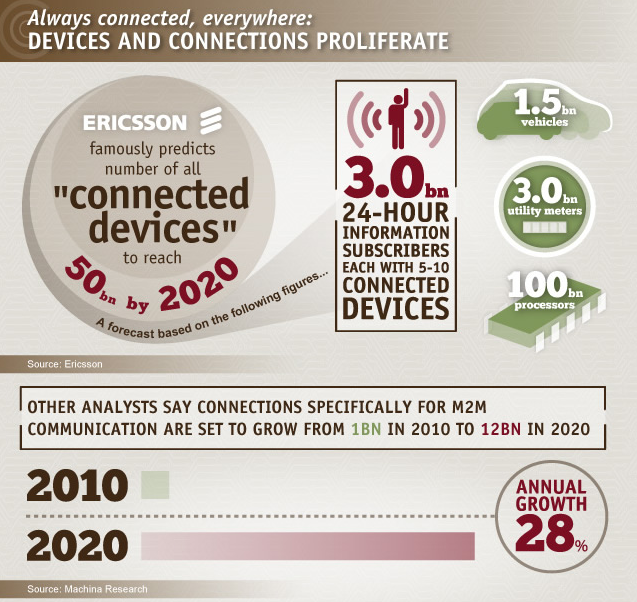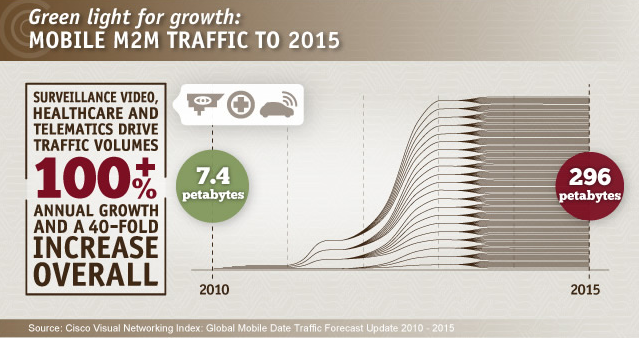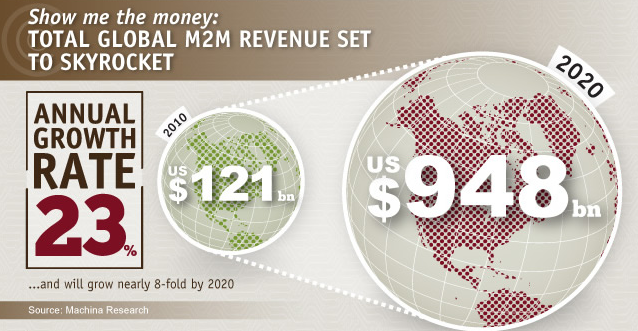 Charts from SAP/Machina Research/Ericsson
Project Ion will facilitate a secure ecosystem for companies, developers, and carriers to effectively monetize internet-enabled devices across multi-platform environments. QNX, as a micro-kernel operating system, is lightweight and runs on various CPU micro architectures. It is compatible with x86, PowerPC, MIPS, ARM, XScale, and SH-4 processors.
BlackBerry is now a member of the Industrial Internet Consortium (IIC) and Application Developers Alliance (ADA). IIC is an organization for accelerating the development of standards-based M2M connected technologies. ADA is the group hoping to integrate privacy and security in smart device application development.
Conclusion
Project Ion is a very promising alternative for Chen to make BlackBerry profitable again. The current trend of smartphones and tablets will soon be dwarfed by the huge money in Internet of Things and Machine to Machine applications. Project Ion is a big step towards the $15 price target of Citron Research.
It's a good thing that BlackBerry still owns QNX. Selling the said crown jewel asset would have killed BBRY's chance to rise above $15. The next two years will determine whether BlackBerry can still regain a decent market share in smartphones.
If not, QNX, not BBM, will be the company's only chance to remain relevant.
BBRY is a Hold. The valuation engine of Alpha Omega Mathematica still sees value and potential turnaround for BlackBerry. Chen has 85 million reasons to make BBRY rise from its walking dead status. If the Z3 and The Classic don't deliver Chen's $85 million paycheck, maybe QNX/Project Ion will.

Source: Finviz
Alpha Omega Mathematica's algorithm gives BBRY some value because of its 0.30 P/S, 0.40 P/B, 1.39 P/C, and 4.59 P/FCF. The Hold recommendation from Alpha Omega Mathematica's high-math valuation system is in line with the Hold rating of 21 analysts from Barchart.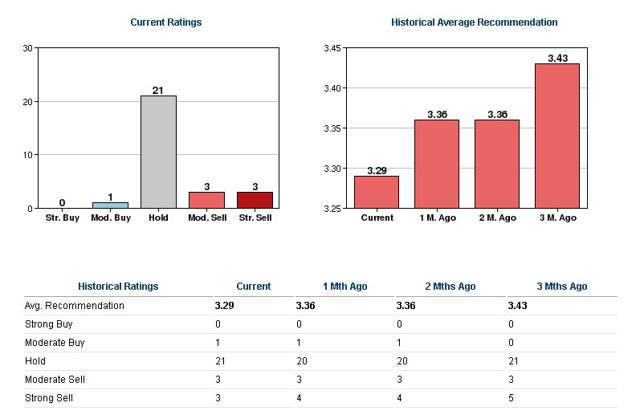 Source: Barchart.com
Disclosure: I am long BBRY. I wrote this article myself, and it expresses my own opinions. I am not receiving compensation for it (other than from Seeking Alpha). I have no business relationship with any company whose stock is mentioned in this article.