"Don't leave home without it!" Think it again. Groupon (NASDAQ:GRPN) envisions a not-too-distant future where you don't need to carry credit cards with you when you make purchases. Imagine you can enjoy your Bahamas vacation without the wallet as if you were at home. If you are a small business owner, there is no more embarrassing moment in front of your customers when your card reader does not work. This vision may become a reality as Groupon just announced an iPad-based checkout platform called Gnome that can replace merchants' cash registers. With a $10 monthly fee and much lower transaction fee (1.8% + $0.15) compared with others ranging from 2.75% to 3.50%, it makes small business owners irresistible. Groupon has worked with various strategic partners, including Wells Fargo & Co (NYSE:WFC) and Teradata (NYSE:TDC), to create an integrated all-in-one merchant solution to help the small business owners to run their entire businesses, where Wells Fargo & Co takes care of the credit-card processing service and Teradata analyzes and builds business intelligence. It is also capable of integrating popular accounting software programs including Xero (OTCPK:XROLF) and Intuit's (NASDAQ:INTU) Quickbooks. With this innovation, Groupon has expanded its portfolio outside of daily deals business.
Potential Risks for Gnome
Some analysts have argued that Groupon's business model has sucked value out of the small businesses since it has a 50/50 split on the revenue, and this will eventually lose all of the local merchants. But Groupon has rebutted its criticisms by saying that they do the marketing side of the business for the merchants and if the deal is off, merchants pay nothing at all. This time with Gnome, Groupon can really help small businesses to run their businesses more effectively. Groupon must have realized that in order to make their business model sustainable, they must put the value back to the local merchants. By creating a tighter relation with merchants, it can create a long-lasting value to the company and hinder competitors.
Because this is just released, we don't know if Groupon will make this platform a mandatory for all of its merchants. It looks like Groupon will only get its main revenue through making deals from merchants, and not from the payment processing service. If the merchants use Gnome and not running any deals, Groupon will not get the revenue it wishes unless Groupon improves the way of marketing merchants' products and services more effectively than before. Beside the risk of not generating revenue for Groupon, there is a certain risk associated with the product acceptance by the merchants. Whether or not the software will perform as promised can be another potential risk associated with Gnome. Nevertheless, it is too early to make any assumption or predication about it at this time.
Analysis of Financial Conditions and Operational Risks
When we examine the annual earnings since its IPO, we see that, despite posting a diluted earnings per share loss of $0.44 on revenues of $1,610 million in the first year, 2011, Groupon was able to pull out of it to an earnings of $0.11 a share and $2,574 million in revenues in 2013.
| | | |
| --- | --- | --- |
| | EPS | Revenue |
| 2011 | -$0.44 | $1,610 million |
| 2012 | -$0.11 | $2,334 million |
| 2013 | $0.11 | $2,574 million |
Groupon generates revenue generally through making deals with the merchants. Both the numbers of active deals and active customers are important in evaluating the growth of the business. Groupon continues to gain momentum in the number of active deals in both North America and globally every quarter. For example, in North America, the active deals increased to over 95,000 and the total active deals globally were over 200,000. These gains translate into the revenue growth we see in each quarter. However, many investors were upset to see a net loss per share of $0.01 in the 2014 Q1 results and the adjusted EBITDA was $40.3M, a 44% drop compared to the quarterly average of $71.7M.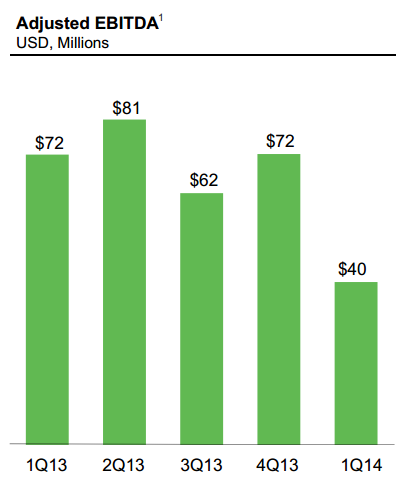 Source: Groupon
Ironically with the increased revenue growth, we saw profitability decline due to heavy sales and marketing expenses and investment in launching new service platforms for merchants. The biggest risk for Groupon is still dependent on how to attract consumers to see the deals. Since last year, Groupon has changed its Push strategy from sending daily deals emails to subscribers to Pull strategy, where it lets customers to search deals in their area. Groupon will continue to spend $25 million for this Pull strategy each quarter until it sees the positive effects in the transition. The transformation in the strategy is seen to be necessary for reducing dependency from the daily deals business, but it requires time to deliver results. As of March 31, 2014, over 80 million people have downloaded Groupon Mobile apps. 75% of Groupon's North American advertisers have signed up for monthly recurring deals through the new Pull program. The idea is that whenever consumers need to look for a deal, they will pull out their mobile devices and search from there instead of opening their emails to see time-sensitive offers and promotions. The change in customer behavior could be a potential risk as well. If Groupon is heading in the right direction, we will see it before the end of this year. However, with this strategy, it forces Groupon to compete with Amazon.com and Priceline.com directly. In order to differentiate itself from the fierce competition, Groupon is trying to secure its base consumers while building tighter relation with its merchants. In doing so, Groupon risks to spend more on marketing needs and innovative platforms.
When rising risks, in terms of spending on growth, investment and innovative products, is to gain a competitive advantage, these risks may be worthwhile from a long-term perspective. Groupon's stock is now at 52-week low levels, but it may have upside potential if the company can effectively control its operating costs. When the innovative merchant platforms roll out and gain some traction, this would be a good sign for a long-term investment opportunity.
Disclosure: I am long GRPN. I wrote this article myself, and it expresses my own opinions. I am not receiving compensation for it (other than from Seeking Alpha). I have no business relationship with any company whose stock is mentioned in this article.