Recent trends indicate that Apple (NASDAQ:AAPL) has lost some market share to Samsung (OTC:SSNLF). It's likely that going into the second half of 2014, Apple will recapture that market share, which I will try to explain in more detail over the course of this article.
Smartphone market share trends in the United States

Source: ComScore
As you can tell, Apple has 41.4% market share and has lost 40 basis points against competitors. This market share figure takes into consideration the United States, and doesn't include data from foreign markets.
Samsung has taken the most market share between the end of December and the beginning of March. My suspicion is that Samsung gained market share due to promotional activity leading up to the Samsung Galaxy S V launch. Usually, Samsung prices handsets at really low prices in order to clear channel inventory and prepare consumers to buy the "next big thing." However, as many of you are well aware, the Galaxy S V wasn't really that big of an update, and most of the changes were cosmetic (on the surface), with a couple additional non-essential sensors.

Source: ComScore
Samsung's release cycle sits on the opposite side of the year from Apple's. I don't think Samsung has any intention of changing their release cycle, as they know they'd lose in a direct one-on-one comparison. Furthermore, Apple usually gains market share following the release of a next generation device. Looking over the historical time frame between September 2013 (release of iPhone 5S) and December 2013, Apple gained 1.2% market share. Following that, Apple lost .4% market share between December 2013 and March 2014. Therefore, over the 6-month period, Apple gained .8% market share.
Apple's profit margins trends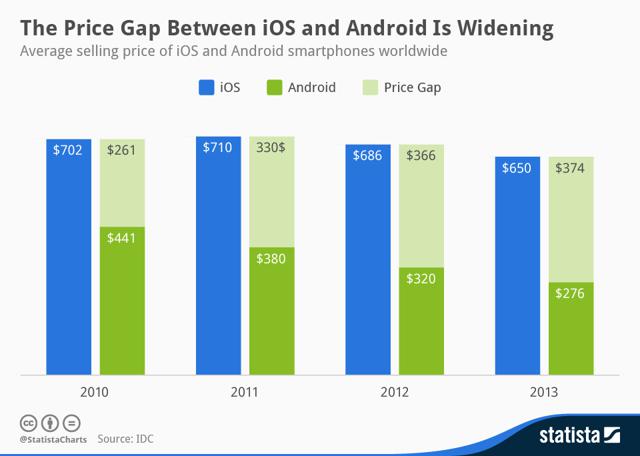 Source: Statista
As indicated earlier, Apple has a 41.4% market share, despite the global price differential on Apple's iPhone widening. It's unlikely that Apple will decrease its pricing by much in future years, as Apple wants to position itself as a higher-tier brand. Lower pricing will damage gross margins, and will confuse Apple's brand loyalists. It's also rumored that Apple will not release a plastic iPhone 6, according to Latin Post:
The iPhone 5c is made of plastic. Rumors suggest there will be no iPhone 6 in plastic and all models will be made of metal. There will be the full-priced iPhone, offering the most storage, as well as a mid-priced iPhone with less storage. Apple will then be allowed to lower the prices of all the previous iPhones, including the 5s and 5c.
With a plastic version of the iPhone 6 ruled out. Apple will return its supply-chain to operate more efficiently.
In an attempt to appease shareholders, last year Tim Cook attempted a lower-end model, which generated a muted response from consumers in the United States. The plastic was so unappealing; Apple's gross margins for the quarter actually improved as iPhone 5C took significantly less share than what analysts and Apple had anticipated. In light of that fact, iPhone 5S production had to ramp up, and iPhone 5C production was scaled back.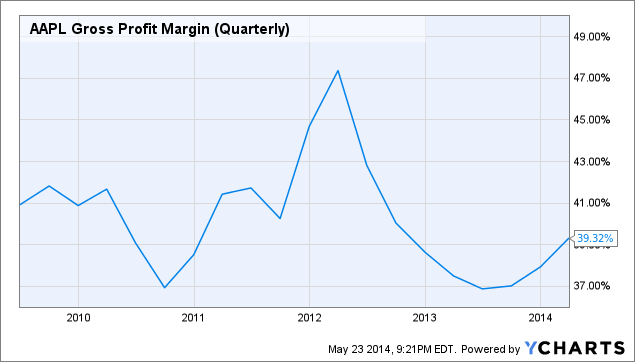 Source: Ycharts
Between calendar year 2012, and 2013, Apple's gross profit margin declined following the launch of the Apple iPad Mini, which had a significantly lower ASP, and bill of materials that was somewhat identical to the Apple iPad. Analysts thought the release of the iPhone 5C would dampen profit margin even further. However, the lack of demand for the iPhone 5C allowed Apple to escape 2013 with better gross profit margins.
Teenage demographic loves Apple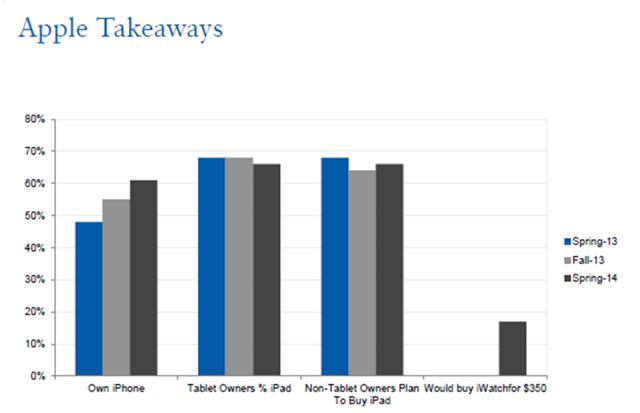 Source: PiperJaffray
At the present moment, teenage ownership trends of the iPhone have continued to trend higher with more than 60% owning one. However, tablet ownership trends have moderated, and declined marginally. As many of you are probably well aware, Apple's iPad sales have declined by 16% year-over-year in the most recent quarter. Looking over the survey data, approximately 65% of non-tablet owners amongst teens plans to buy one, this puts a theoretical limit of 86% market share for the teenage demographic. I'm not sure if Apple's installed base can improve to that "extent," but some products are so catchy, lower-tier brands end up becoming non-existent.
Another interesting data-point was mentioned in the PiperJaffray research report. Approximately 20% of the teenage demographic in the United States would be willing to buy an iWatch for $350. In an earlier article, where I only focused on the United States, I estimated the demand for smart watches in the first year would total to 7.44 million units (this is assuming Apple releases a smart watch as well).
Approximately 26.46 million people in the United States fall within the 13-18 age demographic; therefore, of that amount perhaps 5.3 million of them will buy an iWatch for $350. I think the remaining 2.1 million units that I have estimated will come from those in other age demographics that are just as quick at adopting new technologies. Also, there are other smartwatch vendors that will generate sales, which will contribute to the total amount of smartwatch sales in the United States. Perhaps my forecast on future smartwatch sales was a little too conservative, and if anything higher unit volumes for this emerging category should be anticipated in the United States.
Conclusion
Overall, I'm convinced 2014 will be a pivotal year for Apple. The demographic /survey data indicates that Apple will gain additional market share in the younger teenage demographic. Furthermore, Apple has been able to add market share, after each successive product launch. Apple's ASP may modestly improve assuming Apple doesn't release a plastic version of the iPhone.
Apple's launch of the iWatch will offset declining interest in the tablet category. While, the iWatch by itself won't move the needle by much, other services and products will allow Apple to sustain its historical pattern of growth. Furthermore, the survey data from teenagers is certainly encouraging as the survey respondents confirmed my 7 million unit smartwatch projection for the United States.
I'm convinced Apple will reach my $653 price target for 2014. The sentiment around the stock has certainly improved, and with upward trending profit margins paired with rising revenue, there's no way in heck Apple will miss analyst expectations.
Disclosure: I have no positions in any stocks mentioned, and no plans to initiate any positions within the next 72 hours. I wrote this article myself, and it expresses my own opinions. I am not receiving compensation for it (other than from Seeking Alpha). I have no business relationship with any company whose stock is mentioned in this article.
Editor's Note: This article discusses one or more securities that do not trade on a major U.S. exchange. Please be aware of the risks associated with these stocks.