A quick appraisal of reward-risk trade-offs between sectors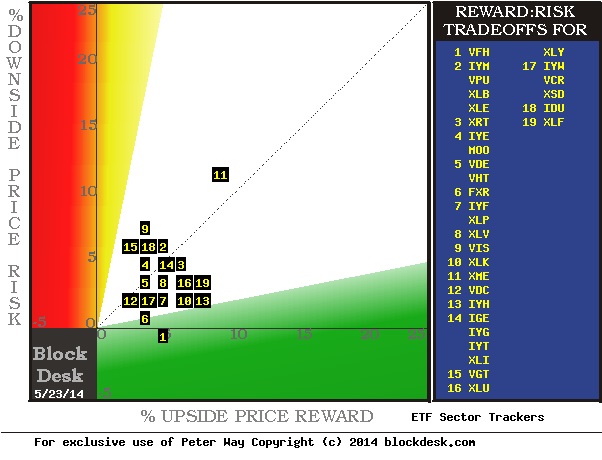 (used with permission)
This map has two directional coordinates. East-West is known by geeks as the X coordinate. Its scale is across the horizontal in the green area at the bottom. The other direction - North-South - has its scale along the map's left (WEST) side in the red area that the geeks call Y. The X-Y coordinates indicate each stock's shared reward-risk trade-off, at today's price and market-maker [MM] forecast.
So stocks or ETFs with big returns and small risks head SE to reside, not in Florida, but in the green. Bad boys with lots of risk and little return promise go NW towards that perhaps hotter-colored place on the map. The Mason-Dixon dotted diagonal line tells where the balance shifts from equal opportunity to the real unfair world, depending on whether you are long or short. (The map assumes long.)
We have labeled the stocks numerically, with a few occupying the same spots, like at [2], [4], [5], and [14]. Check the blue rosetta stone for identities you recognize. The number sequence has no significance in the mapping.
A word about the risk dimension. Forget about beta and CrAPM. What is being measured is how badly (the worst possible) an investor holding the ETF might be underwater from cost in all prior forecasts like today's balance between upside and downside prospects. Those drawdowns are the times investors are most likely to emotionally cave in, sell, and lock in losses that often, usually, recover and turn into profits. This is a behavioral analysis of what may be coming, not a misguided statistical history lesson.
The return dimension is taken from the current-day hedging-derived MM forecast, where the top of the range of foreseen coming prices is taken as a sell target, and its upside from the contemporary market quote is the relevant measure.
What's the R-R map telling us?
Sector ETFs usually provide shelter from downside risk, but at the price of upside return. View this map as a baseball diamond, and Sector ETFs are a bunch of bunters; little gets out of the infield, where first base and third are at +10% and -10% on their respective scales.
True to form, now only the SPDR S&P Metals and Mining SPDR ETF (NYSEARCA:XME) at [11] is reaching for a +9% upside at a cost of -12% worst-case price drawdowns in prior forecasts like today's. Vanguard Financials ETF (NYSEARCA:VFH) at [1] shows the MMs see it at the bottom of its likely range of coming prices, and so is First Trust Industrials AlphaDEX ETF (NYSEARCA:FXR) at [6], with an upside of only +3%. Most promising is IYH, the iShares U.S. Healthcare ETF at [12].
Here are the identities and focuses of the various Sector ETFs:
DBE POWERSHARES DB ENERGY FUND
FXD FIRST TRUST CONSUMER DISCRETIONARY ALPHADEX ETF
FXG FIRST TRUST CONSUMER STAPLES ALPHADEX ETF
FXH FIRST TRUST HEALTHCARE ALPHADEX ETF
FXR FIRST TRUST INDUSTRIALS ALPHADEX ETF
FXU FIRST TRUST UTILITIES ALPHADEX ETF
IDU iSHARES U.S. UTILITIES ETF
IGE iSHARES NORTH AMERICAN NATURAL RESOURCES ETF
IGV iSHARES NORTH AMERICAN TECH-SOFTWARE ETF
IYE iSHARES U.S. ENERGY ETF
IYF iSHARES U.S. FINANCIALS ETF
IYG iSHARES U.S. FINANCIAL SERVICES ETF
IYH iSHARES U.S. HEALTHCARE ETF
IYM iSHARES U.S. BASIC MATERIALS ETF
IYT iSHARES TRANSPORTATION AVERAGE ETF
IYW iSHARES U.S. TECHNOLOGY ETF
KXI iSHARES GLOBAL CONSUMER STAPLES ETF
MOO MARKET VECTORS AGRIBUSINESS ETF
QTEC FIRST TRUST NASDAQ-100-TECH INDEX ETF
VCR VANGUARD CONSUMER DISCRETIONARY ETF
VDC VANGUARD CONSUMER STAPLES ETF
VDE VANGUARD ENERGY ETF
VFH VANGUARD FINANCIALS ETF
VGT VANGUARD INFORMATION TECHNOLOGY ETF
VHT VANGUARD HEALTH CARE ETF
VIS VANGUARD INDUSTRIALS ETF
VPU VANGUARD UTILITIES ETF
XLB MATERIALS SELECT SECTOR SPDR ETF
XLE ENERGY SELECT SECTOR SPDR ETF
XLF FINANCIAL SELECT SECTOR SPDR ETF
XLI INDUSTRIAL SELECT SECTOR SPDR ETF
XLK TECHNOLOGY SELECT SECTOR SPDR ETF
XLP CONSUMER STAPLES SELECT SECTOR SPDR ETF
XLU UTILITIES SELECT SECTOR SPDR ETF
XLV HEALTH CARE SELECT SECTOR SPDR ETF
XLY CONSUMER DISCRETIONARY SELECT SECTOR SPDR ETF
XME SPDR S&P METALS AND MINING ETF
XRT SPDR S&P RETAIL ETF
XSD SPDR S&P SEMICONDUCTOR ETF
Should the MMs' forecasts be believed?
These MM forecasts arise from the way they protect their employers' capital, or charge others for that protection, a charge that gets passed on to the big-money fund initiating the million-dollar-plus trade order. So we get 3 points of view on the issue, both the buyer and seller of the insurance, and the portfolio manager that pays the bill.
Trust, but verify. We do, by a simple test of past forecasts.
Take the top of the hedge-implied price forecast range as a sell target. See if it gets reached any time in the next 3 months. If it does, take the profit then. If not, take the gain or loss at the end of the 3 months. See what the average holding period and average net gain or net figures are, and calculate (properly) what the annual rates are. That's the reward figure.
During each holding period, look for the worst price drawdown below day-after-forecast day and end of each hold, however long. Average all worst cases, including the possible few nice bottom picks. That is the real risk figure of the present forecast, not some historical average of price-change uncertainty (that includes pleasant surprises) during periods when no holdings were called for.
Now let's see what the win ODDS and reward PAYOFFS may be for these ETFs
Just because it has happened in the past, there's no guarantee this time might not be different. But at least with commonly calculated data, we have an assist to our reach for perspective in comparing investment candidate alternatives.
Here is what has happened daily over the past several years when MM forecasts have looked like they do now.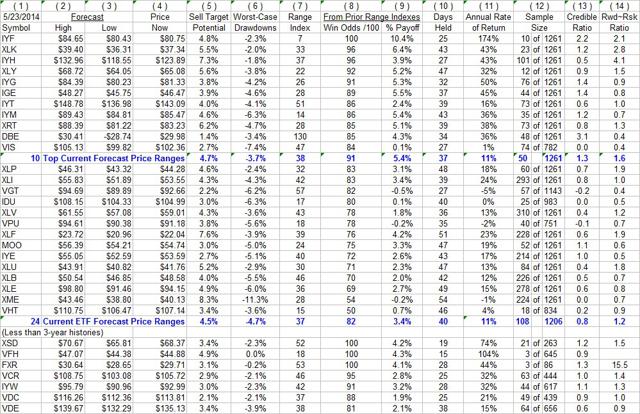 A quick explanation of the less-obvious numbered columns: (5) is the % change between (4) and (2). (12) tells, out of the total number of forecast days available, that sample number of those days with Range Indexes like the present. The Range Index (7) is the percentage of the forecast range (2 to 3) that lies below the forecast day market price (4). Using the prior sample in (12) to follow a standard, simple time-efficient holding discipline, (8) indicates the percentage of them that were profitable, (9) the average net gain on all such holdings, (10) tells how long, on average, the samples were held, and (11) the rate created by (9) and (10). (13) measures the credibility of (5) given (9), and (14) compares (5) to (6).
Please invest the time and effort it may take to understand the dose that is inflicted by all of those ( )s in the prior paragraph. The data does provide a useful way to compare some not-so-simple, but realistic investment considerations.
For example, the critical starting point in each is the benefit being offered by each forecast in (5), the largest for XLF, the smallest for DBE. Past experiences of (9) say IYF's big +10.4% is the most credible of the group, and that of VPU is the least believable. The best odds of a profitable commitment have been in IYF, the worst in XME.
Conclusion
Remember these results are for today's forecasts and Range Indexes. They will be different next week, next month. These are not long-term guides. Hope they are helpful for current perspective in making comparisons.
Disclosure: I have no positions in any stocks mentioned, and no plans to initiate any positions within the next 72 hours. I wrote this article myself, and it expresses my own opinions. I am not receiving compensation for it (other than from Seeking Alpha). I have no business relationship with any company whose stock is mentioned in this article.