Over a year ago, I wrote an article on Taubman Centers (NYSE:TCO) and I summarized by saying that "Taubman is a "Rolex of a REIT" and I can't wait on to own the shares, when the price is right." What I meant by that was that I consider Taubman a "blue chip" REIT that, like a Rolex, offers the highest quality products that last for generations.
Clearly the analogy of Taubman and a Rolex watch is fitting as they are both "buy and hold" assets - they offer considerable security based on time-tested brand recognition attributes. It's the durability component that makes a brand truly attractive and what makes the underlying value increase substantially.
After my article in April 2013, Taubman shares hit an all-time high of $85.40 (on May 28, 2013) and then shares of the "blue chip" REIT fell around 24%, to around $63.90 on January 28, 2014. That would have been a good entry price considering you could have picked up a Rolex at the price of a Timex.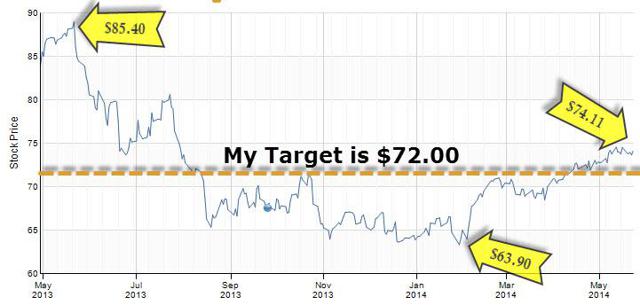 Buying a "blue chip" on sale can be awfully rewarding and I wish I was able to scoop up a number of gems late last year. I opted to stay clear of the sell-off with Taubman as I was more focused on adding a base of health care and net lease REITs. Namely, I added shares of Ventas, Inc. (NYSE:VTR), Heath Care REIT (NYSE:HCN), Realty Income (NYSE:O), and Digital Realty (NYSE:DLR). All of these were purchased at attractive levels and I have been quite happy with the "margin of safety" with these investments (my average share price gain for these four REITs is around 19.8% since January 2014).

Taubman Is a Time Tested Brand
Last week I attended the ReCon 2014 event in Las Vegas and I caught up with Taubman's Chairman and CEO, Bobby Taubman. He joined the organization in 1976 and was elected vice president in 1984, COO in 1988, president and CEO in 1990 and Chairman in 2001. Taubman holds a B.S. degree in economics from Boston University.
Taubman Company has been in business for over 60 years and the company was founded by A. Alford Taubman in 1950. The company converted to a REIT in 1992 and the Bloomfield Hills-based REIT has maintained a consistent cash payout history for over 21 years.
Most notable for the durable Regional Mall company is the fact that Taubman was a pioneer REIT that became the first publicly traded UPREIT (in 1992), laying the groundwork for real estate companies in all sectors to access the public equity markets.
Favoring "quality over quantity," Taubman owns or manages 27 properties in the U.S. and Asia - large enough to provide economies of scale and solidify relationships with some of the world's best retailers; yet small enough to effectively maximize the potential of every asset by receiving attention of the senior management team. Simon Property Group (NYSE:SPG) and General Growth Properties (NYSE:GGP) are the two dominating mall sector REITs as evidenced by the snapshot below: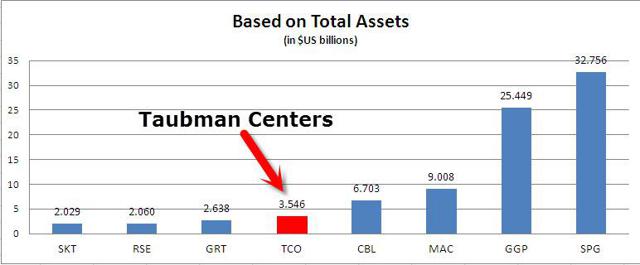 Over the years, Taubman has maintained a strategic capital recycling model in which the company has selectively bought and sold assets in order to maximize the potential of the individual assets. Taubman started as a public company 22 years ago with 19 properties. Along the way the company built 14 and acquired 10 properties, but sold 19. So on a net basis, Taubman went from 19 to 24 assets. However, the company more than quintupled the size of the REIT.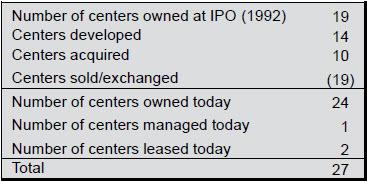 Here is a snapshot of Taubman's U.S. footprint: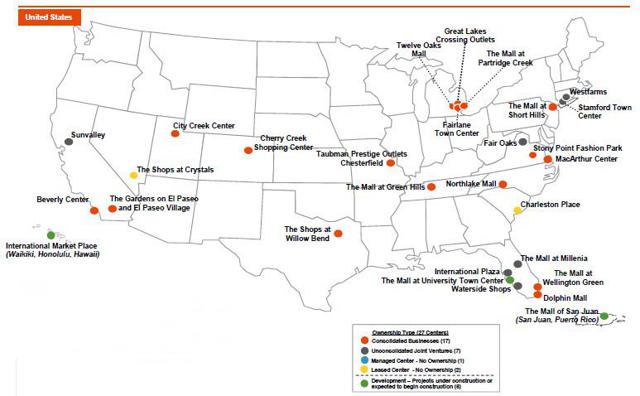 In Asia Taubman is focused on South Korea and China. For many years, the Asian economies have been growing at a much faster pace than in the US. In many Asian markets there is a shortage of well-designed and well-managed retail space. Currently Taubman has four projects underway: Zhengzhou, China; Xi'an, China; Hanam, South Korea; and Seoul, South Korea.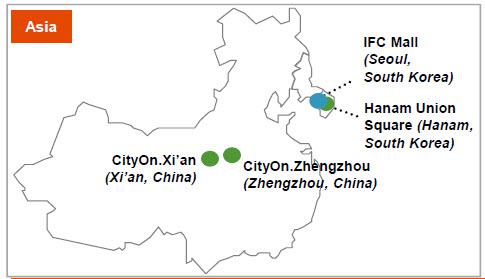 In Zhengzhou Taubman plans to open a $355 million project in late 2015. Taubman expects to generate a return of around 6% to 6.5% on its 32% share of the project. The one million square foot project is six levels and is expected to have over 200 stores that will feature a mix of middle to high-end brands together with a movie cinema and restaurants. Zhengzhou's population is nearly 9 million and is expected to reach 10 million by 2020. The total trade area population is expected to reach 2.8 million by 2015. As evidenced below, walls are going up and this project should be an exceptional addition to the Taubman portfolio: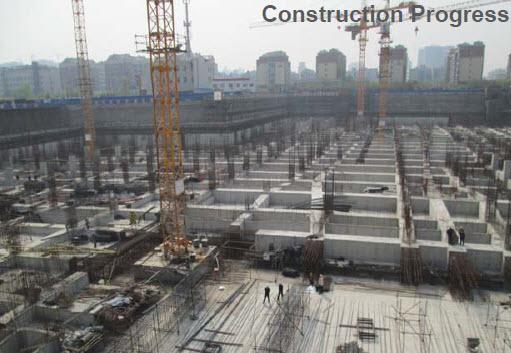 Here's a rendering of the project (upon completion):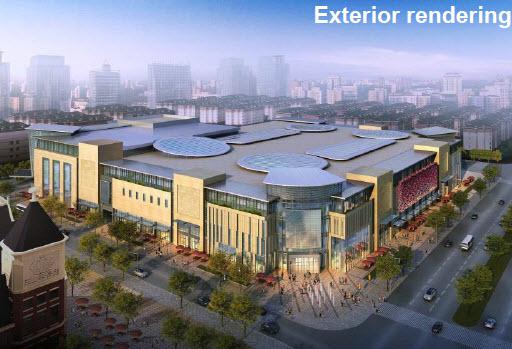 In Xi'an Taubman plans to open a $385 million project in late 2015. Taubman expects to generate a return of around 6% to 6.5% on its 30% share of the project. The retail component (of this mixed-use project) includes one million square feet of retail and restaurant space, anchored by Wangfujing department store. Xi'an is one of the most populous metropolitan areas in regional China with more than 8 million inhabitants. As evidenced below, this project is well underway bringing increased synergy to the Taubman portfolio: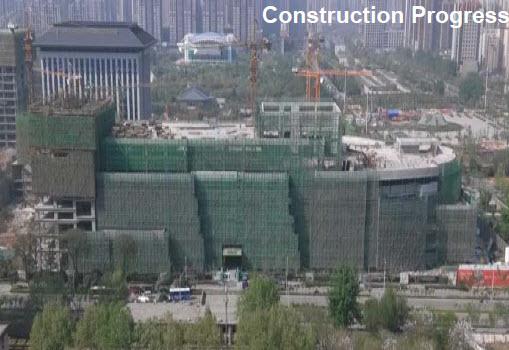 Upon completion, the 5.9 million square foot large-scale mixed-use development will be a massive project that includes hotels, residential, office, and retail. Here's a rendering of the finished project: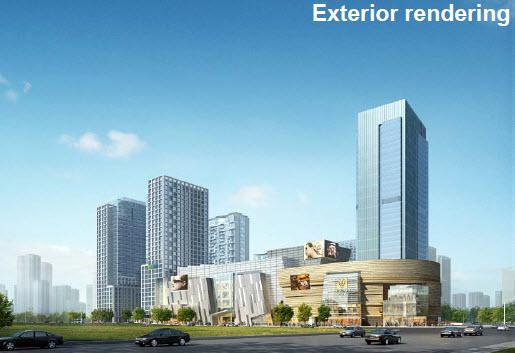 In Hanam, Taubman plans to open a $1.1 billion project in late 2016. Taubman expects to generate a return of 7% to 7.5% on its 30% share of the project. The anchors consist of Shinsegae, South Korea's largest retailer. This project will be the largest true western style mall in Korea. Although Taubman's traditional US development produces higher returns in the early years, the Asian model produces outsized returns when the projects are stabilized.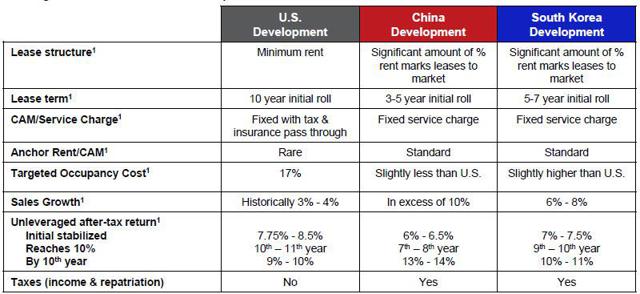 Much of Taubman's success has been its unique-to-market tenant base that includes high-end brands such as Dolce & Gabbana, Diesel, Restoration Hardware, Forever 21, J.Lindeberg, and Ben Sherman.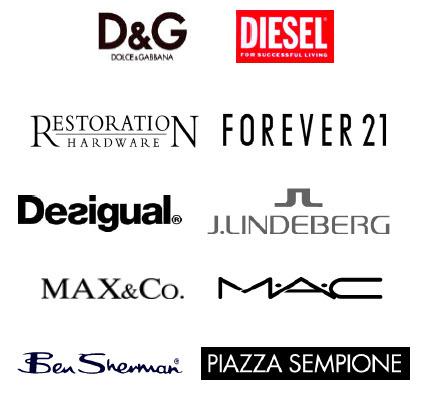 Here is a snapshot of Taubman's Top 10 Tenants: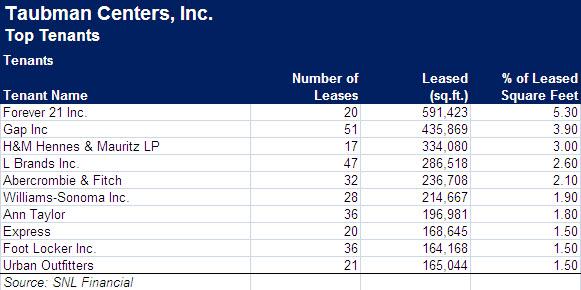 Other Differentiators
In addition to its high-quality tenant base, Taubman also enjoys blue chip operating fundamentals. For example, Taubman has the highest portfolio sales per square foot in the mall sector. The company's trailing 12 month sales are now $712 per square foot (down 0.7%).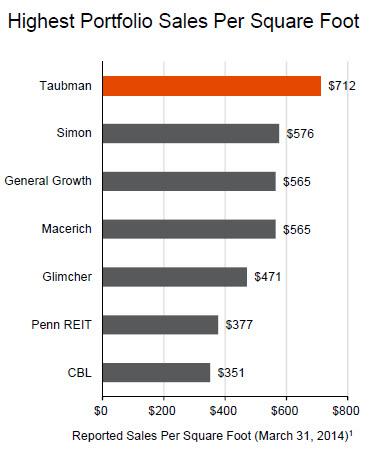 Taubman reports that leasing activity has been strong and occupancy remains near all-time highs. Although the sales per square foot fell modestly, the company points out that investors should focus more on average rent per square foot growth because it's much less volatile and more consistent. So in the latest quarter Taubman reported average rent per square foot of $50.21, up 3.6%.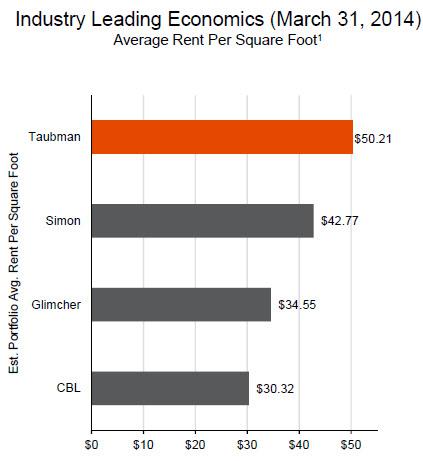 In May 2014, Bank of America Merrill Lynch provided a broad mall industry assessment indicating that Taubman is the highest quality mall operator in the peer group.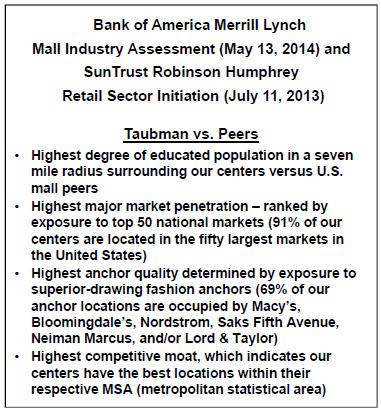 Another key differentiator for Taubman is the fact that the company is a mall developer and over the last 12 years, the REIT has invested in over $2 billion of projects. As a result, Taubman has created in excess of $2.8 billion in value. Taubman is one of the few regional mall developers that possess a full set of development capabilities internally (3 new projects in the US and 3 new projects in Asia).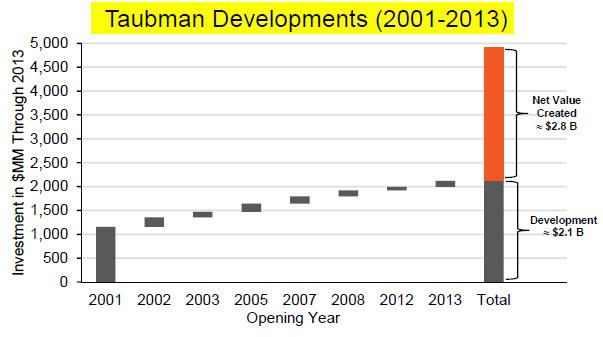 The snapshot below demonstrates how Taubman creates value from a hypothetical example.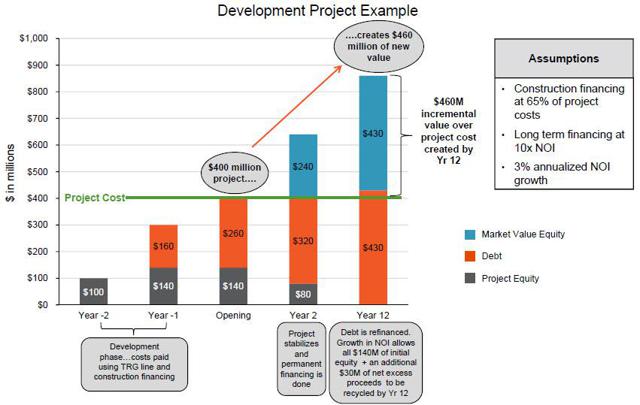 Here's a snapshot of projects completed over the last 12 years: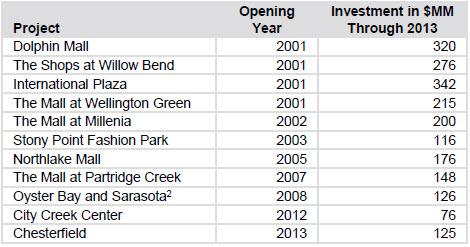 One final differentiator for Taubman is the company's balance sheet. Taubman is an icon of operational excellence as the mall REIT has successfully orchestrated a showcase of prudent financial management. Earlier this year Taubman closed on a construction loan for The Mall at San Juan. The company obtained over 65% loan to cost on the facility. The $320 million loan has a three-year initial term with two one-year extension options. It's interest-only for the entire term. The spread is 200 basis points over LIBOR and may be reduced to 175 basis points upon meeting certain conditions. In total nine banks are participating in the loan.
At March 31, the weighted average rate on debt was 4.28% and Taubman has a debt to total market capitalization ratio of less than 30%.

Taubman's debt to EBITDA ratio stands at 6.6x and the company currently has a net cash position with over $1 billion of availability on its line of credit. Taubman has a majority of secured debt with well-laddered debt maturities: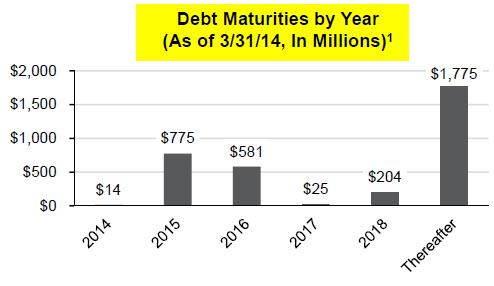 Taubman has healthy coverage ratios that consist of interest coverage of 3.6x and fixed charge coverage of 2.8x.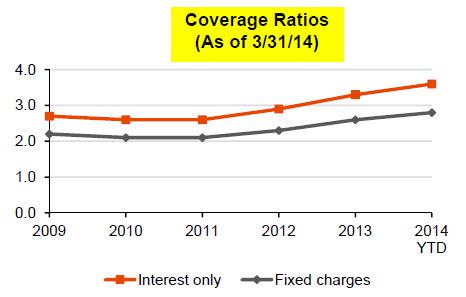 Taubman utilizes property-specific secured debt because it mitigates future financing risks and typically non-recourse loans are to the parent company. Here is a snapshot of Taubman's balance sheet composition (the company completed a $170 million 6.25% preferred stock offering in March 2013).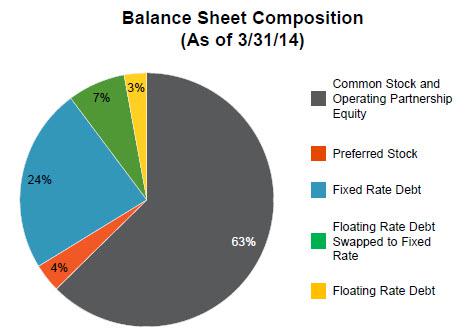 Taubman's current development pipeline is fully funded through the end of 2016.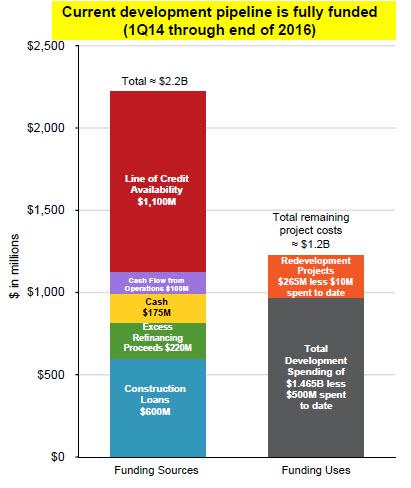 The Latest Results
In the first quarter Taubman announced Funds from Operations (or FFO) of $0.90. Comparable center occupancy was the same at 90.3% on both March 31, 2014 and 2013. Lease space in comparable centers was 92.6%, up 0.4% and a healthy 230 basis points higher than ending occupancy. Comparable NOI for the quarter, excluding lease cancellation income, was up 2%. Here's a snapshot of Taubman's occupancy costs and record sales per square foot.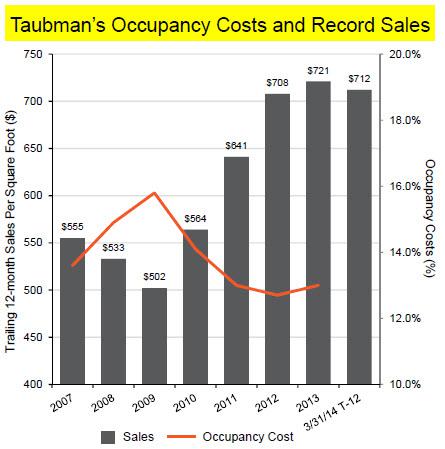 Luxury sales are projected to continue growth: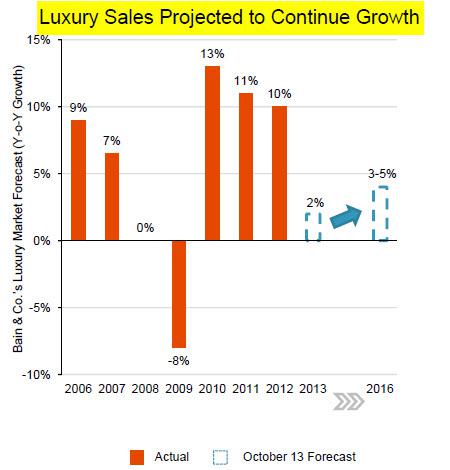 Taubman is maintaining 2014 guidance where FFO per share is expected to be around $3.80 (at mid-point). I am pleased to see the company's rent per square foot growth and trending occupancy gains.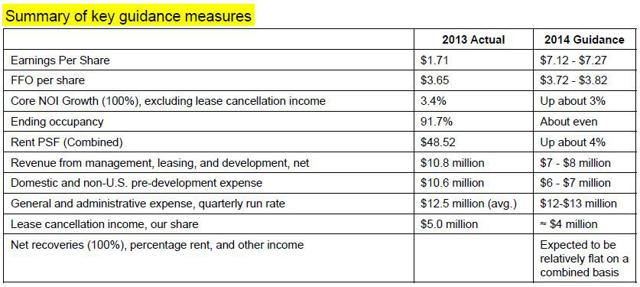 From a historical perspective, Taubman appears to be a sound footing as the company's AFFO has averaged 6% and the cash flow is increasing nicely since the Great Recession.
Why Do I Really Want to Own This Blue Chip?
It's clear that the "C" malls in the US are dying. Just take a look at shares of CBL & Associates (NYSE:CBL) and you can see that the market is not excited with lower-end mall properties. (I sold my shares in CBL late last year).

However, I must acknowledge that readers should not be confused with the analogy of buying a Rolex when it comes to investing. In other words, I may be a Rolex because it's a great brand and I know that it will produce consistent results over a long period of time. However, that's not something I'm shopping for today.
Instead, I'm shopping for REITs and one of the true tests of quality is dividend repeatability. As evidenced by the snapshot below, Taubman has never reduced its dividend since its IPO in 1992. That's clearly a "blue chip" record and one in which only one other mall REIT has been able to immolate (Tanger has paid and increased dividends for over 20 years in a row).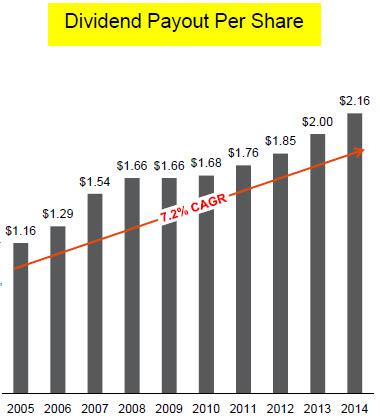 Researching historical dividends are critical to my research but also I must understand what the company has done lately. In March Taubman declared a regular quarterly dividend of $0.54 per share of common stock, an increase of 8%. Remember: The safest dividend is the one that's just been raised.
There aren't that many REITs that were able to maintain a cash payout during the recession and that's one of the reasons I have Taubman in my elite SWAN (sleep well at night) portfolio. But remember that Taubman is not trading like a Timex and that's why you see the "sticker shock" as evidenced by the low paying dividend yield:

As illustrated below, the best time to buy Taubman was in 2009 when shares fell to $15.65: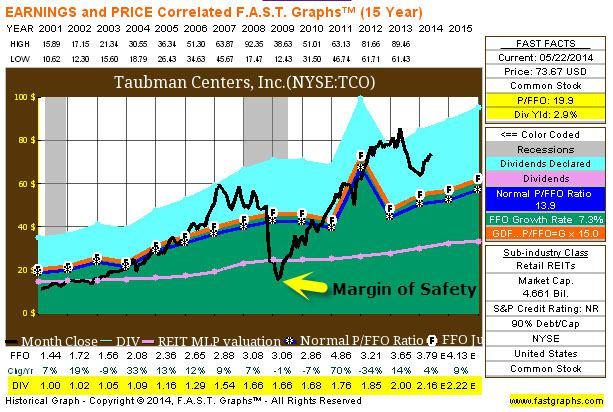 Over the last 10 years there has been two prolonged sell-down cycles for Taubman Centers: The Great Recession and the Taper Tantrum. It appears that Taubman is now moving back into favor and perhaps I missed the boat?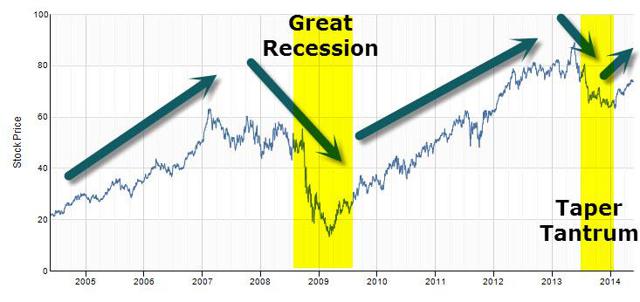 Taubman is trading at $74.11 and just above my target price of $72.00.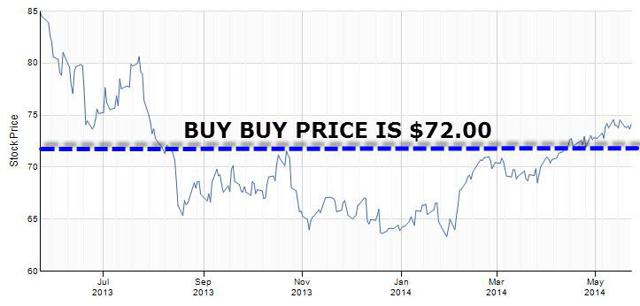 Clearly, Mr. Market can see that Taubman is an authentic time piece that consistently ticks off dividends. I'm not sure if I'll have an opportunity to pick up shares of this "blue chip" REIT, and I'm fairly certain there will not be a blue light special anytime soon. I suppose that means that I'll have to wait patiently for a pullback.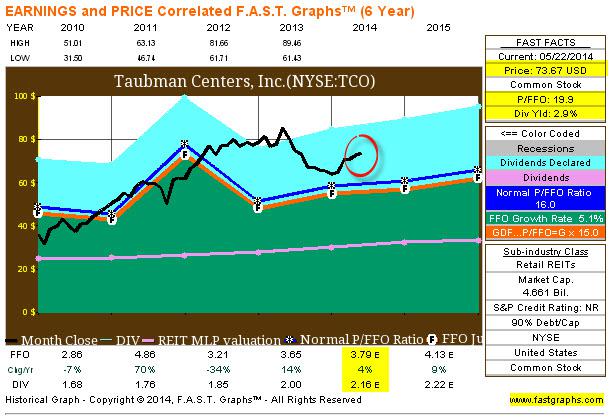 In conclusion, you always get what you pay for. I'm happy with my "blue chip" REIT portfolio and the fact that I was able to pick up a few top REIT brands on sale. Taubman will be a complimentary addition to my portfolio; however, I need to shy away from the instant gratification game and wait on a more attractive entry point. Following the principles of value investing, I'm going to wait on a better time to buy shares in this time-tested REIT brand.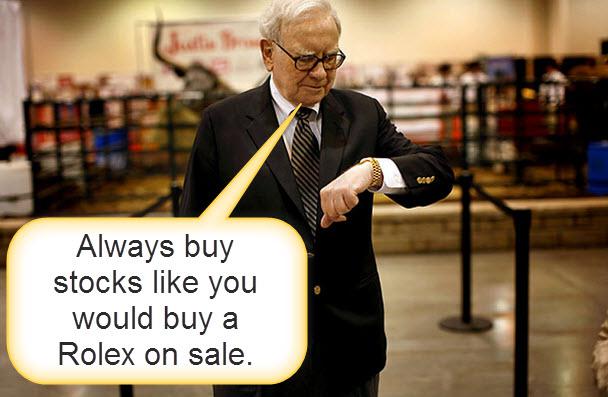 For more information on "sleep well at night" REIT portfolio check out my monthly newsletter HERE.
Sources: SNL Financial, FAST Graphs, and Taubman Investor Presentation.
Disclaimer: This article is intended to provide information to interested parties. As I have no knowledge of individual investor circumstances, goals, and/or portfolio concentration or diversification, readers are expected to complete their own due diligence before purchasing any stocks mentioned or recommended.
Disclosure: I am long O, DLR, VTR, HTA, STAG, UMH, CSG, GPT, ARCP, ROIC, HCN, OHI, LXP, KIM, WPC, DOC. I wrote this article myself, and it expresses my own opinions. I am not receiving compensation for it (other than from Seeking Alpha). I have no business relationship with any company whose stock is mentioned in this article.