It's hard to tell who has the better mobile roadmap, but from the looks of it, Qualcomm (NASDAQ:QCOM) has retained the performance lead for as long as anyone can really remember.
Intel (NASDAQ:INTC) will make the jump to 14nm tech (Broadwell) in 2015, while Qualcomm is left behind at 20nm tech. This may give Intel some sort of performance gain in CPU and GPU, but until we see real-world performance benchmarks, I'm not completely convinced.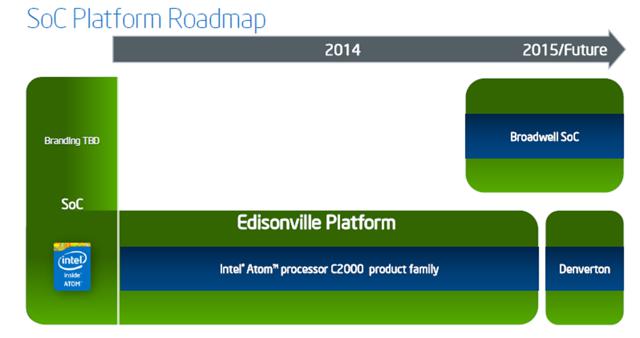 Source: Intel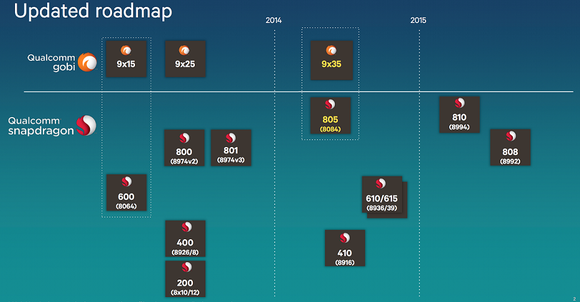 Source: ExtremeTech
From the looks of it, Broadwell will ship towards the end of Q2 2015, as it will tie in with the launch cycle of the major Android OEMs. Qualcomm will compete with Intel using the Snapdragon 810, which will use 64-bit CPU architecture, 4 ARM Cortex A57 cores, 9x35 Gobi Modem, and the Adreno 430 GPU.
Intel is likely to design a faster CPU than Qualcomm, based on what we know. However, it's unlikely to integrate that well into the Android ecosystem. Ashraf Eassa mentions that Intel has the potential to become a "first class citizen" in the minds of software developers:
A significant chunk of the most popular applications running on Android do have some level of ARM-specific code, thus necessitating some level of binary translation. At any rate, the idea here is that, for most applications, the amount of native code is negligible, and thus the translation overhead is lost in the noise of the full program execution. Intel is working diligently to get 80% of the top 100 free and paid applications ported to X86. In order to promote this transition, Intel is leveraging its extensive software and services group to get developers on board.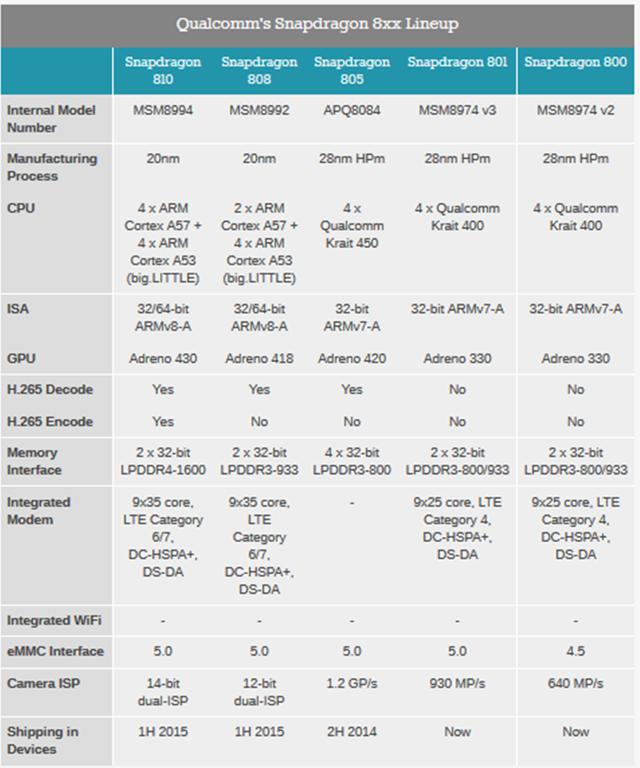 Source: AnandTech
Because we have more details on Qualcomm's product lineup, I'm going to spend more time talking about Qualcomm's product mix over Intel's.
The design wins are likely to continue, following the transition to Snapdragon 810, as the GPU is expected to get another bump in performance through the Adreno 430. The performance characteristics of the Adreno 430 are likely to be better than the Adreno 420 by 40%, if we were to base it on "historical gains." So when combined into a single integrated circuit, Intel could be in a lot of trouble when OEMs try to shop for a comprehensive solution.
Intel mentions that it will have better modem technologies, but I don't think Intel's launch window will be in time to match Qualcomm's 9x35 Gobi modem. Given the time frame, Intel will launch Broadwell with the XMM 7260, which is considered by many to be vastly inferior in comparison. In that case, Intel will have to integrate application processors with Qualcomm modems. I doubt OEMs will spend the extra cash to buy the best application processor, modem, and GPU, then attempt to integrate them onto a integrated circuit separately.
The mobile market works differently from PCs, as fabrication costs tend to drop when SoCs reach shipment volumes in excess of 20 million or so. Production is more efficient when OEMs work closely with Qualcomm as a single solution provider for all the sub-components on an SoC. This makes penetration into the mobile market exceedingly hard. Intel has to compete on both price and performance.
Furthermore, because Intel Broadwell won't be priced like the Snapdragon 810, Intel will most likely lose the mid-priced ($300-$400 ASP) high-performance smartphone brands (Xiaomi and Lenovo) that are emerging in China. Qualcomm will price itself low enough to appeal to higher-end smartphones, while remaining competitive enough from a performance standpoint to retain them.
Therefore, I'm highly confident Qualcomm will secure flagship smartphone wins in 2015, due to having a better modem and GPU. However, things get a little more confusing in the mid- and low-end. Intel can offer its high-end SoCs at mid-end price points. If that were to happen, Qualcomm may lose market share. Furthermore, I anticipate Intel's engineering teams to become more competent going into the second half of 2015, allowing for a more competitive Broadwell SoC to emerge.
To conclude: I think Intel will gain market share as a result of aggressive pricing and performance gains. However, I don't think Intel's graphics and modem solution will match Qualcomm's in 2015. There are ways to address the graphics problem, but to have the superior modem will require Intel to integrate Qualcomm's design onto an SoC, which is very unlikely to happen.
Disclosure: I have no positions in any stocks mentioned, and no plans to initiate any positions within the next 72 hours. I wrote this article myself, and it expresses my own opinions. I am not receiving compensation for it (other than from Seeking Alpha). I have no business relationship with any company whose stock is mentioned in this article.