After the March announcement of Celldex (NASDAQ:CLDX) that it is finally terminating its much-discussed study of CDX-1135, investors are going to ask - what now? Having invested in the drug's potential, they might feel left at sea.
Had it been any other pipeline candidate, the news wouldn't have made the kind of buzz CDX-1135 did. The prime reason for that was the drug was supposed to challenge Soliris, an orphan drug that generated $1.55 billion in sales last year for Alexion Pharmaceuticals (NASDAQ:ALXN).
CDX-1135, like Soliris, is a complement modulator but with a difference. While Soliris binds only one pathway component, C5, CDX-1135 binds two pathway components, C5 and C3. As such, it was considered to be a potential rival to Soliris and supposedly the "hidden" value in the company's pipeline. That "hidden" value came to naught when the results from its one-patient study did not provide "the conclusive results necessary for a feasible approval path in this disease" and the company decided to terminate the DDD study.
However, such was the euphoria around CDX-1135, that some investors would rather believe that it is not a complete loss because of its similarity to Soliris - the hope that the company would find other diseases where CDX-1135 would be more useful. While it cannot be said for sure whether one should cling to that hope, what is sure is that even without CDX-1135, Celldex has a strong pipeline.
Two strong contenders in Phase III trials
Truly, CDX-1135 was a big value driver for Celldex. However, the rest of the growth story of Celldex, which was one of the best-performing biotechnology stocks of 2012 and 2013, remains intact.
The progress of the pipeline candidates has been on expected lines.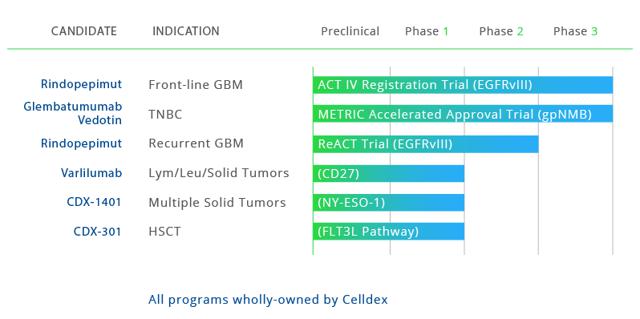 Click to enlarge
Rindopepimut
Celldex appreciated more than 500% in 2012-13, and most of the gains were on the strength of the company's brain cancer drug, Rindopepimut, which completed Phase II study in late 2012. The point to be noted here is that CDX-1135 was not in the reckoning, as it was still in preclinical/early-stage trials at that time.
Rindopepimut is currently in Phase III of clinical trials as treatment for glioblastoma multiforme, an aggressive form of brain cancer. Rindopepimut is an immunotherapeutic drug that targets a specific oncogene (gene that disposes normal cells to change into cancerous tumor cells) known as EGFRvIII. The drug has not only been designated as an orphan drug by both FDA and EMA, but also accorded fast-track status by the FDA.
In August last year, encouraged by the anti-tumor activity of the drug, the company increased the number of patients from 95 to 170 in the Phase III study. The 2-arm randomized study is designed for investigating efficacy and safety of addition of Rindopepimut to the current standard treatment for patients diagnosed with glioblastoma tumors that express EGFRvIII. In November, the company announced in an interim report that Rindopepimut demonstrated promising clinical activity in patients with EGFRvIII-positive recurrent glioblastoma.
CDX-011
CDX-011, an antibody drug conjugate comprising of a human monoclonal antibody linked to a potent cell-killing drug called MMAE, is an equally prominent candidate in the company's pipeline. It targets GPNMB, the protein which causes breast cancer, as well as melanoma and brain tumors. On completion of Phase II study in late 2012, which demonstrated a 33% response rate as compared to 0% in the control group, the drug is currently in late-stage Phase III trials.
The study is designed for comparison of CDX-011 with Roche's (OTCQX:RHHBY) Xeloda, approved for treatment of breast cancer and colorectal cancer. U.S. sales of Xeloda for 2013 stood at $737 million, up from $647 million reported in 2012. Estimated global sales of Xeloda in 2012 were $1.2 billion.
If approved, CDX-011 has the potential of replacing Xeloda, whose patent expired in December 2013.
Current valuation
The termination of CDX-1135 trial has resulted in a major drop in Celldex's valuation, which deserves the attention of value investors. Here's how.
While Rindopepimut is expected to achieve peak sales of $1 billion (some analysts place it at $2 billion), CDX-011 is expected to generate peak sales of $400 million (actually anything between $400 million and $1 billion). The current market cap of Celldex is $1.04 billion, which means the stock is trading at 0.75 times the combined peak sales of its lead pipeline candidates. This is abysmally low considering that the healthcare industry trades at an average of 2.85 times (average of 58 companies) price/sales and the biotechnology industry at 10.27 times (average of 349 companies), as per data compiled by NYU.
Risks
Celldex has lost 53% in the last six months. It is now entirely up to the progression of its oncology pipeline. Rindopepimut is being studied in a Phase III study (named ACT-IV) for newly-diagnosed glioblastoma patients and a Phase II study (named ReACT). ReACT data is expected by November 2014, when the Data Monitoring Committee will also have a look at ACT IV data.
Contrary to popular belief, approval of treatments for rare diseases is not an easy job. Sometimes, clinical endpoints are unclear in effect or not detectable in small populations available for study. Even orphan drug trials are not able to sustain long comparisons with placebos.
However, it must also be said that the regulator is relatively more inclined to be lax in the case of orphan drugs like Rindopepimut, and is often seen willing to give such drugs leeway that is denied to other drugs.
The final word
Even without CDX-1135 and using only the fundamentals of Rindopepimut and CDX-011, both of which are in late-stage clinical trials, it is safe to expect a decent upside from the current market price.
Disclosure: I am long CLDX. I wrote this article myself, and it expresses my own opinions. I am not receiving compensation for it (other than from Seeking Alpha). I have no business relationship with any company whose stock is mentioned in this article.