Gold, like almost any other commodity, has two different sets of fundamentals that investors should have at least some rudimentary knowledge.
The first set are those that we cover regularly - related to the macroeconomic environment, such as inflation, central bank buying, Chinese demand, and government debt loads (in one of our favorite earlier pieces, we go over what we believe is the most relevant and prominent of these issues).
The second set of fundamentals are related to the much less covered seasonal behavior of gold. Just like more traditional commodities (though we don't really consider gold a commodity), gold has a normal seasonal pattern. If investors look at the chart below, they can see that over long periods of time, gold does do better (or worse) during certain months of the year.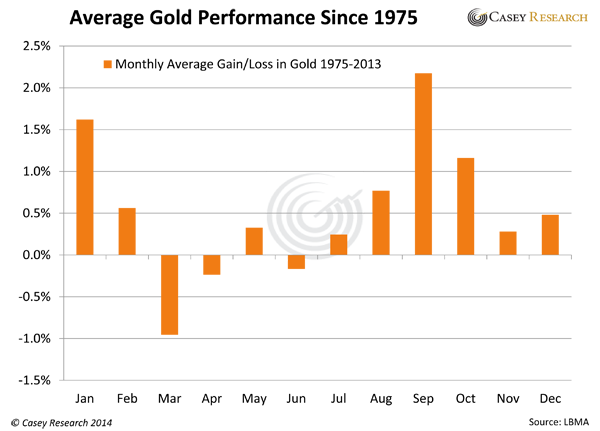 Source: Casey Research
As investors can see, gold tends to perform better during the late summer and early autumn, and have more lackadaisical performance during the spring and early summer months. Even if we break gold down into different investment periods (as Casey Research has done in the chart below) we see that the performance pattern still holds up.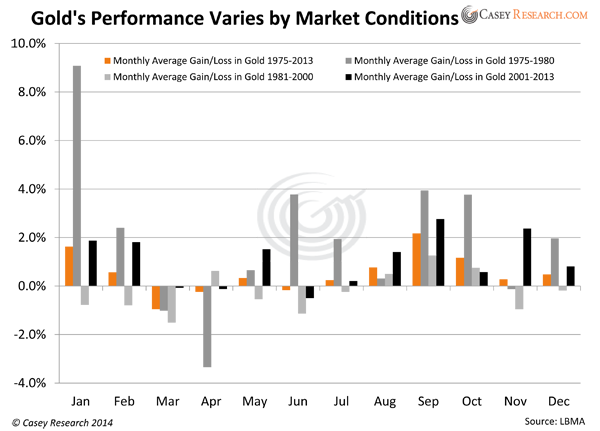 Source: Casey Research
This performance pattern makes a lot of sense because this price strength in gold corresponds well to the Indian wedding season, the Christmas holidays (for Western buyers), and early stocking for the Chinese New Year. Additionally, the Muslim month of Ramadan is scheduled to begin in June and go through July (it is lunar-based so it changes every year), and that means that there will be seasonal physical gold demand from the Middle East in late July.
Beacon Securities analyst Michael Curran agrees as he said the following during an interview with The Gold Report:
"We definitely believe in the 'summer doldrums' for gold, when the metal tends to lose some physical demand support. Jewelry manufacturers don't need to buy physical gold until the latter part of the summer for all those events around the end of the year, like Indian wedding season, Christmas and Chinese New Year. Unless there is some other market catalyst, we tend to see gold pretty flat over the summer months."
Conclusion for Investors
While seasonal gold demand takes backseat to macroeconomic gold fundamentals, it is still something worth noting for investors. A conflux of seasonal reasons shows that buying gold in July and August tends to be a profitable decision.
We can't stress enough that seasonal demand is of a much lesser importance compared to the macroeconomic factors, but it is something that can definitely influence price (historically it has shown so) and be additional tinder for a price move. Investors interested in the seasonal fundamentals (and you can count us amongst bullish gold investors) should consider increasing their positions in physical gold and the gold ETFs (SPDR Gold Shares (NYSEARCA:GLD), PHYS, CEF) if there is the traditional "summer doldrums" gold weakness.
Investors looking for additional exposure and leverage to the gold prices may want to consider the gold miners such as Goldcorp (NYSE:GG), Agnico-Eagle (NYSE:AEM), Eldorado Gold (NYSE:EGO), Newmont (NYSE:NEM), or even some of the explorers and silver miners such as Pan American Silver (NASDAQ:PAAS) (we're not suggesting these companies specifically - only suggesting them for further investor research).
While we wouldn't buy gold just based on the seasonal factors, we think the macroeconomic factors are so strong that seasonal weakness may be an excellent time for investors to increase or initiate positions in gold and gold industry investments. It may be that the increased seasonal physical demand would be the catalyst that gold needs to move out of its recent $1275-$1310 trading range - this may be exactly what we saw early in the year as gold rose in lockstep with the Chinese New Year.
Disclosure: I am long SGOL, PAAS. I wrote this article myself, and it expresses my own opinions. I am not receiving compensation for it (other than from Seeking Alpha). I have no business relationship with any company whose stock is mentioned in this article.