Total Return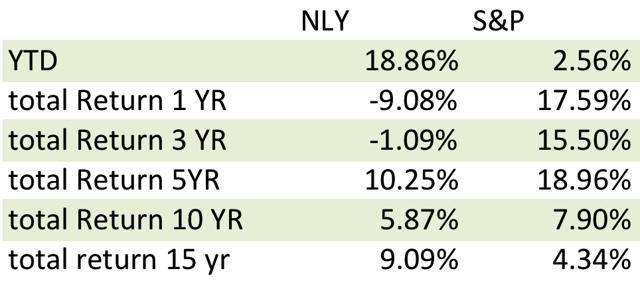 Data from Morningstar.com.
Year-to-date Annaly Capital Management (NYSE:NLY) has rewarded investors handsomely. Unfortunately the YTD return only partially remunerated longer-term holders for previous losses. Even with the excellent YTD return, NLY's total return over the past year is -9.09% and its total return over the past three years is -1.09 (annualized).
Over the five-year and ten-year periods the total returns are positive, but badly trail the market, lagging the S&P by over 8% per year for the five-year time period and by over 2% per year over the ten-year time period.
Over the fifteen-year time period NLY hugely outperformed the market. This indicates that NLY was a very good business a few years ago, but gives me small comfort now. Since then competition has increased with new competitors entering the fray: CYS Investments (NYSE:CYS) in 2006, Two Harbors in 2007 (NYSE:TWO) and American Capital Agency (NASDAQ:AGNC) and Armour Residential (NYSE:ARR) in 2008.
Risks
In addition to being extremely volatile and not having the total returns to justify the risk, NLY has entered new businesses. Some view NLY's entry into owning commercial real estate and non-agency backed mortgages as positives, but are they?
By adding less liquid assets to the portfolio, the fallback position, an active investor forcing the company to liquidate, becomes less attractive.
NLY in diversifying its business is admitting the current environment is not favorable for its current MBS business.
NLY adds a new set of risks to manage. From the latest 10k:
"While we remain committed to the Agency market, given the current environment, we believe it is prudent to diversify a portion of our investment portfolio. We have begun investing in new business strategies and assets and expect to continue to do so in the future. We currently may allocate up to 25% of our stockholders' equity to real estate assets other than Agency mortgage-backed securities. These other assets expose us to other sorts of risk, including credit risk." (Italics added by author)
Dividends
NLY's dividend, its major enticement, has been on a steady decline: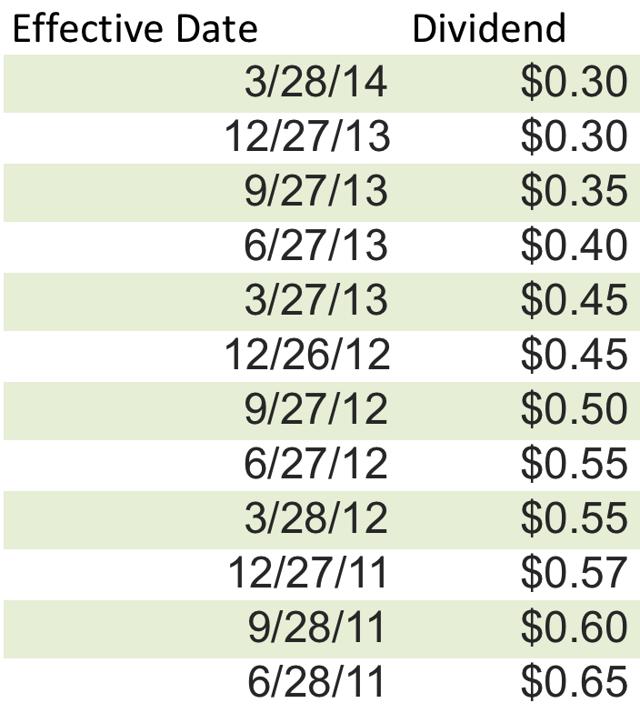 Data from nasdaq.com
Other High Yield Options
There are other high yield options that get a lot of attention at Seeking Alpha: American Capital Agency, Linn Energy (LINE), Prospect Capital (NASDAQ:PSEC) and Seadrill Limited (NYSE:SDRL). All of these options have higher yields and better total return numbers:

Data from Morningstar
NOTE: I am not recommending any of these stocks.
Conclusion
NLY is a high yield, volatile stock with poor long-term total returns and decreasing dividends. Some traders may be able to play the volatile nature of the stock to their advantage. Some investors who are experts in the very complex intricacies of mReits may see some advantage to NLY that is not apparent to the average retail investor. But for most investors I see little reason to invest in this stock at the current time - unless you're feeling lucky.
I encourage all investors to do their own due diligence and please share your findings. I strongly feel the best thing about Seeking Alpha is the sharing of ideas. Please comment. Divergent opinions are welcome.
Disclosure: I am long PSEC. I wrote this article myself, and it expresses my own opinions. I am not receiving compensation for it (other than from Seeking Alpha). I have no business relationship with any company whose stock is mentioned in this article.