Earlier in the year, I wrote about Philip Morris (NYSE:PM) and the reasons why the company had been lagging. At the time, the stock was down nearly 10% YTD and trading in the high $70s. Since then, Philip Morris has largely recovered, and is fast approaching $90 per share. However, I still think the stock has room to grow. Tobacco stocks such as Altria Group (NYSE:MO), Lorillard (NYSE:LO) and Reynolds American (NYSE:RAI), have all been on fire YTD, a rally which Philip Morris has not really participated in.
Q1 2014 Overview
On April 17, Philip Morris reported its Q4 2013 results. For the quarter, the company posted net revenues after excise taxes of $6.9 billion, down about 1.6% from last year when excluding unfavorable currency, but in line with estimates. Cigarette shipment volumes were down 4.4% to 196.0 billion units. However, when adjusting for the Philippines and other one-time inventory items, volumes were down only 2.0%.
Earnings per share, or EPS, came in at $1.18, down 7.8%, or $0.10, from $1.28 last year. However, when adjusted for forex and other one-time items of $0.16, Philip Morris' adjusted EPS was actually $1.34, up 4.7%, or $0.06, from $1.28 last year.
As can be clearly seen, Philip Morris results were greatly impacted by currency issues. These issues have seriously been hurting the company since late 2012. However, Philip Morris' "organic" earnings growth remains intact.
Volumes and revenues are showing natural declines. The trend away from cigarette smoking is not isolated in the US or Europe, and has taken hold in other mature markets. However, these declines have not been hurting currency adjusted margins much. Philip Morris is simply charging its remaining customers more.
2014 Guidance updated
Philip Morris' full-year 2014 guidance was initially for EPS of $5.02 to $5.12, down from $5.26 in 2013. However, thanks to improved currency trends (-$0.61 versus -$0.71), the company updated its EPS guidance to a range of $5.09 to $5.19, up $0.07. Adjusted earnings are projected to grow 6% to 8%, from the $5.40 of adjusted earnings in 2013.
Share Buybacks and Dividends
Philip Morris's 2014 guidance initially pointed toward $4.0 billion per year, or $1.0 billion per quarter, in share buybacks. However, during Q1, the company actually bought back $1.25 billion worth of shares (15.40 million at $81.17 per share). This likely indicates that the company stepped up the program when shares were clearly undervalued.
This year's buyback program marks a slowdown from last year's buyback program of $6.0 billion, or $1.5 billion per quarter. As I noted in a previous article, a slowdown in share buybacks was already widely baked in by the market, as the company mentioned in November that 2014 was to be an "investment" year. The company is using a large portion of its cash flows for capital expansions related to e-cigarettes and to enter new growth regions.
As for the dividend, do note that Philip Morris' policy remains unchanged. The company has long stated that it targets its future dividend growth based on its adjusted currency-neutral earnings. Furthermore, Philip Morris' payout ratio has been typically pegged at about 65% to 70% of EPS.
During the Q1 2014 conference call, Philip Morris was asked specifically regarding the dividend and target payout ratio:
Bonnie Herzog - Wells Fargo

Okay. That's helpful. And then, my final question is on your dividend. Given your negative EPS growth this year due primarily, of course, to the currency headwind, could you share with us how you're thinking about your dividend? And then, how comfortable or willing you are to let your payout ratio be above your target 65%?

Jacek Olczak - CFO

Well, we're currently above the current ratio -- sorry, the current payout ratio. Listen, the dividend, as you know, is the decision of our Board, so I think we need to be patient and wait until the September Board and see what decision the Board will make.

What I can say at this stage is that I think we have in every single year since we become independent; we've been rewarding shareholders irregardless of some headwinds which we had on our reported result. And I can't say anything more at this stage, but I think we had a track record of generously rewarding shareholders.
While Philip Morris' CFO could not say it directly, if we read between the lines, the company is obviously going to provide a dividend increase in 2014, even if it has to breach the 65% level.
At the moment, the payout ratio based on non-adjusted EPS is hovering near 85%. As a result, I would expect only a token increase to the dividend, in the $0.01 to $0.03 per quarter (1% to 3%) range.
Philip Morris is undervalued, and is due for a rebound
Compared to its domestic peers, Philip Morris is now very attractively priced. The stock price has been flat YTD, compared to nearly 20% gains from Lorillard and Reynolds and a 6% gain from Altria.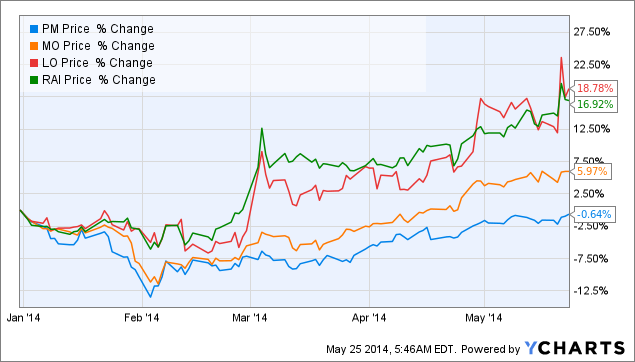 By TTM PE, Philip Morris is now trading at a sizable discount to all its peers. Both Lorillard and Reynolds American trade at a massive 18% premium to Philip Morris. Altria, Philip Morris's former parent, trades at a more modest 11% premium. Do note that Lorillard has surged in recent days due to rumors about it getting bought out by Reynolds American.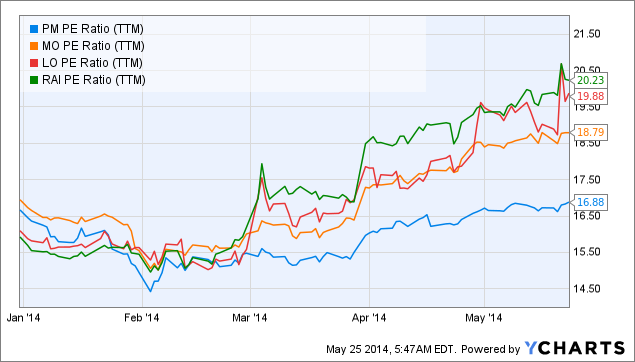 PM PE Ratio (TTM) data by YCharts
Philip Morris is also cheap compared to its peers based on its FCF, or free cash flow, generation. FCF is often used by companies for paying dividends, share buybacks and for growth. While not a perfect metric, it is a good guide for comparing profitability in a similar segment.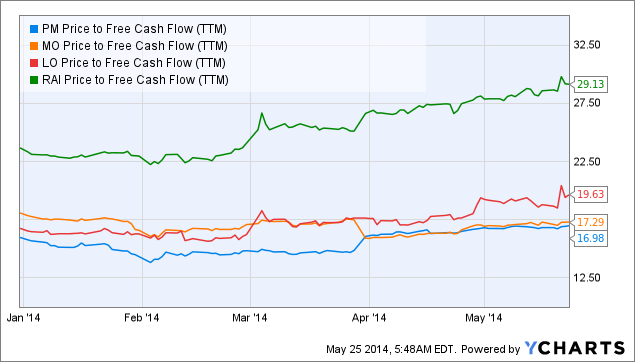 PM Price to Free Cash Flow (TTM) data by YCharts
Finally, based on enterprise multiple, or EV/EBITDA, Philip Morris is trading in line with peers Lorillard and Altria, and below Reynolds. EV/EBITDA is a good metric for valuation due to it factoring in debt, while also using EBITDA over earnings, which tends to be a noisy metric.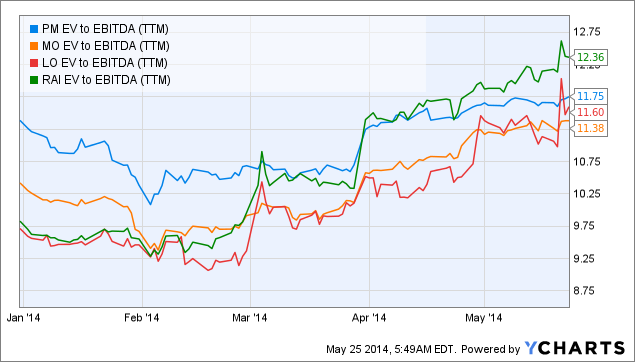 PM EV to EBITDA (TTM) data by YCharts
Conclusion
Philip Morris is by far the cheapest tobacco stock in the market. While the company is struggling, the current discount to peers seems unwarranted.
Domestic tobacco stocks face a population whose demand for cigarettes is in secular decline. Meanwhile, Philip Morris has access to major growth areas in Africa and Asia. If anything, Philip Morris' valuation should demand a premium, not a discount.
With its current 4.50% yield, Philip Morris is a solid pick for dividend investors. While 2014 will be a hard year, things are turning around. Over time, I believe the stock should bounce back and close the gap between its peers.
Disclaimer: The opinions in this article are for informational purposes only and should not be construed as a recommendation to buy or sell the stocks mentioned. Please do your own due diligence before making any investment decision.
Disclosure: I am long PM, MO. I wrote this article myself, and it expresses my own opinions. I am not receiving compensation for it (other than from Seeking Alpha). I have no business relationship with any company whose stock is mentioned in this article.