2013 was a good year for PepsiCo (NYSE:PEP). Shareholders of the company must be quite happy as its share price surged more than 20% last year, from $69.33 per share to more than $82 per share. The company has also shown decent growth in its top and bottom lines, and delivered a high return on equity. Year-to-date, the stock moved more than 4.5%.
PepsiCo operates in the food and beverage industry. Growth in the industry is dependent on disposable income and consumer spending. Between 2010 and 2020, Global consumer spending is expected to increase by $12 trillion. Spending on food and non-alcoholic beverages will account for about 11% of this growth. The United States and China will account for 25% and 19% of the world's spending growth through 2020, respectively. Both, the U.S. and China are important markets for the company.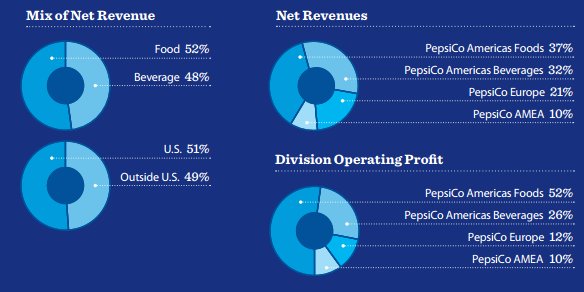 Source: 2013 Annual Report
As PepsiCo faces a maturing domestic market it has turned internationally to counter the lack of growth in the North American market. Specifically, its focus is on emerging and developing markets. The company generated 49% of its revenue from outside the U.S. last year. Emerging markets like China, India and Brazil are substantial sources of growth. These countries are experiencing rapid population growth and increasing incomes. Both of which are positive drivers for PepsiCo's growth, as there will be consumers with a newfound disposable income that gives them access to PepsiCo's products.
Last year, PepsiCo's developing and emerging markets posted 10% organic revenue growth, with particularly strong performance in China, Pakistan, Saudi Arabia, Mexico, Brazil and Turkey. In February 2014, PepsiCo and its partner in China, Tingyi Holding Corp have signed a deal with Walt Disney (NYSE:DIS) that will have significant impacts on the Chinese beverage market, as PepsiCo will supply drinks for the new Disneyland set to open in Shanghai in 2015. This opportunity could be a major growth driver for the company's Asia, Middle East & Africa, or AMEA division, and steal market share in China from Coke which had a similar alliance with Disney for the last 25 years.
PepsiCo has further plans of targeting the growth prospects in China, which would be utilized by investments such as the opening of a research and development plant in Shanghai which enables the company to develop products geared toward tastes that the locals prefer. As China surpassed the US as the world's largest retail grocery market, growth in China is something PepsiCo intends to get a piece of. IGD forecasts that the Chinese grocery market will be worth £918 billion by 2015.
Looking at the U.S., PepsiCo relies heavily on the U.S. market and that market has revolved around CSD (carbonated soft drinks) sales. CSD sales in the U.S. fell 3% in 2013. It also represents a steeper drop than the 1.2% decline in 2012 and the 1% drop in 2011. The sales are expected to decline further in the coming years. As consumers shift away from CSDs, PepsiCo needs to continue their innovation of new products that will replace this loss in sales. With new consumer preferences emerging, there is no guarantee that past market leaders will be able to successfully adapt.
PepsiCo is also attractive for dividend investors, offering a current yield of 3.10%. The company has paid a consecutive quarterly dividend since 1965 and has increased the annual dividend for 42 consecutive years. Last year, it returned $6.4 billion to its shareholders through share repurchases and dividends. Dividends were $3.4 billion and share repurchases totaled $3 billion. Over the past ten years, PepsiCo has increased its annual dividend by over 13% per year, which is quite nice. A 13% growth in dividends translates into the dividend payment doubling almost every six years. Analysts are expecting that the company will report revenue of $67.20 billion this year and $69.93 billion next year. EPS is estimated to be $4.54 and $4.88 in 2014 and 2015, respectively. As the company's revenue is expected to grow, so are their dividends. Its current dividend payout ratio is only 51%, which leaves substantial room for future payout growth. With more than $9.8 billion in cash, PepsiCo has the ability to pay dividends for at least 3 years.
Risk Factors:
1) Cost for items like sugar and corn can fluctuate and cause higher input costs that would erode margins.
2) PepsiCo has high exposure to many countries and currencies around the world which increases currency and geopolitical risk.
3) Trends toward health consciousness may draw attention to PepsiCo's unhealthy brands.
4) Some key markets are mature and have limited growth potential, such as North America and UK.
Bottom Line
Future of PepsiCo looks promising. As U.S market is maturing, PepsiCo's expansion into emerging markets will help the company diversify its operations and geographical presence. This movement will enable PepsiCo to have a greater access to capital and establish its brands in the new markets. Its ability to pay and consistently raise their dividend shows their stability and presence as a world leader in the food and beverage industry. In my opinion, PepsiCo is a strong buy right now.
Disclosure: I have no positions in any stocks mentioned, and no plans to initiate any positions within the next 72 hours. I wrote this article myself, and it expresses my own opinions. I am not receiving compensation for it (other than from Seeking Alpha). I have no business relationship with any company whose stock is mentioned in this article.