Pfizer (NYSE:PFE) was founded back in 1849 by two Germans with $2,500 borrowed from Charles Pfizer's father. Its first product was an antiparasitic used to treat intestinal worms.
Since then, the company has grown tremendously both product-wise, geography-wise and profit-wise, making it one of the largest pharmaceutical companies in the world today, with its market cap of approximately $188 billion.
The Fundamentals
The company has established itself as one of the big global pharma companies with well-known products such as Lipitor, Lyrica, Zithromax and, of course, Viagra. These, together with a host of other products before them have grown Pfizer's revenue and profits for decades. This growth has slowed down, though, over the last decade, as can be seen in the graph below.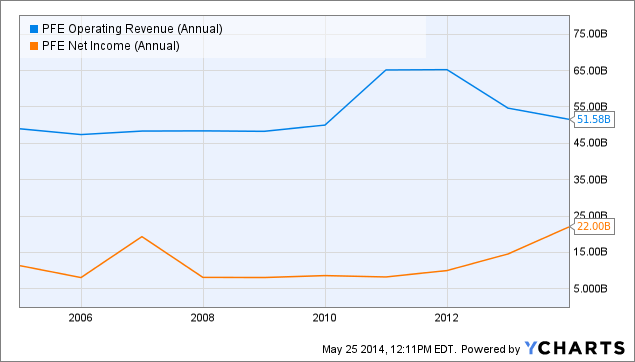 PFE Operating Revenue (Annual) data by YCharts
Pfizer used to be a darling of dividend investors given its long track record of market-beating returns and good dividend growth. But, as mentioned, the last decade or so has not been so sanguine. Partly, this is a problem of size. Growing EPS by double digits is easier for a $1-billion company than for a $200-billion company.
For investors, the past is obviously not as important as the future. So the question is, both for Pfizer and other Big Pharma companies, how can it grow going forward?
One answer seems to be acquisitions. As most people who even casually follow markets have noticed lately, Big Pharma is engaging in a lot of deals. Some are more strategic, aimed at helping the companies focus better on a few niches. An example of that is the deal between GlaxoSmithKline (NYSE:GSK) and Novartis (NYSE:NVS).
Another form of acquisition is the more regular "buy growth" type. That seems to be the type Pfizer is engaged in. Among other companies, it bought both King Pharmaceuticals and Icagen over the last couple of years. On May 2, it attempted a super-sized deal by bidding for AstraZeneca (NYSE:AZN). This was promptly rejected, and by May 18, Pfizer upped the bid approximately 15%. The bid was rejected, however, by AstraZeneca. So I guess it remains to be seen if there will be a new "final" offer or if Pfizer will look elsewhere.
Anyway, it seems quite clear from the company's actions that it does not manage to grow enough on its own, and is quite keen on buying its way out of this growth problem. The CEO, in his letter to shareholders, seems quite upbeat about the company's prospects and its goal toward becoming the premier innovative biopharmaceutical company. He also mentions that 2013 was "another outstanding year for our company". That's a statement that I can't really reconcile with unimpressive growth rates and an apparent desperation for making deals. I get the impression that the CEO's stated confidence is not rooted in facts.
Risk Factors
Even though pharmaceutical companies have historically been able to crank out nice profits based on the patented products they develop, competition among these companies remains fierce. There is, thus, a constant risk of competitors beating you to market with new and better products. Currency fluctuation is also a risk, as the company sells its products worldwide. In the long run, currencies tend to even out, so this risk is limited in the long term. There is risk of government intervention in the form of price controls. A recent example of this risk is the letter from U.S. House representative Henry Waxman to Gilead Sciences (NASDAQ:GILD) over the price of the new drug, Sovaldi. There is also the risk of being sued from competitors over patent infringement. This is fairly common in the industry.
Valuation
We have seen how the company has struggled somewhat with its growth rate lately. But it could still be a good investment if the low growth rate is reflected in the price one has to pay for the stock.
There are lots of pharmaceutical companies to choose from, but in this case, I thought it would be interesting to compare Pfizer with another giant pharma company in the U.S., Merck (NYSE:MRK), and with its acquisition target, AstraZeneca.
| | | | |
| --- | --- | --- | --- |
| | Pfizer | Merck | AstraZeneca |
| Price/Sales | 3.9x | 3.9x | 3.5x |
| Price/Earnings | 18.0x | 37.5x | 35.5x |
| Yield | 3.4% | 3.1% | 3.9% |
Source: Morningstar.
As can be seen in the table above, AstraZeneca is the cheapest on Price/Sales, and offers the highest dividend yield of the three. On Price/Earnings, however, Pfizer wins the race with its P/E of 18.0x. This is the exact same multiple as the broader market, as represented by the S&P 500. Its dividend yield comes in as number two.
I would say that based on the multiples above, Pfizer is neither very cheap nor very expensive, but slightly more attractive than the other two companies in the table.
The Dividend
This company used to be a stellar dividend grower, increasing the dividend like clockwork every year. But as mentioned, something happened to this trend about a decade ago. The last split was way back in 1999. And the stock is still just trading around $30.
In 2009, the company did what was once unthinkable. It cut its dividend in half, from $0.32 to $0.16. Since then, though, it has appreciated 62.5% to $0.26 per share.
The big question now is what kind of return can be expected from this company in the future. The mean analyst estimate is for a five-year EPS growth rate of 3% annually. If we assume the same Price/Earnings multiple five years down the road as today and add in the dividend yield of 3.4%, we arrive at an expected total shareholder return of a whopping 6.4%. Even if you really want to invest in the pharma industry, there have got to be better opportunities than this.
Conclusion
Though the company has a solid history of growth, times have changed and the company is struggling to grow its revenues and profits. The expected total shareholder return is just too low to be deserving of your dollars. Look elsewhere for opportunities.
Disclosure: I have no positions in any stocks mentioned, and no plans to initiate any positions within the next 72 hours. I wrote this article myself, and it expresses my own opinions. I am not receiving compensation for it (other than from Seeking Alpha). I have no business relationship with any company whose stock is mentioned in this article.