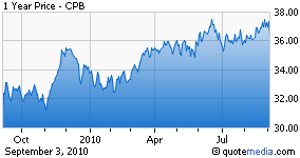 Campbell Soup Co. (CPB) reported fiscal 2010 fourth-quarter adjusted earnings of 33 cents per share, topping the Zacks Consensus Estimate of 30 cents. Quarterly earnings also came in ahead of the year-ago result of 30 cents per share.
Campbell's net sales during the quarter declined by a modest 0.7% year-over-year to $1.52 billion, which missed the Zacks Consensus Estimate of $1.60 billion. The decline was primarily caused by higher promotional spending, partially offset by favorable currency translations.
US Soup, Sauces and Beverages division sales fell 1% year-over-year as sales of both condensed and ready-to-serve soups slipped 7% each. However, the decrease in segment sales was partially offset by a 9% increase in broth sales and a 12% growth in beverages.
Campbell's Baking and Snacking segment posted a growth of 3% year-over-year, mainly due to favorable currency translations. The company witnessed higher sales of biscuits in Indonesia, while that of Pepperidge Farm declined. In Australia, sales remained essentially flat as increased volumes were offset by higher promotional spending.
International Soups and Sauces segment declined 3% year-over-year mainly due to lower sales in Europe and Canada. However, the reduction in segment sales were partially offset by improved sales in Asia-Pacific and favorable currency translations.
North America Foodservice division's quarterly sales slipped 7% year-over-year. The decline was primarily attributable to sluggish volumes and increased promotions, partially offset by favorable foreign exchange rates.
During the quarter, Campbell's gross margin contracted 120 basis points (bps) to 40.4% from 41.6% in the year-ago period, primarily due to higher promotional spending and cost inflation, partially offset by productivity improvements. However, operating margin expanded 280 bps year-over-year to 12.3% as reduced gross margin was more than offset by lower compensation expense.
Campbell ended the quarter with cash and cash equivalents of $254 million, compared to $51 million in the year-ago quarter. Quarter-end long-term debt was $1.95 billion, reflecting a long-term debt-to-capitalization ratio of 67.7%. During fiscal 2010, the company generated $1.06 billion of cash from operations and deployed $472 million towards share buybacks and $260 million towards Campbell's US pension plan.
Looking ahead, Campbell expects sales to increase 2% to 3% in fiscal 2011, below its long-term targets. Adjusted earnings for the fiscal is anticipated to grow at 5% to 7%, which approximately comes to between $2.59 and $2.64 per share based on fiscal 2010 adjusted earnings of $2.47 per share. The Zacks Consensus Estimate on earnings for fiscal 2011 is currently pegged at $2.65 per share, which remained constant over the past 3 months.
We currently have a Neutral recommendation on Campbell Soup.
Disclosure: No position