Does Yahoo (NASDAQ:YHOO) have a workable advertising strategy yet? The answer is a resounding "Yes". And while pricing trends continue to weaken, Yahoo is at least selling more ads as it attempts to find a reasonable equilibrium point.

Click to enlarge
Source: Yahoo
As you can tell, Yahoo has been able to improve the pricing and number of paid clicks in global search. However, it wasn't able to generate the same results in display advertising. The number of display ads sold improved, but pricing declined in the same period.
This is because mobile ads are significantly cheaper to buy. With the migration of eyeballs to mobile devices, things have become a little more difficult for Yahoo. However, the CEO of the company, Marissa Mayer has become increasingly confident in the mobile advertising environment:
Finally, with regard to mobile traffic, I'm excited today to announce that Yahoo! has more than 430 million monthly mobile users, a 30% growth year-over-year. Now more than half of Yahoo!'s total monthly audience joins us on a mobile device. We have been pioneering innovative ways to approach mobile advertising. To this end, we launched Yahoo Gemini, the first unified ad marketplace for mobile search and native advertising. For the very first time, we are leveraging our years of experience, building and optimizing ad technology across search and display into a one-stop shop. So for example if you've had a particular way you wanted to pay in terms of CPC, CPM, CPA, CPE, CPI, you might need to use one platform and you may not be able to for example, access data on a different platform. Yahoo Ad Manager Plus and Yahoo Ad Manager break all that down and they make all the data targeting payment and targeting methods that we have available all in one place.
Web-based advertising is driven by cost-per-action ads, or cost-per-impression ads. Most will opt for the action ads. This is because analytics tell marketers what the ROI per ad-dollar is. This allows businesses to earn money on advertising dollars, rather than overspend.
Some environments are a little more ad-friendly, like the Facebook homepage, whereas other environments aren't as easy to advertise on, like Yahoo Mail. Therefore, Marissa Mayer is basically communicating that even though its advertising environment isn't as simplified as Facebook's, it has taken steps to address this through Yahoo Gemini, which is an exchange that is built for all of Yahoo's smartphone apps.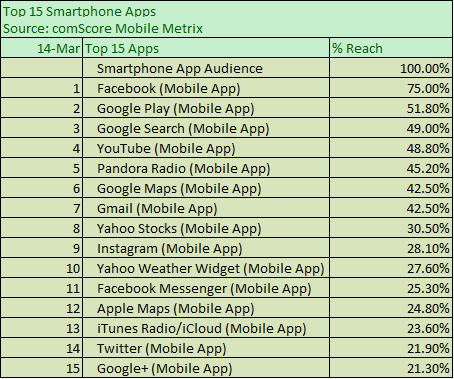 Source: ComScore
Facebook (NASDAQ:FB) ranks as the top app in terms of reach, at 75%. However, Yahoo has two applications that rank in the top 15 in terms of reach. Furthermore, Tumblr's mobile monthly active user base grew by 71% year-over-year in Q1 2014. Therefore, Yahoo's mobile strategy seems to be largely intact, as 430 million monthly active users across all of Yahoo's mobile properties gives the company enough scale to offer a competitive advertising platform. While Yahoo's user base is not as big as Facebook's, it seems Yahoo has enough scale to compete with some of the major ad exchanges.
Therefore, given the statistics, I don't think Yahoo's core business of advertising is completely dead. Yeah, the pricing trends aren't exactly the best, but with a rapidly growing user base and rising ad sales, I'm starting to become more optimistic.
Disclosure: I have no positions in any stocks mentioned, and no plans to initiate any positions within the next 72 hours. I wrote this article myself, and it expresses my own opinions. I am not receiving compensation for it (other than from Seeking Alpha). I have no business relationship with any company whose stock is mentioned in this article.