I no longer play games on Facebook (NASDAQ:FB). Many of the 1.28 billion users of the social network site are also not just playing games or exchanging status updates with their friends and relatives. There are individual entrepreneurs and companies who are using Facebook as a free platform to sell products and services.
Seeking Alpha users deserve to know that Facebook is not just a mobile advertising dynamo that's outpacing Google (GOOG, GOOGL). It is also a hybrid Amazon/eBay free site that hosts millions of online shops and buy-n-sell groups.
There's no accurate data to gauge just how many products and services are being sold within the social network. However, the huge user base compels me to believe that billions of dollars' worth of products/services are going through Facebook.
I truly appreciate Facebook's exponential growth as an advertising/marketing platform for corporations and small enterprises. These clients use Facebook to promote their products through targeted ads and as referrals that will bring people to their official sites or online shops.
On the other hand, I am from the Philippines, and my long-term view of Facebook includes it being becoming an e-commerce platform that will rival Amazon (NASDAQ:AMZN) and eBay (NASDAQ:EBAY). Mark Zuckerberg is busy growing the company's digital advertising business, but he is also preparing for Facebook's eventual transformation into an e-commerce portal.
The Huge E-Commerce Trade In Facebook Right Now
I mentioned the country where I live because Facebook is now the Philippines' favorite site for selling products and services. Filipinos have turned Facebook into an online global bazaar for selling dogs, home-made whitening soaps, home-cooked food, new and used smartphones, tablets, clothes, furniture, cars, motorcycles, escort services, legal services, concert tickets, etc...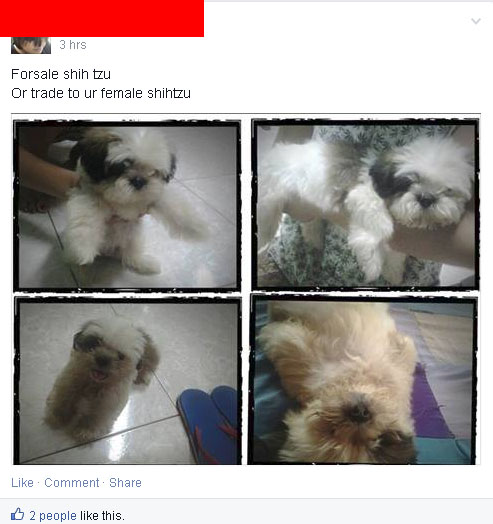 Source: My province-mate and Facebook friend
Facebook Philippines does more commerce than the local versions of eBay and Groupon. Hotels and local retailers sell their discount coupons and gift certificates through Facebook for free, rather than pay the fees of Groupon Philippines. I am a beneficiary of Facebook's e-commerce feature. I'm sure it is the same in other countries - Facebook is now a pervasive platform to buy and sell new and used products.
I was able to buy a lovely second-hand LG F160L Optimus LTE II Android phone for my wife via our local Facebook buy-n-sell group. It's imported from South Korea, but the owner upgraded to a new handset, so I was able to buy it for only 7,000 pesos ($162). I was also able to buy an almost-new Acer V3-471G DotA 2-capable laptop for just 15,000 pesos ($347.22) from a Facebook seller.
These two purchases are bargains because my country imposes a 25%-50% tariff on imported products. I am therefore grateful for Facebook for helping me acquire gadgets at a much reduced price. Best of all, the seller and I did not have to pay any fees to Facebook from these transactions. This free service is why more Filipinos have abandoned eBay to sell their used items.
It was also through Facebook last year that I was able to find a used car salesman who helped me sell my old Honda Civic. The wife of my cousin is a former bank manager, but she resigned earlier this year to put up a Facebook online shop selling authentic signature bags and shoes. She told me that her Facebook shop generates 3x more income than her old salary as a bank branch manager.
Another relative is using Facebook to find and recruit member to his MLM networking group. Facebook is now the biggest free portal for MLM recruitment. It makes me smile that multi-level networking operators in the Philippines are able to recruit members who are residing or working outside my country through Facebook.
fCommerce Is A Huge Opportunity
Zuckerberg's e-money transfer license application in Ireland is his preparation for fCommerce (e-commerce through Facebook). I believe he will eventually monetize the personal and corporate sales being channeled through Facebook's site. He will not charge fees like eBay does, but he will likely require sellers to use Facebook's e-money transfer as the payment method.
He is letting other third-party firms like Shopify, Bigcommerce, and Beetailer offer commercial apps to sellers on Facebook. Personal trading on the social network site is already omnipresent through the creation of Pages and Groups. However, companies and bigger entrepreneurs are paying for apps or turnkey solutions to help their Facebook online shops become more professional.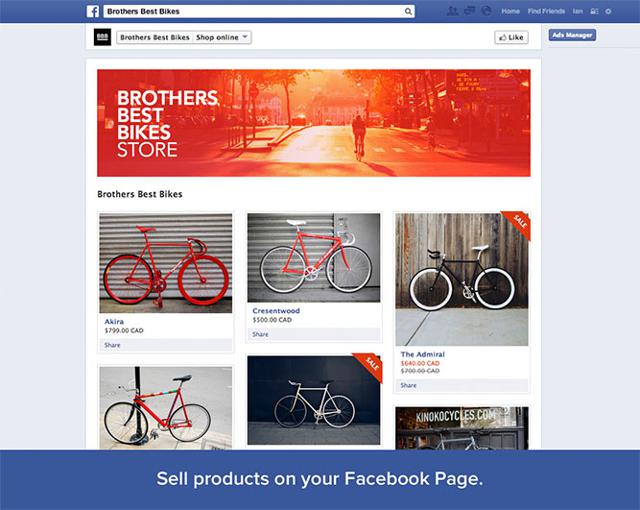 Source: Shopify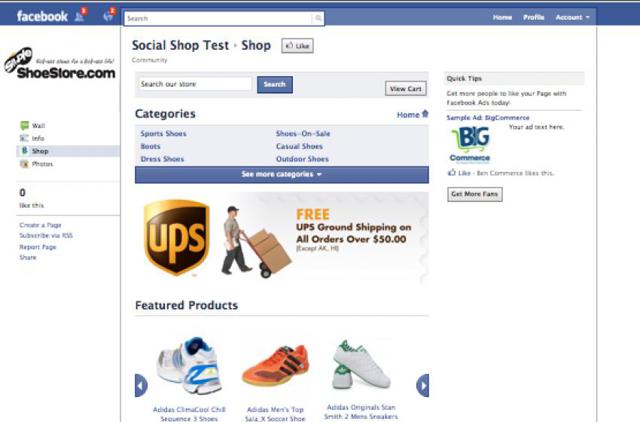 Source: Bigcommerce
Shopify and Bigcommerce are integrating their e-commerce solutions with Facebook. These two firms know that Facebook is where most planet Earth citizens are spending their online time. Retailers can only increase sales if their shops are located where the customers visit often. Facebook and Instagram are where humans and their money go.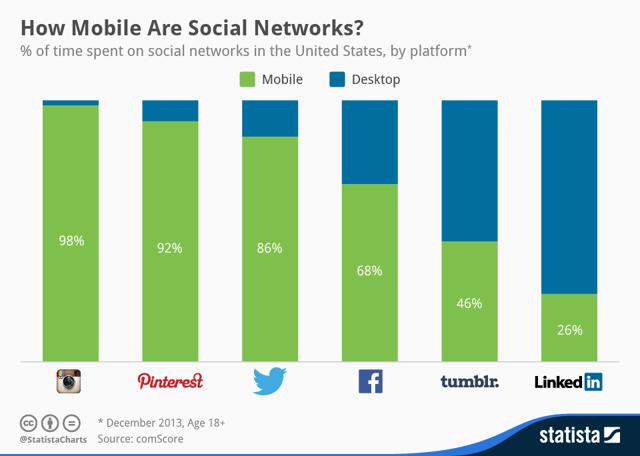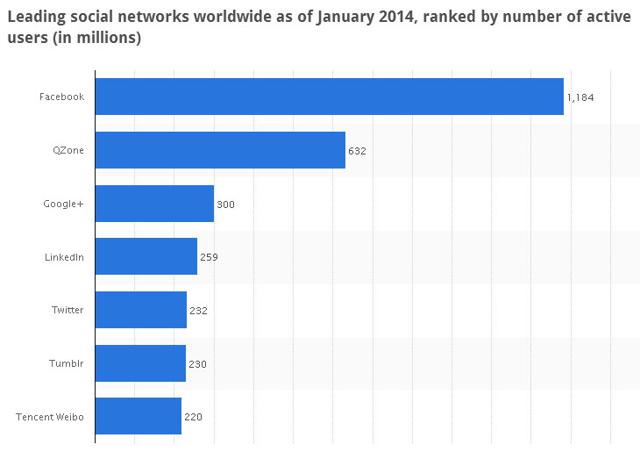 Source: Statista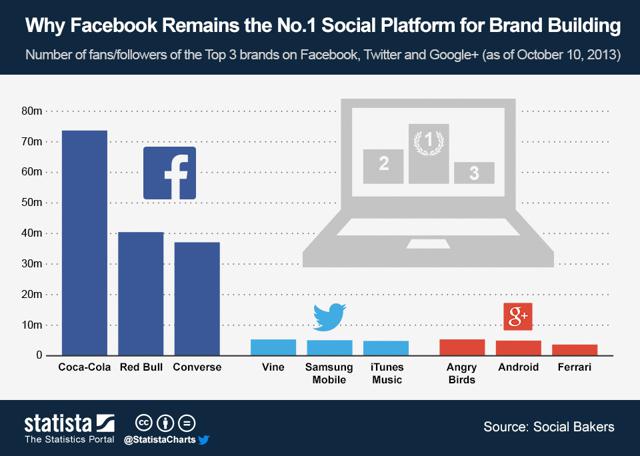 Conclusion
Facebook is gradually becoming a global e-commerce platform. The hyper-growth performance of this company does not only rely on digital advertising. The fact that informal sellers and buyers are trading billions of dollars' worth of products and services confirms that Facebook can generate money through non-gaming and non-advertising formats.
The upcoming e-money transfer service is where I put my bet as the monetization option for fCommerce. Pavyment powers 60,000 Facebook stores, but it still uses PayPal, Amex, and Visa as payment gateways. Zuckerberg's upcoming money transfer license will allow Facebook users to store money and send payment for products and services they buy over Facebook's fCommerce platform.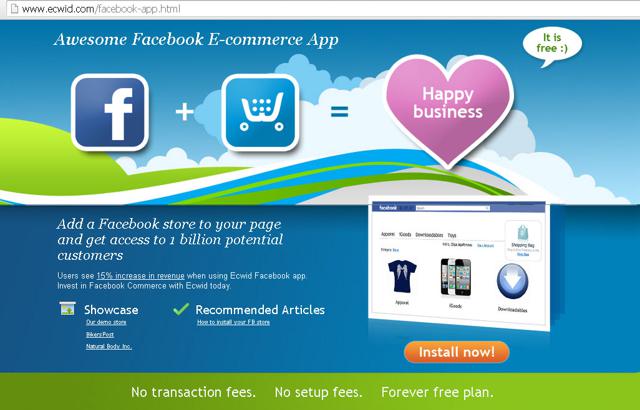 Source: ecwid.com
Facebook is a Buy. Alpha Omega Mathematica's Buy endorsement for FB is strongly supported by 32 analysts at Barchart. Professional analysts are well aware that Facebook is not just a one-trick pony.
FB's growth potential is not exclusively dependent on advertising. Facebook's platform already does a lot of e-commerce trade, but its P/E is still way below Amazon's.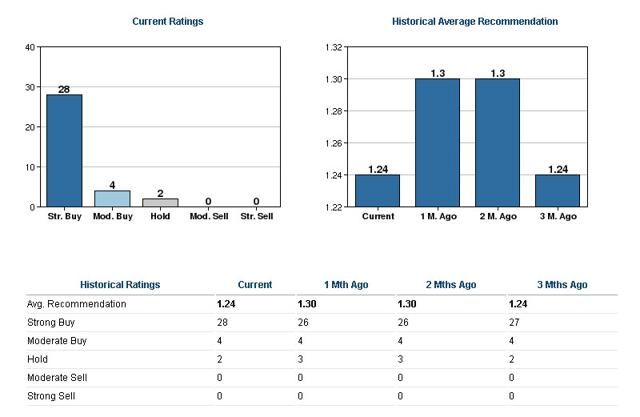 Disclosure: I am long FB, GOOG. I wrote this article myself, and it expresses my own opinions. I am not receiving compensation for it (other than from Seeking Alpha). I have no business relationship with any company whose stock is mentioned in this article.