The nation's retailers have reported unexpectedly strong August sales numbers as back-to-school requirements kept shoppers from restraining their spending plans. Retailers posted strong results on the heels of solid traffic and sales, albeit backed by heavy promotion and discounting in the back-to-school season. Further, tax-free holidays also provided a boost to the overall sales of the retailers. Seventeen tax-free holidays during August lured shoppers to the malls.
Looking back to only a year ago, the recession had the nation firmly in its grip, and the back-to-school season was somewhat sluggish as consumers were determined not to spend more. High employment rates, a falling housing market index and lower consumer spending made retailers uncertain of consumer behavioral trends. But this year has come as a breath of fresh air for the retailers.
Weather patterns also impact retail sales trends. Though high temperatures in many countries facilitated the clearance of discounted summer inventory, it impeded the sales of fall clothing. If the warm weather continues to persist in September, then retailers may be compelled to offer fall sweaters and jackets at discounted prices in order to move these items out the door.
Considering a recovery -- though this is now in question -- in the macro economy, the retailers are generally looking forward to a solid start to the third quarter of the year. However, the still heavily promotional and discounting climate may cause jitters to possible margin expansion. Conversely, such measures are helping many retailers to regain lost market share by offering unique merchandise and heavy discounts to consumers.
August same-store sales results at key retailers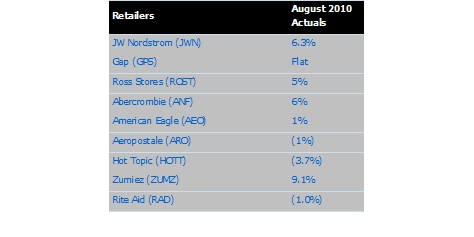 Abercrombie & Fitch Co.
When big teen retailers were fighting the battle of deep discounting and promotion, Abercrombie & Fitch Co. (NYSE:ANF) appeared to be one of the victors, registering same-store sales growth of 6% in August, handily surpassing the 29% drop last year. Continued promotional activity across all three concepts -- Abercrombie & Fitch, Abercrombie Kids and Hollister Co. -- contributed to the overall growth. Abercrombie & Fitch's same-store sales jumped 9%; Hollister was up 7%, partially offset by a plunge in Kids' same-store sales of 9.0%. Total sales for the month increased 14.0% to $353.7 million from $309.5 million in the year-ago period.
Aeropostale, Inc.
Aeropostale Inc. (NYSE:ARO) reported a same-store sales decline of 1% for the month, compared with a rise of 9% a year ago. Despite the negative results, the company hinted that it experienced stronger sales in its peak back-to-school phase. Total net sales jumped 4.0% to $252.5 million from $241.7 million in the prior-year period.
Gap, Inc.
Gap Inc. (NYSE:GPS) same-store sales for the month of August came in flat compared with a 3.0% decrease in the same period last year. Total sales also came in flat at $1.1 billion.
The flat same-store sales at The Gap emanated from a growth of 6% at Banana Republic North America and 5% in international comparable-store sales, countered by 1% shrinkage at Gap North America and 2.0% at Old Navy North America.
Although August results bode well for September and the ongoing back-to-school season, comparisons are tough in September because the industry began posting positive sales results in September 2009. The heartening same-store sales reported in August in the retailing sector is a prelude to a possible steady improvement in the following month as well.
Despite the general optimism as evidenced by August numbers, the overall recovery in the economy is still sluggish, with high unemployment levels dragging on the nation. Consumers, as a result, are tepid about consumer spending and are looking for more discount shopping. The retailing sector continues to face a number of headwinds, from tough comparisons to limited internal drivers. In summary, retailers that offer value for money and low prices are performing better in this lukewarm environment.
Disclosure: No positions