by Ed Leventhal

On September 2, I wrote an article on SeekingAlpha.com entitled Consumer Staple Stocks Still Taste Good, But There Could Be Pressure Coming..

This morning, the last of the three companies mentioned in that piece reported earnings: Campbell Soup (NYSE:CPB).

Some cutting and pasting from Morningstar Research:
Fourth-quarter and full-year results from Campbell Soup CPB came in lighter than expected from a top-line perspective, but gross margin improvements boosted operating income higher than our projections....but the total (sales) decline of 1% was still somewhat disappointing, since Campbell was lapping a relatively weak base period in the segment. Beverage sales increased 4.0% from the year-ago period on the back of increased advertising, baking and snacking sales were up 3%, and sales in the firm's international division were down 3%. Increased promotional spending was a theme across Campbell's categories, and we expect it to play an important role in coming quarters...."
Of particular note, relevant to the theme of my original article on CPB (mentioned above), was the Morningstar analyst's focus on higher input costs:
Weak global macroeconomic conditions and commodity costs that remain above long-term averages have presented challenges for Campbell Soup.
For those who like reading the end of the book before beginning it so as to avoid surprises, the conclusion of the Morningstar analyst is:
we believe the firm's dominant competitive position in the United States soup industry, as well as investments to reshape its portfolio and expand internationally, should enable Campbell to continue generating solid cash flows for the long term.

Near-term pressures could persist for some time, but we think the significant brand equity in Campbell's portfolio, as well as the firm's extensive distribution network, should allow the firm to generate robust cash flows well into the future.

Our $36 per share fair value estimate implies forward fiscal 2011 price/earnings of 14 times, enterprise value/EBITDA of 9.3 times, and a free cash flow yield of 7.0%. While we believe consumer spending will remain weak, we anticipate that the firm will benefit from new product launches and the higher prices for its products. We forecast average annual revenue growth of 3%-4% over the next five years, driven by new product launches and more normalized levels of consumer spending. In our opinion, Campbell's focus on improving its cost structure is paying off, even in the face of elevated input costs, which should allow the firm to increase its investment in marketing support for core brands.
The market didn't take the news well... the stock is currently down over $1 to $36.25, which, by the way, puts its div yield at just under 3%.

I believe that the Morningstar analyst's assessment is on the mark, especially with the focus on how well CPB is dealing with the reduced pricing power that is the natural outcome of intense competitive pressures for market share and with the focus on rising commodity input costs. Drought conditions in various places around the world have sent prices of various agricultural products soaring of late (again, chart courtesy of chartfacts.com)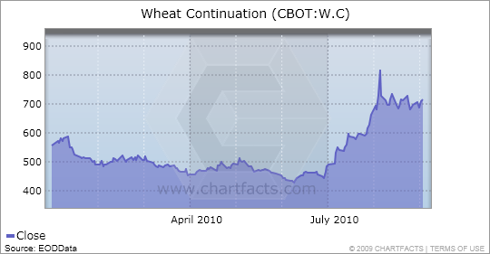 Though today's NFP numbers are certainly fuel for the bull's fire, and while I remain cautiously optimistic about equities globally especially for medium and longer term portfolio horizons, I do believe that 'choppy' is the word that will continue to describe market behavior, not 'trending'.

As such, my current holdings in Consumer Staples are remaining 'staples' of my portfolio (pun intended!). I might even add if the market overreacts to today's NFP data and we start to see sector rotation out of defensive names into more growth and high beta plays.

Just to put the current stock price, sales and earnings into historical perspective, have a look at chartfacts.com's chart below: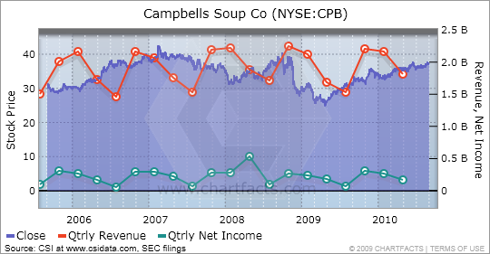 This is a solid company, that with only 30% of its sales currently international, has the kind of iconic brand-name popularity to make further inroads into global markets, not just with its soups, but with its expanding product line of beverages, etc. Given that I already own it, I'm in no rush to jump on the market's current disenchantment with the earnings announcement. But it's worth a good look at these levels, and even more so slightly lower.

As always, each investor has to assess his/her own financial profile to determine for himself whether this stock, at this time, is right for him..... but for me, though I'm watching it closely on all the issues cited in this and in the preceding article, let's just say in the words of CPB's memorable jingle, it's still: "mmmm, mmmm, good"!

Disclosure: Long CPB and other Consumer Staple stocks