Investors love the cigarette space, as these names offer high dividend yields and strong share repurchase programs. Last week, I analyzed the potential upcoming dividend raise for Altria (NYSE:MO), expected to occur in late August. Altria could have a quarterly dividend of 50 cents or more after this year's raise, which would be strong growth from its 35 cent payout in early 2010.
When investors think of Altria, they also think of another name that I cover heavily on this site, and that is Philip Morris (NYSE:PM). Philip Morris had a 46 cent dividend right after the 2008 spinoff from Altria, and that dividend has more than doubled to the current level of 94 cents. In about three months, Philip Morris is expected to raise its dividend again. With this being a down year for the company, I do think this year's raise might be a little lighter than some are hoping for. This is a stance I've pointed to in past articles, and today, I'll detail why I think this is the case.
Looking at the balance sheet:
While Philip Morris has been very generous to shareholders in recent years, it has come at a cost, and that's a weakening balance sheet. Philip Morris is not in any financial trouble at the moment, but if the trend continues, the company could face a ratings downgrade. Philip Morris has taken some steps to stop the weakening of the balance sheet, which I'll get to later. However, the balance sheet is getting weaker, as seen in the table below. Dollar values are in millions, and I've highlighted the end of Q1 2014 numbers against the end of Q1 2013 numbers.

*Liabilities to Assets ratio.
Philip Morris has a negative equity balance currently as the company has about $1.20 of liabilities for every dollar of assets. That's up from about $1.07 a year earlier. Additionally, there are a couple of ratios that Philip Morris specifically provides in its earnings report that investors need to think about. They are the Debt/EBITDA ratios, in terms of both total debt and net debt. You can see the trend of these ratios in the chart below.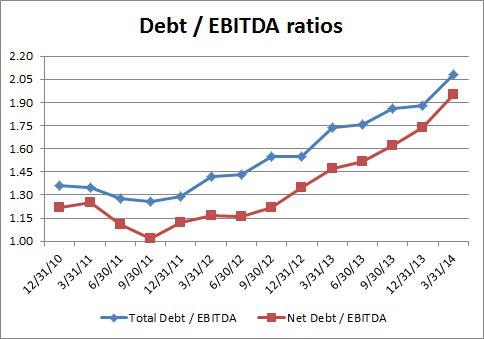 In the past year, the total debt to EBITDA ratio went from 1.74 to 2.08, and the net debt one went from 1.47 to 1.95. As I've stated before, I'm not completely worried yet, but these ratios are getting worse. That has implications for the company. Should the company face a ratings downgrade, it would mean future debts could carry higher interest rates. Philip Morris wants to protect its credit rating, and that's one reason why I think the company may have a smaller-than-expected dividend raise this year. Remember, the company has a few billion in debt coming due in the next few years. If rates do go up, the company does not want a reduced credit rating to double whammy its interest costs.
Cash flow and capital returns:
I mentioned above that Philip Morris has rewarded investors nicely in recent years. Dividends have been increasing, and the buyback has been strong. In the table below, I've recapped the past three years in terms of capital returns and free cash flow. You can view all of Philip Morris' financial information it its 10-K exhibits (pages 44 and 45). Again, dollar values are in millions.

Remember, free cash flow as calculated above doesn't include any acquisitions or other investments in subsidiaries the company has made. Those take cash too, which is why debt has risen so much in recent years. 2014 is a different year, and with currencies hurting the bottom line, investors need to be realistic.
The company has already reduced the buyback, with a 2014 target of $4 billion in share repurchases. Even with a declining share count, the company is paying out more in dividends thanks to last year's raise. In the Q1 2014 10-Q filing, the company detailed $1.503 billion in dividend payments for the quarter, up from $1.414 billion in the year-ago period. In that 10-Q, the company lists a dividend payable for Q2 of $1.494 billion, which could change slightly based on the buyback. In last year's Q2 period, the company's dividend payment was just over $1.4 billion. So for the first half of 2014, dividend payments should be about $180 million more than the first half of 2013.
Even if the company pays out the exact same dollar amount in total dividends during the second half of 2014 (as compared to 2013), you're looking at roughly $5.9 billion in dividend payments for this year. Add $4 billion for the buyback, and total capital returns would be $9.9 billion. Cash flow for the year is likely to be down, primarily due to currencies. In Q1, free cash flow including the currency impact was $459 million, compared to $1.123 billion in Q1 last year. That's a decline of 59.1%. While I don't think free cash flow for the entire year will drop nearly 60%, does $7 billion or $8 billion for the year seem possible after $8.935 billion last year? At that point, you're still talking about 120%-140% or so of free cash flow in capital returns. That could require even more debt. A bad year in terms of free cash flow could result in a smaller than expected dividend raise.
What a raise could look like:
There is one other consideration I would like to bring up. The company has guided to currency neutral EPS growth of 6% to 8% this year. Last year, at the Q1 2013 report, the company guided to 10%-12% earnings growth when excluding the currency hit. What happened with the dividend? It was raised from 85 to 94 cents a quarter, a raise of approximately 10.6%. If Philip Morris matches its dividend raise to its currency-neutral earnings growth, a dividend raise in the 6% to 8% range this year would certainly make sense.
The table I'll show in a minute will look familiar to those who have read some of my prior dividend articles, including the Altria one I linked to above. The table below will show what a raise could look like in terms of the following:
New quarterly dividend.
Raise per quarter, in terms of cents and percentage.
New annual dividend total.
Yield based on Friday's close.
One slight caution for investors here. Philip Morris is still expected to pay out one more $0.94 quarterly dividend, so this table does not reflect the next 12 months (starting today). Once that dividend is paid out, then this table will accurately reflect the next 12 months. I also highlighted a range for which I believe the new dividend yield will land.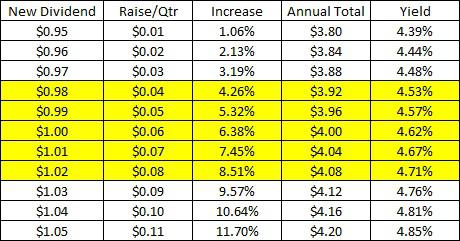 In many of my past Philip Morris articles, I stated that I believed the dividend would be raised by $0.06 to $1.00 per quarter. I still believe that, and so my range goes two cents from that midpoint in either direction. A raise to $1.00 per quarter might be a little lighter than most investors are looking for, but it fits in with a weaker 2014. Also, a 6.38% raise fits in towards the lower end of the 6% to 8% range for currency neutral EPS. This would basically mirror what the company did in 2013.
Where the dividend stands currently:
Altria has the highest yield of the four names I cover, and Philip Morris slots into third place of those names. Reynolds American (NYSE:RAI) sits in second and Lorillard (NYSE:LO) comes in fourth right now. The chart below shows each name's yield as of Friday's close.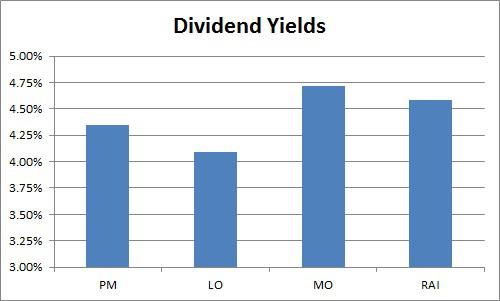 In my prediction table above, a $4.00 annual dividend for Philip Morris would put the annual yield at 4.62% based on last Friday's close. As of right now, that would put Philip Morris just a couple of basis points ahead of Reynolds for second place. Remember, Reynolds and Lorillard have already raised their dividends this year. Altria and Philip Morris generally raise theirs during the third calendar quarter of each year.
As I detailed in the Altria article, these yields have come down a bit in recent months. The cigarette space has rallied on buyout/merger rumors, with Reynolds appearing to make a play for Lorillard. With share prices rising, yields have obviously come down, even with dividend raises from two of the four names. In the chart below, you can see how much these four names have rallied in the past three months. Philip Morris has actually performed the worst, even though Philip Morris has basically doubled the gain of the S&P 500 over that time period.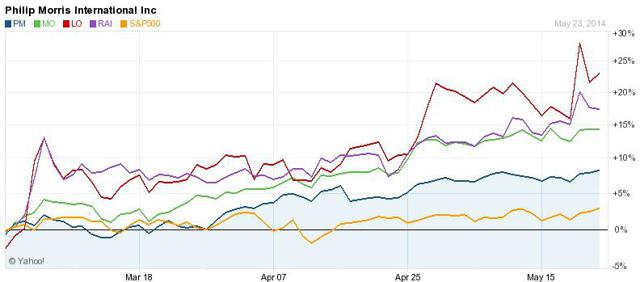 (Source: Yahoo! Finance)
Final thoughts:
Between a down year and a weakening balance sheet, Philip Morris investors may want to reduce their dividend expectations a bit. The company has been very generous in its capital returns in recent years, but the brakes will be tapped a bit in 2014. The company has already reduced the buyback target, and I feel that a smaller than usual dividend raise may be coming. With free cash flow likely dropping, the company doesn't want to push its debt pile too much and face a credit ratings downgrade. I'd currently expect a six cent raise to $1.00 per quarter, which would be near the bottom end of the company's currency neutral EPS growth rate range for 2014. After the Q2 report in July I'll take another look at the dividend situation, but for now, investors shouldn't hope for the moon.
Disclosure: I have no positions in any stocks mentioned, and no plans to initiate any positions within the next 72 hours. I wrote this article myself, and it expresses my own opinions. I am not receiving compensation for it (other than from Seeking Alpha). I have no business relationship with any company whose stock is mentioned in this article.
Additional disclosure: Investors are always reminded that before making any investment, you should do your own proper due diligence on any name directly or indirectly mentioned in this article. Investors should also consider seeking advice from a broker or financial adviser before making any investment decisions. Any material in this article should be considered general information, and not relied on as a formal investment recommendation.