3D Systems (NYSE:DDD) enjoyed a solid move higher last week and the stock may have finally broken its downtrend. I argued in my previous article on 3D Systems that the stock might find its bottom in the next few weeks. Investors were mostly focusing on declining profitability as the company ramped up investments to capture the growing demand for its products. The other cause of concern is also the increasing competition as Hewlett-Packard (NYSE:HPQ) plans to enter the 3D printing field this year. However, these fears might be overblown and I believe that the company has significant upside potential in the coming years. The downward profitability expectations cycle might also be over soon, as the company puts more focus on the bottom line next year and as margin compression stops and eventually reverses in the second half of 2015.
3D Systems is set to rally as the stock reverses to the upside
3D Systems has finally managed to close above its 50-day moving average line last week. This was the first time that the stock closed above the 50-day moving average line since January 23. Last week was also the first week of accumulation, as volume swelled on the upside, which means that institutional investors are buying shares. Another thing that might help the potential rally is the short-interest, which has more than doubled since the beginning of the year. Signs of a sustainable bottom in the share price, which are now becoming evident, might prompt short sellers to cover, which might add fuel to a strong move higher. I will discuss my potential price target later, and will now focus on the fundamentals and catalysts that might push the share price higher together with the improving share price momentum and potential short covering.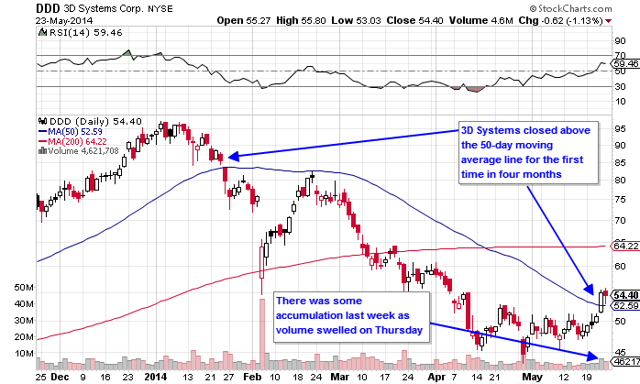 Click to enlarge
Source: stockcharts.com
Higher expectations might move the share price higher
As I stated in my previous article, investors were mainly focusing on the negatives: margin compression and the lack of upside guidance revisions. Management expects a return to operating leverage in the second half of 2015, and this is the time investors should focus on the bottom line. I believe that the worse might be over, and that downward earnings revisions might end soon. This might mark a turning point for the stock going forward, as the potential increase in revenue expectations should be followed by higher expected earnings. And higher revenue expectations might be coming in Q2 or Q3. Management reiterated FY 2014 guidance and said that growth should accelerate in the second half of the year. Current analyst estimates call for 36% and 38% revenue growth in Q3 and Q4, which is not in line with those expectations, since the company delivered 44% revenue growth in Q1. The Robtec acquisition should also boost the top-line expectations, and the full-year guidance should be raised when the company concludes the acquisition. I expect FY 2014 revenue above the high end of management guidance, and I am looking for annual revenue growth between 40% and 45%, as opposed to current analyst expectations for 37.5%. The higher revenue growth might be offset by higher levels of investments, and might not translate into higher 2014 earnings, but I still expect modest upside here. FY 2014 EPS might be between $0.85 and $0.90, as opposed to current expectations for $0.82.
Price target and potential upside and downside
Earlier in the year, I was looking at potential downside between $35 and $40. Based on the above mentioned expectations and a P/S ratio range in the prior 18 months, I am moving my downward expectations to $40 to $45, and this price range should present a place of major accumulation for long-term investors. As for the potential upside, I believe that the stock might achieve a 2014 P/S ratio of 10, which translates into 25% upside from the current price based on the current consensus estimates. Based on my revenue growth expectations, the upside is between 28% and 33%. My year-end price target is $70, which represents the low end of my revenue growth expectations. This compares to the potential downside of 17% to 25%. Based on these calculations, the reward-risk ratio is anywhere between 1 to 1 and 2 to 1. Any weakness in the share price will result in a stronger shift to the bull side.
Conclusion
The worse for 3D Systems' share price might be over, and a set of positive circumstances might result in a significant short-term rally. The potential for upside revenue guidance revisions and a bottoming price pattern might spark buying demand and short covering, which should boost the share price closer to my $70 year-end price target. However, investors should also focus on Stratasys (NASDAQ:SSYS), which I believe might outperform 3D Systems this year. Stratasys is in a similar situation as 3D Systems, but its forward valuation is more compelling. You can read more about my latest thoughts on Stratasys here.
Disclosure: I have no positions in any stocks mentioned, but may initiate a long position in DDD over the next 72 hours. I wrote this article myself, and it expresses my own opinions. I am not receiving compensation for it (other than from Seeking Alpha). I have no business relationship with any company whose stock is mentioned in this article.