As some of you may know I've been researching and writing a book on the legendary, real estate investor Donald Trump. My book is not a "get rich quick" book but instead a blueprint into the secrets that have made Donald Trump one of the wealthiest real estate developers in the world.
From the day that I read Trump's first book, The Art of the Deal, I have always been attracted to the success behind the dominating developer and now, 27 years later, I'm telling everyone the unique ingredients that make up the globally-recognized brand behind Trump. A successful brand must be unique, and it must offer a differentiated product or service to be great. As Warren Buffett explains,
Your premium brand had better be delivering something special, or it's not going to get the business.
Federal Realty Is a Premium REIT Brand
Like Trump, Federal Realty (NYSE:FRT) is also a premium brand. The Rockville-based company was founded in 1962 and has increased its dividend for 46 consecutive years in a row.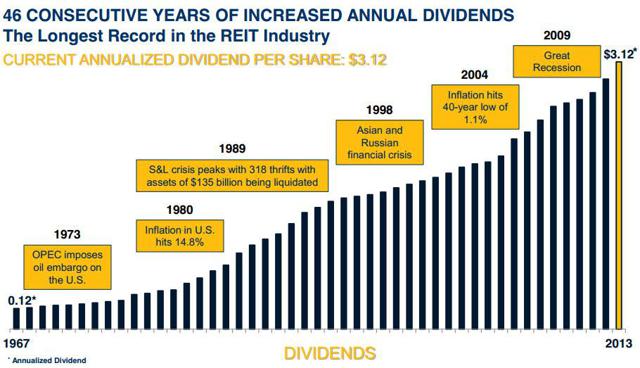 The company's President and CEO (since 2003), Donald Wood, has served in various officer positions with Federal, including President and Chief Operating Officer (from 2001 to 2003), Senior Vice President and Chief Operating Officer (from 2000 to 2001), Senior Vice President-Chief Operating Officer and Chief Financial Officer (from 1999 to 2000) and Senior Vice President-Treasurer and Chief Financial Officer (from 1998 to 1999).
In addition, Wood also spent time working for Donald Trump. Last week at the annual ReCon event in Las Vegas I caught up with Wood:
It will take a book for me to explain the secret of the Trump brand, but it's my intention to explain the success of Federal Realty in this Seeking Alpha article. To begin I'll quote from Chris Zook and James Allen, coauthors of Repeatability: Build Enduring Businesses for a World of Constant Change.
The power of a repeatable model lies in the way it turns the sources of differentiation into routines, behaviors, and activity systems that everyone in the organization can understand and follow so that when a company sets out on a particular path it knows how to maintain differentiation that led to its initial success…that strongest source of differentiation in a company's business are its crown jewels.
It's quite clear that the way that a REIT produces powerful sources of repeatable income is in the form of dividends. As noted above, Federal Realty has demonstrated its hardiest form of differentiation by paying and increasing dividends for 46 years in a row. No other REIT has been able to master the art of paying and increasing dividends for more than four decades.
So what are the secret ingredients that make up the Federal Realty brand?
Durability
Durability implies that a company can take a financial punch and come back swinging. In order to do that a company must enjoy a predictable earnings stream that can be relied upon in good times and bad. For Federal Realty the consistent earnings model is made up of 96 properties located in core US markets.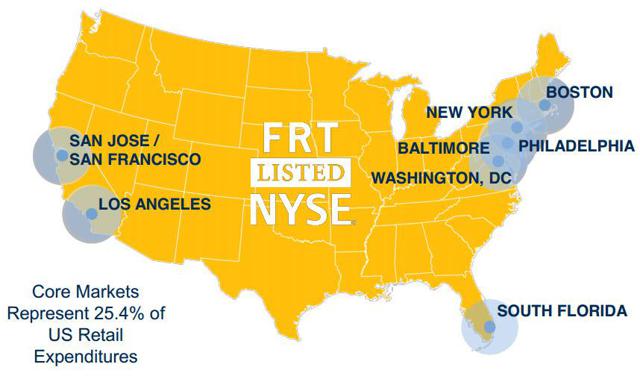 Federal is not the largest shopping center REIT, and based on the number of properties, Federal is one of the smallest.

Federal has a Total Capitalization of around $10.6 billion, making the company the 4th largest shopping center REIT based on capital invested.

Although Federal does enjoy a diverse revenue stream, the company has not "cracked the secret code" based size alone. By favoring quality over quantity Federal has the greatest concentration (84.4%) of assets in the nation's top 20 markets, which comprise 37% of US retail expenditures.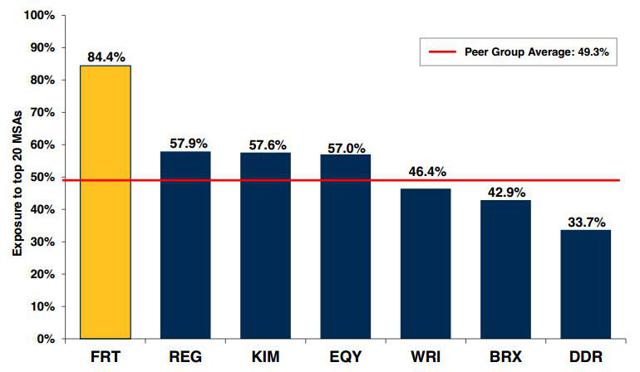 There's no question that Federal's demographics are unequaled with incomes that exceed the peer group by 32% and the national average by 50%. Federal has the highest concentration of "SuperZips" (zip codes representing the 95th percentile and above in income and education).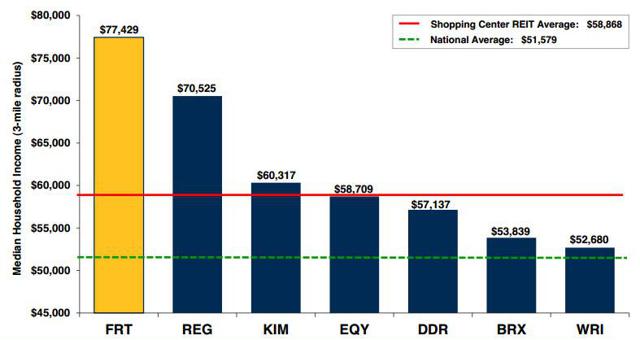 Density is directly correlated to Federal's durability metrics. The company's premier operating portfolio has about 50% greater household density than the peer group average and 124% greater than the national average.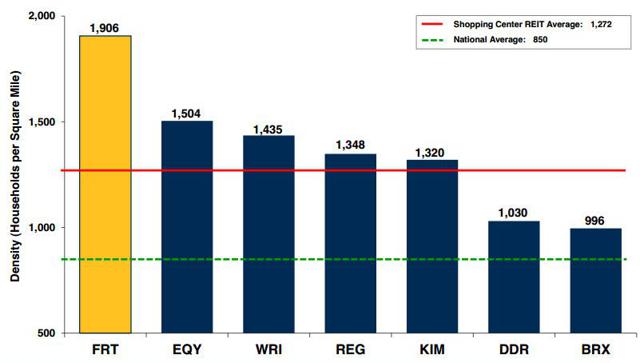 The snapshot below illustrates Federal's unmatched combination of density and affluence that sets the company's portfolio apart. We all know Rule #1 for Real Estate: Location, Location, Location.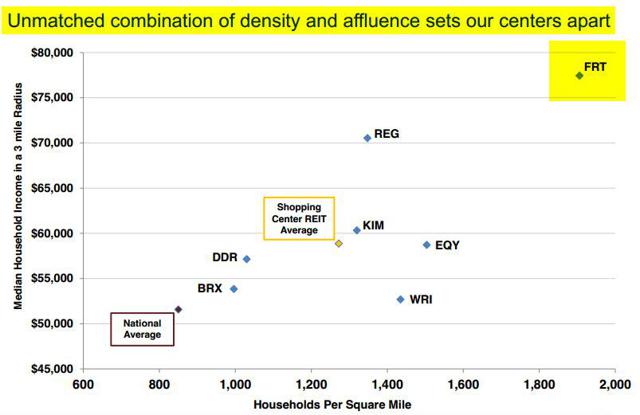 Dependability
Now that we set the stage for Federal's durable investment model let's explore the dependability of the earnings model. As evidenced by the snapshot below, Federal's operating portfolio achieves the highest cash rents in the sector (69% higher than the peer group average):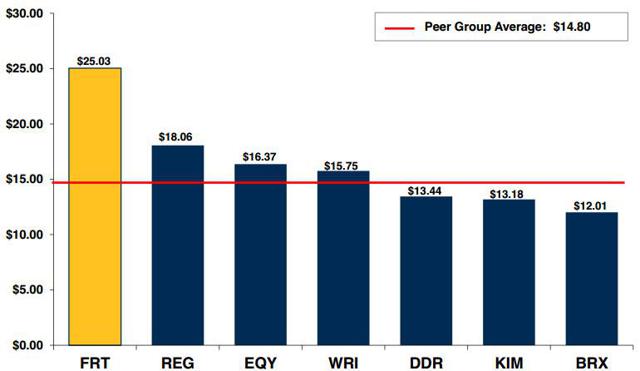 Federal has a long history of dependable performance as illustrated by the superior rollover growth compared to the peer group.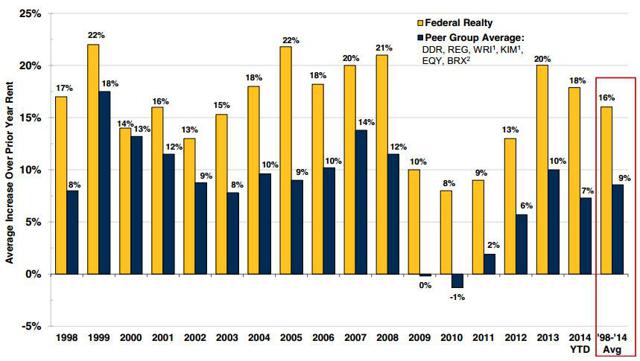 In the first quarter (2014) Federal's rental income increased $13.6 million or approximately 9% throughout the prior year quarter. Most of this, or $9.7 million, was attributable to the same-center growth, including redevelopment and the successful integration of The Grove and Brook 35, as well as Darien (all new projects).
Federal's core portfolio has continued to outperform as evidenced by the strong 4.08% average same-store growth from 2003-2014 (YTD).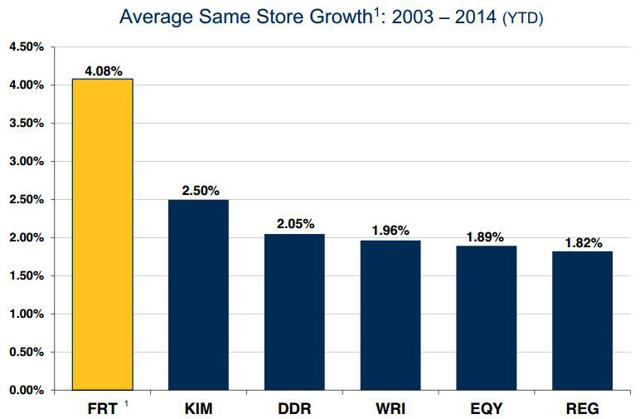 Also in the first quarter Federal reported Funds from Operations (or FFO) per share of $1.21, an all-time quarterly record and 6% higher than last year's first quarter. Those earnings are strong and were made possible because of continued strong tenant demand and disciplined execution of rent start dates. On the recent earnings call Federal reaffirmed its FFO per share guidance range of $4.86 to $4.93.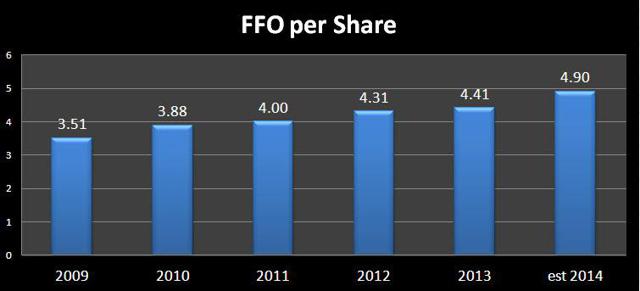 During the first quarter Federal accessed the ATM for $50 million at a weighted average share price of $111.35. In connection with the acquisitions of The Grove and Brook 35, the company issued $65 million of OP units and also assumed $68 million of secured debt.
Federal ended the quarter with $76 million of cash and nothing drawn on its $600 million revolver, leaving plenty of capacity and flexibility to fund the balance of its expected development spend this year of approximately $250 million. Debt-to-market-cap is 28% and debt-to-EBITDA, a strong 5.4x.

Less than 1% of Federal's debt is floating rate, and the company has a well-laddered maturity schedule (only $30 million due in 2014) with an opportunity to reduce its weighted average interest rates. Interest coverage stands at 3.7x. Federal has an S&P rating of A- (the only shopping center REIT with an A rating) and a Moody's rating of A3.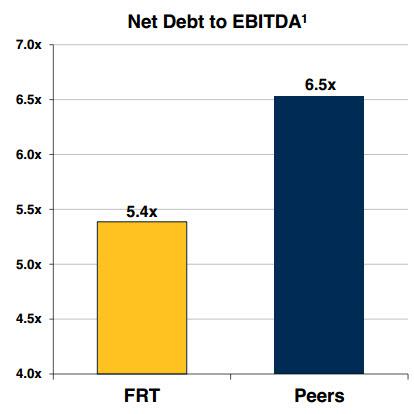 Is Federal a Buy?
Before I tell you if Federal is a Buy, let me show you this FAST Graph. With no price line shown, you can see that Federal has one of the sharpest (and possibly the best) models of differentiation that offers one of the strongest sources of completive advantage in REIT-dom. This FAST Graph represents a remarkable earnings (or FFO) record based on more than four decades of consistency.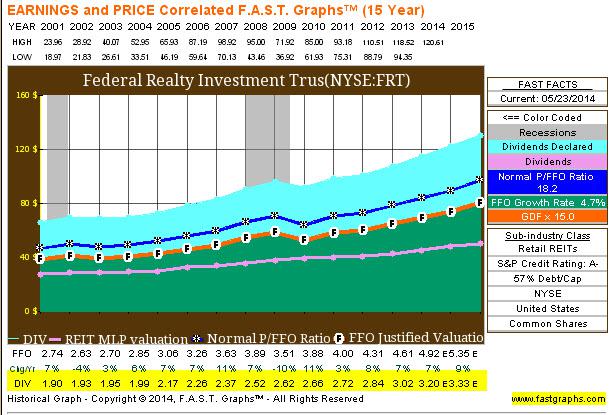 Now we put our value investor hats on. In other words, I have added back the black price line, and as you can see Federal is trading at $119.56 a share, and just a few weeks ago the company scored an all-time high of $120.62 (on May 8th). Mr. Market is highly attracted to the Federal brand, and with a Price to Funds from Operations (P/FFO) of 24.3x the shares are trading at luxury price levels.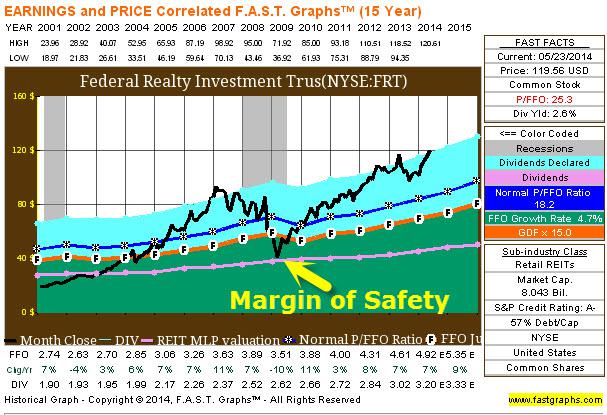 Zooming in, we can see that Federal shares are trading above normal (average 5-year P/FFO of 22x) levels offering no "margin of safety" for the blue chip investor.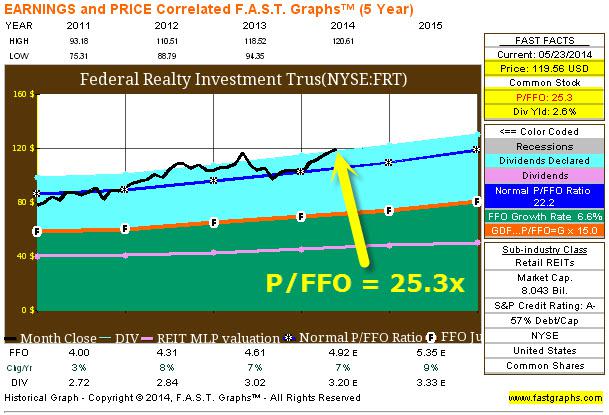 Compared with the peer group, Federal is the most expensive REIT. Clearly there is a premium associated with durability and dependability; however, the market has greater appeal for Federal shares than me.

Even less charismatic is Federal's modest dividend yield of 2.61%.

You just can't "Trump" this REIT. In other words, Federal Realty is arguably one of the best REITs on the planet, and this is how Ben Graham summarized such a "wide moat" brand:
It is the consistency in the products that creates consistency in a company's profits. Consistency and durability are attributes for competitive advantage.
But as much as I like this REIT I must not ignore the hard-and-fast rules that steer me from risk of loss. Owning shares in Federal is a fantasy (today), and the only way that I will be able to tap into this stalwart brand is when the shares become much cheaper. It's important for me to own REITs just like Trump would own towers. The Donald once said:
I don't believe you can ever be hurt by buying a good location at a low price.
Trump is right. I'm going to wait on Federal, but in the meantime I'll continue to build an empire of dividends with my other "blue chip" REIT holdings including Realty Income (NYSE:O), W.P. Carey (NYSE:WPC), Health Care REIT (NYSE:HCN), and Digital Realty (NYSE:DLR). Maybe one day Federal will be added to my list, but for now I can always enjoy my shares in Coke (NYSE:KO) - another trusted brand (I own) that makes me sleep well at night.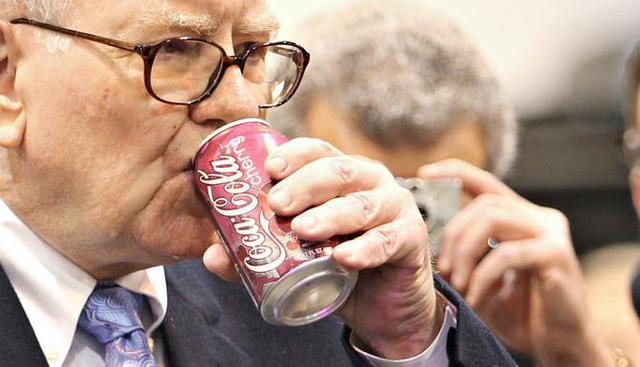 For more information on my SLEEP WELL AT NIGHT portfolio, check out my monthly REIT newsletter HERE.
Sources: SNL Financial, FAST Graphs, and Federal Realty Presentation.
REITs mentioned: (NASDAQ:WHLR), (NYSE:REG), (NASDAQ:ROIC), (NYSE:UBA), (NYSE:EQY), (NYSE:KIM), (NYSE:AMRE), (NYSE:WRI), (NYSE:RPAI), (NYSE:DDR), (NYSE:EXL), (NYSE:RPT), (NYSEMKT:WSR), (NYSE:KRG), (NYSE:BRX), and (NYSE:IRC).
Disclaimer: This article is intended to provide information to interested parties. As I have no knowledge of individual investor circumstances, goals, and/or portfolio concentration or diversification, readers are expected to complete their own due diligence before purchasing any stocks mentioned or recommended.
Disclosure: I am long O, DLR, VTR, HTA, STAG, UMH, CSG, GPT, ARCP, ROIC, HCN, OHI, LXP, KIM, WPC, DOC. I wrote this article myself, and it expresses my own opinions. I am not receiving compensation for it (other than from Seeking Alpha). I have no business relationship with any company whose stock is mentioned in this article.
Editor's Note: This article covers one or more stocks trading at less than $1 per share and/or with less than a $100 million market cap. Please be aware of the risks associated with these stocks.