Of all the independent exploration and development companies in the domestic energy business, Devon Energy (NYSE:DVN) is among the most promising. I have first written about and recommended Devon Energy to investors in October 2013 when shares quoted at around $60. A few reasons led me to initiate a position in the company including favorable macro and industry trends, outstanding y-o-y oil production growth rates, strategic maneuvers to increase the valuation of its assets and, of course, a low valuation that not at all reflected the underlying earnings and cash flow growth prospects of Devon's energy business.
On March 4, 2014 I have reiterated by positive opinion with respect to Devon Energy due to its acquisition of Eagle Ford acreage from GeoSouthern Energy. The Eagle Ford shale is one of the most attractive drilling theaters in the United States and I argued at the time that the transaction could be a major catalyst for Devon Energy's production growth and for Devon Energy's stock price. At the same time, I actually quite provocatively asserted, that Devon Energy could very well be on its way to new 52-week Highs after the transaction.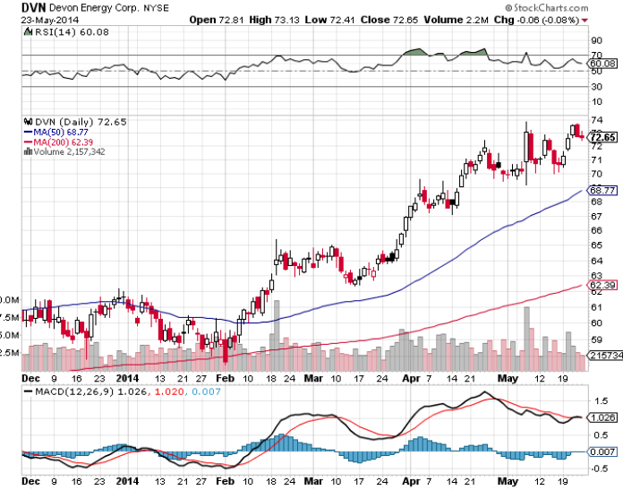 (Source: StockCharts.com)
The share price definitely reflects the positive progress Devon Energy has made in the past year. In addition to the acquisition of Eagle Ford assets, Devon Energy created EnLink Midstream Partners, L.P. (NYSE:ENLK) which includes Devon Energy's domestic midstream assets and Crosstex Energy's midstream assets.
With respect to first quarter results, Devon Energy delivered another quarter of respectable results. U.S. oil production was up 56% y-o-y and I expect further boosts to its oil production growth once operations in the Eagle Ford shale ramp up throughout the year.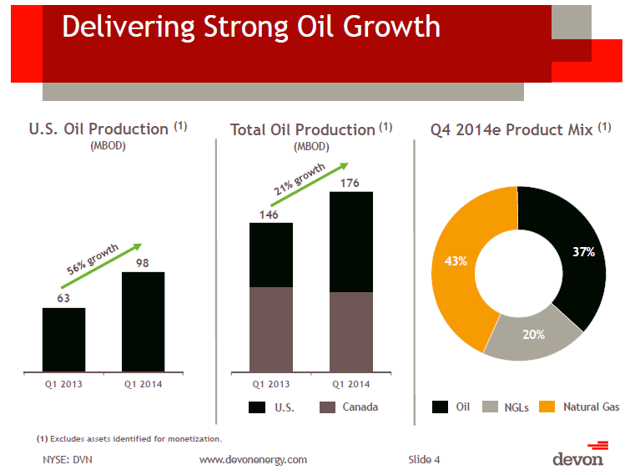 (Source: Devon Energy First-Quarter 2014 Conference Call Presentation, May 7, 2014)
With Devon Energy's oil production booming, investors can easily see why its share price has been hitting new one and two-year highs on a regular basis lately.
For the current fiscal year, Devon Energy plans on increasing its U.S. oil production by a whopping 70% or more to 124-136 MBOD vs. 73 MBOD in 2013 and total oil production by at least 30% to 198-216 MBOD. With aggressive production growth targets formulated by the company, it is astonishing that Devon Energy still trades at only eleven times forward earnings. A valuation that seems to be clearly detached from Devon Energy's underlying business growth.
Conclusion
Devon Energy's acquisition of Eagle Ford acreage is expected to deliver meaningful boosts to the company's oil production growth as well as cash flow. Investors seeking exposure to a fast-growing energy business with significant cash flow growth prospects, should consider Devon Energy. Even after a 26% rise in the share price over the last twelve months, Devon Energy has not become too expensive.
Devon Energy is one of the largest independent oil- and gas exploration companies in the United States with highly promising exploration assets in the Eagle Ford shale and the Delaware Basin. Most importantly, investors can invest in Devon Energy only at a forward earnings multiple of eleven -- a valuation multiple seriously too low given the growth prospects of its development shale assets. In addition, just last week Barclays upgraded Devon Energy to Overweight and raised its target price from $75 to $79. Strong BUY.
Disclosure: I am long DVN. I wrote this article myself, and it expresses my own opinions. I am not receiving compensation for it (other than from Seeking Alpha). I have no business relationship with any company whose stock is mentioned in this article.