CenturyLink Inc. (NYSE:CTL), an integrated communications company, recently reported its Q1 FY 2014 earnings that caused the company's share price to rise substantially, as highlighted in the following graph. Therefore, in this article, I will discuss the company's performance in Q1 FY 2014 and the factors that are building optimism regarding the company's performance.

Source: YCharts
Q1 FY 2014 Performance Overview
CenturyLink announced its Q1 FY 2014 earnings and beat market expectations.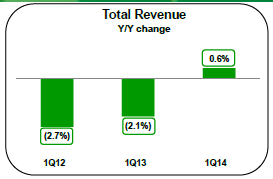 Source: 1st-Quarter 2014 Earnings Results Presentation
The company earned revenues of $4.538 million in Q1 FY 2014 that surpassed Zacks' consensus estimate of $4.475 million. On a year-over-year basis, the company's revenues jumped 0.6% in Q1 FY 2014, in comparison to $4.513 million made in Q1 FY 2013 (see chart above). The solid contributions from broadband, Prism TV, and the demand from business customers for data and hosting services positively impacted the company's revenue performance in Q1 FY 2014. The company added around 66,000 high-speed internet users and 24,000 CenturyLink Prism TV service customers during Q1 FY 2014.
The positive contribution made by Data Integration & Other and Strategic Revenue in Q1 FY 2014 is shown in the following chart.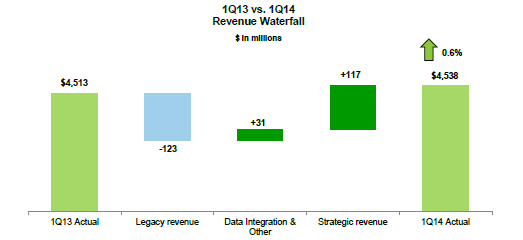 Source: 1st-Quarter 2014 Earnings Results Presentation
As far as the company's bottom line performance in Q1 FY 2014 is concerned, it posted adjusted earnings of 66 cents per share, also beating Zacks' consensus estimate of 61 cents. However, the company's earnings of 66 cents per share in Q1 FY 2014 was down 13% in comparison to Q1 FY 2013, when the company earned 76 cents per share (see table below). CenturyLink's repurchase of shares during Q1 FY 2014 supported the company's EPS, while the company's net income declined. The company's net income decreased during Q1 FY 2014 compared to Q1 FY 2013, due to deteriorating margins as the company incurred increased marketing and maintenance costs.

Source: CTL Q1 2014 Earnings Release
After an overview of the company's performance in Q1 FY 2014, let us now discuss some of the recent activities undertaken by the company to improve its performance and position.
Price Reduction and Enhancement of Cloud Capacity
CenturyLink has recently announced the expansion of its cloud capacity and price adjustments to attract more subscribers to back the company's revenue growth. Competitive pricing is gaining eminence in the cloud service business, and players in the industry are lowering their charges by nearly half in order to attract customers. CenturyLink is attempting to kick up a squall in the aggressive cloud price wars by making massive cutbacks in prices. The company has cut its cloud VM price by 60%. While price cuts can, at times, result in financial stress, CenturyLink believes that its strategy is well-thought out and that there is no danger of facing financial challenges due to reduced cloud prices. The company believes its reduced rates will bring more customers for the company compared to its rivals.
CenturyLink added cloud service nodes in two data centers during Q1 FY 2014, and is on schedule to set up cloud nodes in another four data centers by the end of FY 2014. According to CenturyLink's VP of cloud strategy, Jonathan King, CenturyLink has plans to bring its number of operating cloud centers from 11 to more than 15 in FY 2014. The company hopes to have more cloud centers in Canada and the U.K. in Q2 FY 2014, and an additional two cloud centers in the Asia-Pacific region between Q3 FY 2014 and Q4 FY 2014.
CenturyLink is establishing itself to become the largest cloud-based infrastructure player. The company will now have 32 global data centers that are picking up more thrust for value-added cloud services through a standalone innovation center, as well as improving the coverage of cloud products. CenturyLink has been putting efforts into enhancing its hybrid infrastructure delivery that integrates gigantic network resources, cloud colo, and managed services. The company believes that this innovative cloud infrastructure technology will considerably strengthen the company's ability to cater to the growing demand for highly automated cloud and managed services.
By means of enhanced cloud capacity, discounted prices, and 100% uptime, CenturyLink anticipates it will increase its market share and create greater value for its shareholders.
Another Layer of Protection for Business Customers
CenturyLink has recently made another offering to keep its customers secure to stay ahead of market competition. The company has announced it will add a new layer of protection that will provide security to the company's customers who are under the threat of Distributed Denial of Service, or DDoS.
DDoS attacks come about when a huge number of compromised systems attack a target, for example a website, and devastate it with activity that makes the target become unresponsive. The target then rejects authentic users from accessing the system. DDoS attacks are growing more frequent. According to independent research commissioned by CenturyLink Technology Solutions in 2013, around 50% of enterprise IT frontrunners reported that their organizations experienced one or more DDoS attack in the last three years.
CenturyLink's DDoS Mitigation Service employs advanced layers of defense, and will have the ability to detect attack traffic at the network level. Through a mitigation appliance, the service will treat the threat before it affects an organization's infrastructure. A group of security experts will monitor CenturyLink's global mitigation system. This system will analyze traffic 24/7, and will divert and remove potentially malevolent packets. This solution will protect environments even if they are accessed via customers' locations or a third-party data center or network. The new mitigation appliance option will also keep the security costs manageable for the customers by offering a pricing model based on usage and no requisite of hardware or software.
Enterprise security solution is a market that is expected to record huge growth in the coming periods. More DDoS incidents in the recent years have caused hefty losses to the organizations due to downtime. Therefore, businesses need to be proactive and cautious in guarding their assets from potential DDoS attacks. CenturyLink is attempting to capitalize on the growth opportunities by introducing and offering innovative security products to the market. Hence, CenturyLink is targeting the prospect of attracting more revenue as it enhances customer protection.
High Returns to Shareholder and Final Take
CenturyLink has a dividend yield of 5.66%. The company repurchased 58.7 million shares through May 6th, 2014. The company has returned around $600 million to its shareholders in the form of buybacks and dividends in Q1 FY 2013. This sums up to $1.97 billion spent by the company to repurchase shares since the initiation of a $2.0-billion buyback program instigated in February 2013. The company sees $0.54 per share in its quarterly dividend.
Looking forward, the company is likely to attract more customers due to enhanced services, such as adding more cloud facilities and services offered at competitive prices. The drop in charges for services is likely to reduce the company's margins. The introduction of enhanced security through its DDoS Mitigation service will also enable the company to win more customers. Combined, these offerings are likely to support the company's top line growth and increase the company's market share. CenturyLink's persistent efforts to develop new products, broadband expansion, and the penetration of Prism TV into new markets are some of the factors that are building optimism for CenturyLink and its future prospects.
Disclosure: I have no positions in any stocks mentioned, and no plans to initiate any positions within the next 72 hours.
Business relationship disclosure: The article has been written by a Gemstone Equity Research research analyst. Gemstone Equity Research is not receiving compensation for it (other than from Seeking Alpha). Gemstone Equity Research has no business relationship with any company whose stock is mentioned in this article.