Linn Energy (LINE) has kept investors second-guessing about what the company would do with it Permian development assets. After retaining some advisers to evaluate strategic options, which ranged from cash sales and asset trades to development and potential joint ventures, Linn Energy finally announced how it is going to proceed with its Permian assets last week. The exploration company intends to swap assets with ExxonMobil (NYSE:XOM) and its subsidiary XTO Energy. The accompanying press release laid out the structure of the deal:
LINN will receive a portion of ExxonMobil's interest in its Hugoton Field, which is currently producing approximately 85 MMcfe/d (80 percent natural gas and 20 percent NGL) with a shallow base decline of approximately six percent. Total reserves are estimated to be approximately 700 Bcfe (80 percent natural gas and 78 percent PDP). The field is comprised of more than 500,000 net acres and has approximately 2,300 operated wells. LINN has identified more than 400 future drilling locations, doubling the Company's inventory in the Hugoton Field.

In exchange, ExxonMobil will receive approximately 25,000 net acres in the Midland Basin, which are located primarily in Midland, Martin, Upton and Glasscock Counties. ExxonMobil will obtain approximately 2.0 MBoe/d of current production, and LINN will retain approximately 3.0 MBoe/d of production from the aforementioned acreage. Additionally, ExxonMobil will receive approximately 1,000 acres in Lea County, New Mexico.
Overall I rate the strategic transaction a win for Linn Energy for a variety of reasons:
1. Linn Energy investors have been waiting for a deal announcement, or, in fact, any announcement with respect to Linn Energy's Permian assets for quite some time now. While the deal may be viewed as either positive or negative in the analyst community, it definitely reduced uncertainty. Not only has the deal reduced uncertainty, but it also provides investors with a clear roadmap about where Linn Energy's future growth is coming from.
2. Linn Energy will receive assets with lower decline rates (according to Linn Energy's deal presentation, see below), which fits its strategic goal of transitioning its property portfolio to long-lasting, mature assets.
3. Linn Energy's position in the Hugoton Basin (Kansas/Oklahoma), which already plays a huge role for the company (third most important geographic area for Linn Energy after the Mid-Continent and the Rockies in terms of production), will be strengthened while its drilling locations will double instantly after the asset swap. Potential scale benefits and operating synergies can also be added to the mix of benefits resulting from Linn Energy's sharply increased footprint in the Hugoton Basin.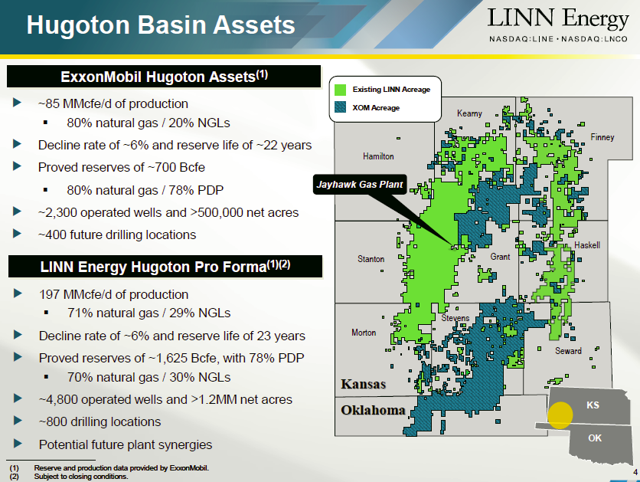 Click to enlarge
(Source: Linn Energy Permian Trade Supplements Presentation May 21, 2014)
4. Under the deal terms, ExxonMobil will receive only 25,000 net acres in the Midland Basin out of a total 55,000 that were at least under consideration. Keeping a significant portion of Midland Basin assets ensures, that Linn Energy retains options as to whether it will develop its Midland Basin assets or even sell the remaining acreage to ExxonMobil and XTO Energy at a later time.
Mark E. Ellis, Chairman, President and Chief Executive Officer of Linn Energy, also gave an upbeat comment about the retained portion of its Midland Basin assets:
We continue to see strong interest in the market for a trade or sale of these remaining assets and believe there is significant additional value for our unitholders.
We'll see, strong interest in the remaining assets might lead to even better deal terms later on.
Chart situation
I continue to have a bullish outlook on Linn Energy's unit price after the company announced the landmark transaction outlined above. If anything, Linn Energy's unit price seems to have digested its early March sell-off and is now far along in building out a bottom.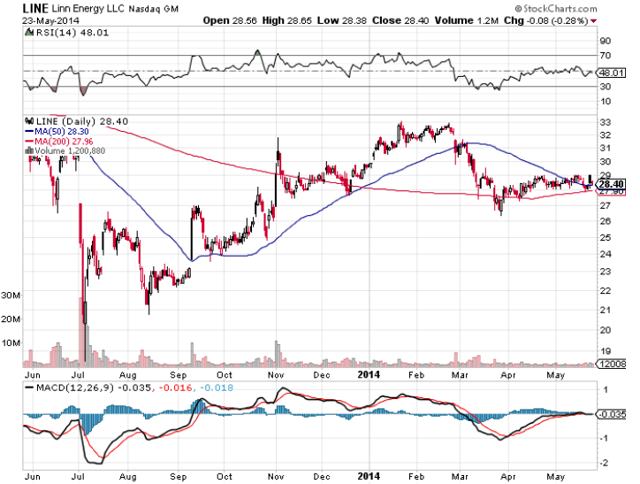 Click to enlarge
(Source: StockCharts.com)
Conclusion
After considering the strategic implications of the deal, I will have to side with Linn Energy and Raymond James, which has been a big believer in Linn Energy, and I think the deal is a great way for the company to unlock value and to strengthen its Hugoton Basin/natural gas position. Despite what some analysts might say about the deal, ExxonMobil and Linn Energy have both agreed to the asset swap and both firms know their business inside out, which leads me to assume that the deal will be highly beneficial for both companies. With a shift toward more mature assets with long reserve lives (Linn Energy's received assets will have an estimated reserve life of 22 years), Linn Energy is taking steps to ensure long-term distributions to unitholders. I maintain my Strong Buy rating.
Disclosure: I am long LINE. I wrote this article myself, and it expresses my own opinions. I am not receiving compensation for it (other than from Seeking Alpha). I have no business relationship with any company whose stock is mentioned in this article.