A week and a half ago I was reading through Unilife's (NASDAQ:UNIS) exhibits - specifically the loan agreement - filed with its 10-q to find the financial covenants, particularly the maintenance covenants. For the uninitiated (and pardon the simplification), when a company secures a loan like UNIS did from OrbiMed, it agrees to abide by several terms, among which are the maintenance of certain financial figures such as a leverage ratio (e.g. debt/equity) above X, interest coverage (e.g. EBITDA/interest) above Y, liquidity above Z, etc. If UNIS breaches these (and/or other) covenants, it is considered to be in technical default (as opposed to defaulting by missing interest/principal payments), which in this case may trigger a much higher interest rate, require an immediate repayment and cancellation of the loan, or even allow OrbiMed to take possession of any collateral (which is basically all of UNIS' assets, including IP) and, at its discretion, lease, license, sell or otherwise dispose of said collateral, etc, as spelled out in Article VI (and elsewhere) of the agreement.
This is the extent to which we are privy to UNIS' financial covenants per the loan documents:


So, we effectively have absolutely no idea what financial levels and performance UNIS has to maintain in order to be in compliance with the covenants set forth in the loan agreement. For example, if UNIS fails to hit pre-determined revenue for the next 6 years, they'd be in default, which at best would require the company to pay a significantly higher interest rate of 14.25% (+ greater of 3 month LIBOR or 1.0%). However, we don't know what these levels are, so we cannot determine whether UNIS will/will not meet/exceed those targets and thus if/when it will default. It is impossible to value a company if we cannot determine whether it will be in default, which could render the equity close to - if not entirely - worthless.
Clearly, given UNIS' persistent losses and otherwise unenviable liquidity/solvency position, any (potential or current) investor would (should!) be very, very interested in knowing the liquidity and revenue levels UNIS has to maintain in order to be in compliance with its financial covenants, so as to judge the financial health and risk of the company. As it stands, investors have been left in the dark, since the company requested, and was granted confidential treatment of its financial covenant (and other) information by the SEC.
Other firms voluntarily furnish such financial covenant information. For example, here is some of the financial covenant information from the loan agreement ZAGG was party to as a result of its iFrogz acquisition back in 2011: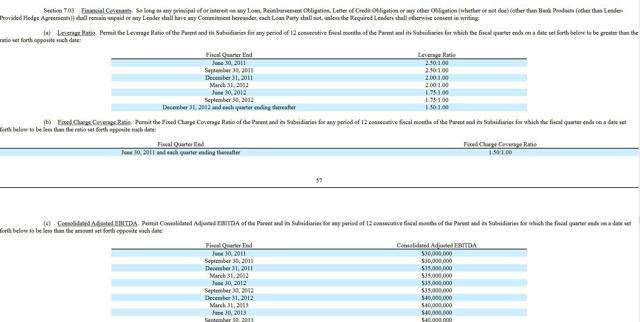 Alas, UNIS has, in what could be considered typical fashion at this point, sought to obfuscate and omit critical details for investors to accurately judge its condition and outlook.
I filed a Freedom of Information Act Request with the Securities & Exchange Commission (SEC) to obtain the aforementioned information granted confidential treatment so that all investors can judge for themselves Unilife's financial health both now and in the future. Yesterday, the SEC came back with this (emphasis mine):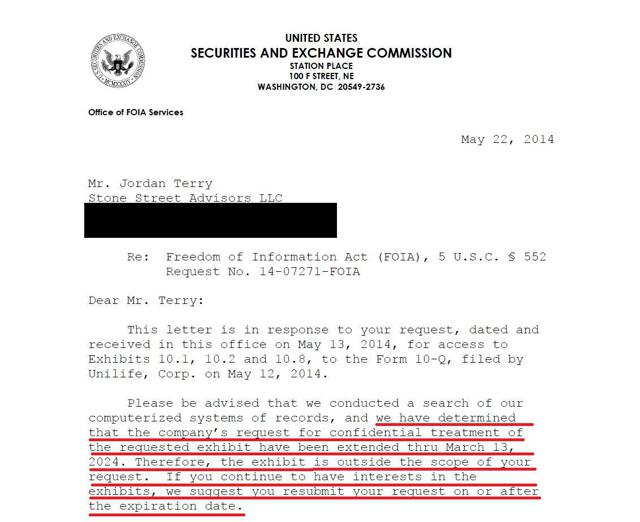 Not only did the SEC grant Unilife's request for confidential treatment of a number of critically important figures and details, but they did so until 2024! While not unprecedented, I believe that the SEC has grossly violated its stated mission "to protect investors, maintain fair, orderly, and efficient markets, and facilitate capital formation."
I have requested further clarification and again requested this information from the SEC, but I am far from optimistic they'll even explain why UNIS was granted confidential treatment of critical information, let alone make it public per my request.
What does this mean for investors?
UNIS is burning ~$10-15mm/quarter, with only $38mm of unrestricted cash on the balance sheet. At their current clip, that OrbiMed loan (CASH) is going to disappear rather quickly, even if revenue picks up consistently, which is a big "if." Because UNIS has chosen to keep their financial covenant information from investors, we must take an even more conservative stance than already warranted and assume not only that Unilife's liquidity situation will deteriorate, but that they may not meet OrbiMed's revenue targets either, which again will largely - if not entirely - wipe out shareholders.
Therefore, I strongly implore investors build in an even larger discount (RATE) to their valuation than already exists. How big of an additional discount is, of course, up to each individual investor to determine, but here is our most recent valuation range:

This is being extremely and unrealistically optimistic, mind you; the above uses the median valuation multiples for the industry instead of mean, which increases UNIS' terminal revenue by 3x.
Firms that have nothing to hide, hide nothing, and this is not the first time Unilife has used obfuscation and/or omission to hide information from investors. To me, the signaling effect of intentionally omitting this information is quite strong. Unilife is telling investors to trust them, which hasn't exactly worked out in the past, to say the least. So far, the SEC seems happy to not only allow but encourage this sort of conduct. My position: Don't rely on the SEC to protect you; protect yourself by exercising extreme caution in situations like this.
As always,
CAVEAT EMPTOR
Disclosure: I have no positions in any stocks mentioned, and no plans to initiate any positions within the next 72 hours. I wrote this article myself, and it expresses my own opinions. I am not receiving compensation for it. I have no business relationship with any company whose stock is mentioned in this article.
Additional disclosure: The opinions presented herein are solely those of Stone Street Advisors LLC. Neither Stone Street Advisors LLC nor any of its members has a position in UNIS, nor do we have any plans to initiate one in the next 72 hours. The information and opinions presented in this article are presented as-is, and do not constitute any offer or solicitation. Stone Street Advisors LLC makes no representation as to the accuracy or completeness of the information contained herein and has no duty to update the information and opinions in the article. The content presented is not investment advice, nor is Stone Street Advisors LLC a Registered Investment Advisor.