Will the turnaround for dry bulk shipping companies happen this year? At least according to George Economou, Chairman and Chief Executive Officer of DryShips (NASDAQ:DRYS) who voiced his expectations yesterday that charter rates will rebound in the second half of 2014:
While charter rates for larger dry bulk carriers under-performed during the first quarter of 2014, forward charter rates and asset prices are holding up resiliently, underscoring the bullish market sentiment. The charter rates earned by our tankers during the first quarter of 2014 were above cash breakeven levels, and contributed to our free cash balances. Following a period of oversupply the recent volatility in the tanker and dry bulk sectors is a clear sign of a more balanced supply and demand. We continue to expect a sustainable recovery in charter rates during the second half of 2014 and beyond.
The entire shipping industry as well as DryShips still suffer from overcapacity issues which resulted from fleet expansions and investments peaking just before the global economy fell off a cliff in 2008. A rebalancing supply/demand situation accompanied with improving charter rates, should help shipping companies to leave their distressed valuations behind.
Many dry bulk shipping companies that enter into fixed rate long-term contracts can shield themselves somewhat from lower rates in the spot market, however, they also do not benefit if charter rates edge higher. Being 'locked in' in fixed rate contracts is a good thing for shipping companies only when spot rates are falling. In my last article I have pointed out, that a variety of industry CEOs see rising demand for the dry bulk shipping industry in the quarters ahead and positive catalysts such as improving iron ore exports to China. A shift toward floating rate pricing could therefore be a savvy move, if shipping rates indeed turn around as expected.
While uncertainty with respect to shipping rates continues to exist in the short-term, the longer-term prospects of the industry are attractive. With rising trade volumes, the establishment of free trade zones and the free movement of capital across borders, the shipping industry is the prime beneficiary of an increasingly globalized world that depends on traditional shipping routes connecting import and export markets. From a contrarian point of view, I cannot help but like shipping companies in general because market sentiment towards these companies is overwhelmingly pessimistic and CEO remarks about improving fundamentals are oftentimes marginalized.
First quarter results
From a financial point of view, DryShips' first quarter results were definitely worthy of respect. Revenues for the first quarter increased 43% y-o-y to $457.5 million. Drilling revenues increased 46% y-o-y to $360.8 million while traditional voyage revenues jumped 32% to $96.7 million. DryShips' operating income shot up to $90.8 million in the most recent quarter; a material y-o-y improvement compared to last year's operating loss of $44.9 million which was largely driven by $75.3 million of vessel impairment charges. Adjusted EBITDA increased from $112.0 million last year to $201.2 million in Q1 2014: A plus of 80%. Despite good operating results, DryShips reported a net loss of $34.6 million or $0.08 per share compared to a net loss of $116.6 million or $0.30 per share a year ago. Without non-cash charges and off-items, DryShips would have reported a net loss of $0.04 per share.
Further key performance indicators for DryShips' first quarter are presented below (note DryShips fleet expansion and high utilization rates):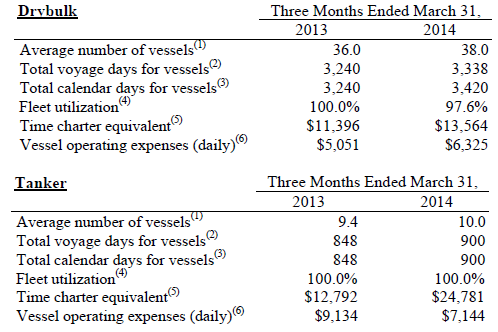 Chart situation
Just like I said in my last article about DryShips, first quarter results should not materially impact the stock price. DryShips' shares continue to consolidate in the $3 region while shipping rates and an uptick in iron ore exports to China could be meaningful catalysts for DryShips' stock price.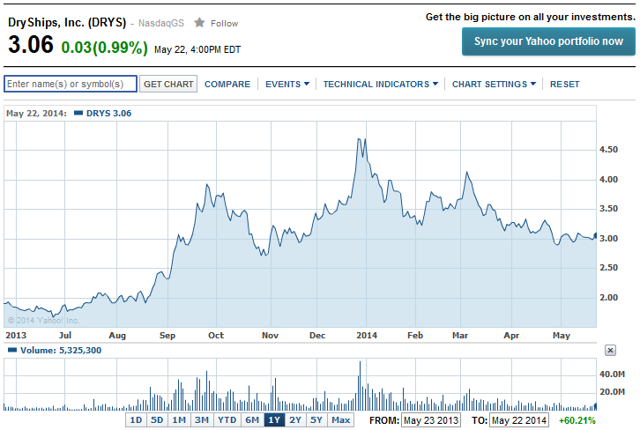 (Source: Yahoo Finance)
Conclusion
There are a couple of things to like about DryShips even though it operates in a market with currently low charter rates and the stock price suffers from negative market sentiment. First, DryShips has a diversified portfolio of both dry ships and tankers which helps mitigate concentration risk. Secondly, through its majority ownership of Ocean Rig, the company gets exposure to the highly attractive offshore drilling business (drilling revenues grew the most y-o-y). Ocean Rig operates drilling rigs and drill ships and counts first class companies such as ConocoPhillips (NYSE:COP) among its customers. Thirdly, I generally like that shipping companies are completely off the mainstream radar signaling potentially massive turnaround profits when news out of the shipping sector carry a slightly more optimistic tone. Contrarian, long-term Buy for investors who want to play a cyclical rebound in the shipping industry.
Disclosure: I have no positions in any stocks mentioned, and no plans to initiate any positions within the next 72 hours. I wrote this article myself, and it expresses my own opinions. I am not receiving compensation for it (other than from Seeking Alpha). I have no business relationship with any company whose stock is mentioned in this article.