I've been following Intel for the better part of the year now as the company continues to try and find its vision and execute in tablets and mobile. Intel (NASDAQ:INTC) has shown some bullishness since its last earnings report, and is currently using its 50-DMA as support around $26.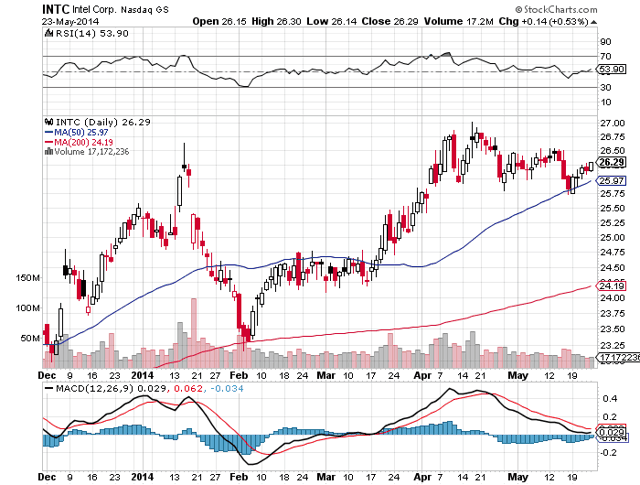 For the past twelve months, Intel has gained a modest 9.9%. For 2014, Intel's trading has been unceremonious. The chipmaker is up just 1.3% since January 1, 2014.
There's a fair amount of confidence in Intel being able to not only turn around tablets and mobile, but to continue innovating and finding a clear vision for the future. Keeping the perpetual microscope on Intel, as I do, I've noticed a couple of things this week that have made news for the chipmaker - three ways that the company appears to continue pushing forward.
#1 - Getting Aggressive with Tablet
Intel is so focused on getting a foothold in the tablet market, it's looking like the company is fully well and ready to sacrifice margins for market share. The thought process being that when consumers start to use Intel-based tablets, they will continue to purchase them - and that tablet sellers that move more products bearing the Intel logo will continue to encourage them to buy through Intel.
This especially goes for Intel trying to break into the Chinese market. The UK Register reported:
Industry insiders have told Taiwanese tech-news rag DigiTimes that Chipzilla has been cutting prices and offering marketing subsidies to tablet vendors willing to build designs with its processors.

The main targets of these efforts have been Chinese white-box vendors, at least 20 of which are reportedly already building tablets based on Intel processors and system-on-chip (SoC) components.

To reach buyers in the notoriously stingy price-sensitive Chinese market, however, those slabs will need to arrive at rock-bottom prices, especially given the glut of cheapo ARM-based tablets already available.

IDC research shows fondleslab sales cooled a bit in the most recent quarter, but the world's vendors still shipped a combined 50.4 million units in the three months ending in March, the vast majority of which were based on some flavor of ARM chips.
Whether or not this strategy is likely to bear fruit the right way remains to be seen. It's going to not only take the sales of current tablets, but the residual sales that follow the initial sales before we can find out whether or not Intel's strategy is working.
For the short term, I'm sure that if Intel were to grab a bigger hold of the tablet market share, it would likely be dubbed a success - regardless of the cost. It's an issue Intel has been trying to address for the better part of the year.
#2 - Devil's Canyon Chip, Overclocking the Right Way
What we're going to be looking at here is the 4th-gen Haswell refresh, codenamed "Devil's Canyon". The main appeal of these new chips is going to be better TIM (thermal interface) design. These processors are being specifically made for overclocking and the extra heat that it produces. Overclocking is basically forcing a chip to handle more than it was specifically designed for in order to achieve better performance - there's a right way and a wrong way to do it. This generally generates more heat, and can actually push your PC's stability limits if not done correctly.
In this case, overclocking should be dealt with within the design in thermal interface (read: handling the heat and power that come with overclocking). Overclocking with Ivy Bridge was tough, due to the processor's TIM design.
According to AnandTech:
The i5-4690K will have a 3.5 GHz base clock with 3.9 GHz Turbo Boost, 6 MB of L3 cache within a TDP of 88W. Pricing for the boxed version of the i5 would seem to be ~$254.

The i7-4790K however will be a 4.0 GHz processor that will turbo up to 4.4 GHz, with 8 MB of L3 cache and a similar 88W TDP. Pricing for the i7 above is around ~$362, making a marked premium for the extra threads.
Here is the full line refresh (source):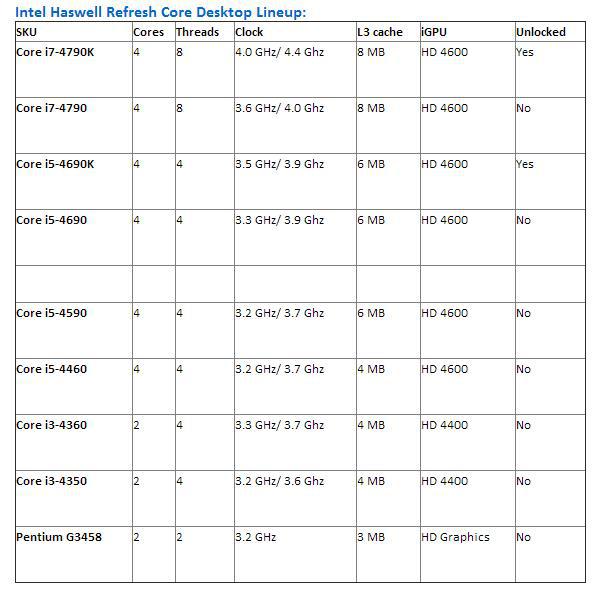 #3 - Selling Its Hudson Site
Out with the old, in with the new.
Intel showing any kind of direction is a positive for shareholders and investors. Pushing forward with the sale of its Hudson site - a site that isn't even capable of making Intel's newest chips - is getting more "old" off the table and making room for the "new".
The reorganization of the site has already started; many Intel employees have been reassigned or even lost their jobs.
Intel had noble intentions when it was going to sell its chip plant in Hudson. It wanted someone to swoop in, buy it as a chip plant, preserve the jobs of those contained therein, and reap the monetary benefits of the sale.
No such luck has occurred for Intel.
Thus, it is now enlisting help to sell the site as - well, anything - and get it over and done with.
Boston Globe reported:
Binswanger Management Corp. of Philadelphia, an international dealer in commercial and industrial real estate, said Thursday it will try shopping the Hudson campus as a biotech facility, a digital data center, or a manufacturing site for high technology hardware.

That would be a significant setback for hundreds of workers still there, because after announcing last year it was closing up shop there, Intel had been trying to find a buyer who will keep the facility running as a chip factory.

"Our goal all along was to sell it as an operating facility so our folks will have jobs," said Intel spokeswoman Ann Hurd.
Intel trying to liquidate and shed its useless assets is another sign the company is moving forward, albeit slowly.
To Conclude
I continue to keep an eye on Intel. Though the stock sits in its trading range, the prospect of Intel getting back on track as a long-term buy and hold for me continues to look possible.
Further, Intel is promising its Broadwell PCs by holiday 2014 - this is a push back from the originally stated date of "during the second half of 2014". Seeking Alpha reported:
As the company continues to bludgeon its way forward, I'll continue to keep an eye on it. For now, I continue to have no position in Intel.
Best of luck to all investors.
Disclosure: I have no positions in any stocks mentioned, and no plans to initiate any positions within the next 72 hours. I wrote this article myself, and it expresses my own opinions. I am not receiving compensation for it (other than from Seeking Alpha). I have no business relationship with any company whose stock is mentioned in this article.