As we noted last week, expectations had gotten so low that markets were ready to bounce on little justification. That's what they did.
PRIOR WEEK: Reaction Rally On Dubious Justification
1. Technical Support and Resistance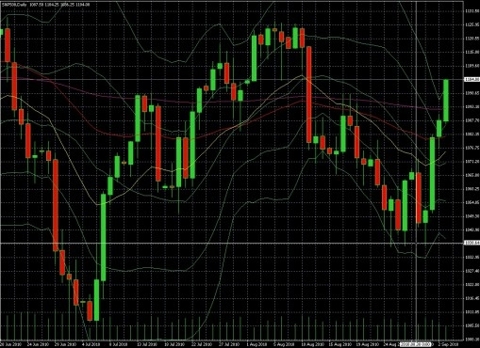 S&P 500 DAILY CHART COURTESY OF AVAFX/MT4 10SEPT04 H
Our most basic picture of risk appetite, the S&P 500 chart , shows that for the first 2 days of the week, markets stayed within the 1070-1040 ranges established over the prior week.
After bargain hunting and short squeezes sparked a brief relief rally Thursday and Friday, risk appetite retreated sharply Monday from 1070 resistance to 1040 support despite overwhelmingly positive data Monday from Australia and Japan. Then Tuesday it bounced off that support to close higher despite mixed data. This action was reflected across most global risk asset markets.
2. Most Top Tier Data Beats Expectations – Though The Details Suggest The Rally Was Overdone
On Wednesday September 1st China Mfg PMI, Australia GDP, and US Manufacturing PMI all beat expectations. As we reminded readers last week, expectations were so low that markets were open to a relief rally bounce if data would just provide an excuse. After failing to respond to good news Monday, markets broke past near term resistance, as represented by the S&P 500 breaking above 1070 resistance and closing above its 50 day EMA near 1080 as almost all the top tier data came in better than expected.
David Rosenberg of Gluskin-Sheff cast doubt on the validity of the US Manufacturing PMI here. His primary objections:
The report conflicts with collective regional results. Either the regionals were collectively all wrong or the ISM was off.
The percentage of respondents reporting growth, 61%, was the same as when the ISM was much lower a year ago at 52.8, vs. the 56.3 reported Wednesday.
Going forward, manufacturing activity appears set to drop as customer inventory build appears over and new orders and backlogs are falling, meaning that inventory will not need replenishing. Specifically: Rosenberg concludes that over the past 50 years, "the share of the time in which we see orders, backlogs and vendor deliveries all decline in tandem, and the headline ISM index rise, is the grand total of 1%. No wonder equities rally so much — we just witnessed a 1-in-100 event! Bring your camera."
On Thursday US weekly first time jobless claims and pending home sales also exceeded forecasts and allowed markets to hang on.
Then on Friday September 3rd, the week's climactic US Non-Farms Payrolls change for August beat forecasts, sending the S&P resistance of both its 200 day EMA and the 1100 price level.
As with the Manufacturing PMI report, however, the details point to a far less rosy picture than the headline figure and market reaction suggest, again well summarized by Gluskin Sheff's David Rosenberg via The Pragmatic Capitalist here in which he notes (we quote):
Aggregate hours worked were flat.
All the employment gains were part-time — full-time employment, as per the Household Survey, plunged 254,000.
Those working part-time for "economic reasons" surged 331,000 — the biggest increase in six months.
While private payrolls were better than expected, 10,000 of that +67,000 tally reflected returning construction workers who had been on strike.
Manufacturing employment was down 27,000 and total goods producing jobs were flat — hardly signs of a robust economic backdrop.
The diffusion index for private payrolls actually fell to 53.0 from 56.7 in July — a seven-month low. It was 68.0 at the April high, which is consistent with an economy slowing down to stall-speed.
The labor market gap widened with the all-inclusive U6 unemployment rate rising to a four-month high of 16.7% from 16.5% in July. This is why the odds are stacked against a sustained acceleration in wages.
Keep in mind that markets did not have much time to digest the US jobs reports Friday before markets closed, and could well take back gains next week upon reflection on the above details. Volumes in the stock market rallies were exceptionally thin, further undermining out belief in the rally.
In sum, last week's market movers suggest a rally that is a mere countermove in the longer term downtrend, particularly considering the hurdles that lie ahead as discussed below.
3. Also Worth Noting:
Euro-Supportive Remarks From China
Chinese officials expressed interest in raising both their direct EU investment and Euro holdings as part of a diversification move away from the USD.
BoJ Verbal Intervention Backfires, Boosts Yen
An anticipated announcement about measures to intervene against the Yen proved unimpressive, and further convinced markets that the BoJ will not mount any meaningful attempt to devalue the Yen in the near future.
COMING WEEK: Light Calendar, Technical Resistance Put Rally At Risk
For reasons detailed below, we see last week's rally as another reaction bounce in a continuing downtrend, as markets may have once again swung to excessive optimism (click to enlarge).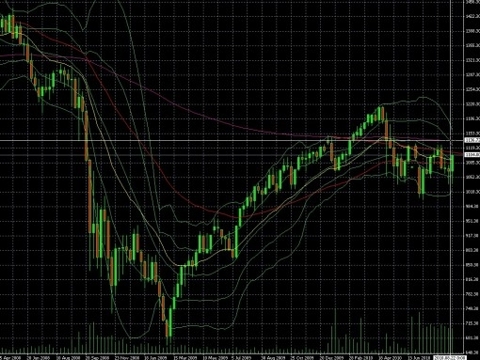 S&P 500 WEEKLYCHART ENDING FRIDAY SEPTEMBER 3 2010 COURTESY OF AVAFX/MT4 11SEPT05
1. Stiff Technical Resistance for risk appetite as shown on the S&P 500
On the weekly chart:
A well established down trend
The 1100 price level has yet to be decisively breached
Neckline (straight red line) of the head-and-shoulders pattern from Dec 2009 around 1112
On the daily chart:
Around 1128 price level has held as resistance since April 30th, surviving 3 tests including a brief breach in early May.
100 day SMA around 1110 (not shown)
2. Wildcards: Could rock markets at any time but timing the next eruption remains difficult
Continued EU Sovereign and Bank Debt Anxiety Reflected In Gold, Bond and CDS Rates
Gold continues to march toward a retest of its highs. The prime driver of this year's gold rally has been anxiety over the Euro.
PIIGS nations sovereign bank and bond CDS rates remain elevated near those of the peak of the EU crisis in the spring, suggesting that markets remain extremely nervous. Spreads tightened a bit, but that was due to rising rates of German bonds which serve as the benchmark for these spreads.
China Housing Bubble Data
China Real Estate Bubble Rumblings: Last week these reports garnered little notice but should be noted.
An article here by Andy Xie of Caixin reported how unrealistically high land prices (higher than those of urban UK though China wages are a 10th of those in the developed world) are sowing the seeds of industrial overcapacity fueled by easy credit that will lead to a massive wave of bad bank loans.
Echoing this idea, it was reported here that Moody's warned that China's financial system remains exposed to potential instability and crisis. It noted that China Investment Corp. (CIC) the nation's sovereign wealth fund, recently recapitalized 3 state owned banks using debt rather than genuine equity, leaving banks exposed to any growth slowdown (which their own government is trying to engineer).
The week before we noted another Caixin report from a district in Beijing that the majority of its apartments have been vacant for years.
Deteriorating US Macro Picture Means Markets Are Still Overpriced, Set To Drop
As The Pragmatic Capitalist details here, the well documented decline in house prices, household net worth, spending, and jobs all continue to feed off of each other. Corporate earnings and US GDP will get hit, though the more immediate victim could be the large US banks as their loan portfolios continue to deteriorate. This doesn't even consider the effects of very possible shocks like another EU crisis or China real estate bubble bursting.
3. Key Events: A light calendar this week
Rate Decisions and Statements From Central Banks of Japan, Australia, Canada and the UK.
Only Canada is expected to actually raise rates (by 0.25%), so the CAD could weaken if the BoC disappoints.
However any hint from the BoE about changes in its Asset Purchase program could spark some volatility for the GBP.
NB: Monday 6th September Labor Day holidays in Canada and the US, drastically lowering liquidity in the latter part of the day. This could be an opportunity for the Bank of Japan to sell Yen into very limited liquidity
and squeeze out a lot of JPY crosses and force JPY buying. Same goes for the Swiss National Bank. If it wants to take down the CHF, it's a good time to do so and remind long traders to be wary. Remember too that back in November, Dubai chose to announce its bond repayment suspension as markets emptied pre-Thanksgiving and Islam's Eid holidays.
See the full length version of this report, here, for details
DISCLOSURE & DISCLAIMER: NO POSITIONS, THE ABOVE IS FOR INFORMATIONAL PURPOSES ONLY AND NOT TO BE CONSTRUED AS SPECIFIC TRADING ADVICE. RESPONSIBILITY FOR TRADE DECISIONS IS SOLELY WITH THE READER