"Ford is teaching the world how to build a next-generation truck, and the more than 100 patents filed by the F-150 team for technologies on the 2015 truck further proves these Ford engineers and designers lead the industry in innovation."

- Alana Stranger, Ford program analyst
Throughout many of my previous Ford (NYSE:F) articles, I've continue to make my bullish case on the company based on sales overseas. Today, I'm going to add innovation to my bullish case.
The main points of my case have revolved around the facts that Ford continues to sell well overseas and that the company's stock remains fundamentally undervalued. In addition to these points, one of the things that I like about Ford and General Motors (NYSE:GM) was that over the last year, both companies had CEOs that made statements about renewed focus in innovation.
One way that we have seen this innovation is through Ford implementing its new lightweight aluminum F-150 models. As soon as Ford decided that it was going to do this and subsequently established a partnership with Alcoa (NYSE:AA), General Motors was right behind it, and stated its goals and did the same thing over the next couple of years with its truck line.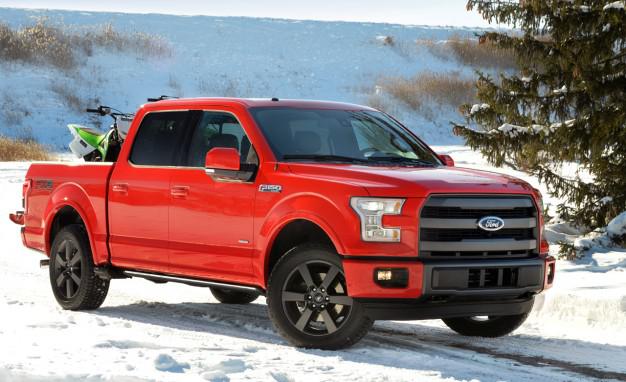 (Source: Ford.com)
What we are starting to find out is that the 2015 F-150 truck is not only starting to get outstanding reviews for both its looks and its functionality, but that it is turning out to be truly an example of innovation in the field of trucks.
Recent articles have confirmed that this truck, which weighs 700 pounds less than its predecessor, has over 100 new patents either pending or approved that are involved mostly for the use of aluminum to replace steel.
USA Today reported on some of the patented items:
Working with aluminum on a truck that must haul loads as heavy as its steel-body predecessor led engineers to use military grade alloys that handle required payloads and resist dents and dings. Ford's proprietary heat treatment nearly doubles the aluminum's strength.

Ford also developed proprietary adhesives where aluminum and steel join, said Rob Starbowski, a corrosion protection supervisor.

The remote tailgate release lets owners push a button on the key fob to lower the tailgate automatically.

The tailgate step was re-engineered so it is hidden when it is not being used. The grab handle is housed inside the tailgate to keep the look clean. When the tailgate is needed, it drops into position with a single motion.

An assortment of cleats and tie-downs help organize cargo in the truck bed. Cargo ramps can be ordered that stow more items on the sides.

The truck also has patented features for recreational use. New light-emitting-diode (LED) side-mirror spotlights illuminate the side of the truck, a feature that would be helpful for setting up a campsite or changing a tire.

For the first time a Ford pickup will have a 360-degree camera view, integrated loading ramps in the pickup bed, 400-watt power outlets inside the cab and LED headlights.
It's clear that Ford has "broken the mold" with pickup trucks on its Ford F-150 via the use of aluminum. It's also even clearer that the innovation has caught on, and that Ford is possibly going to be looked at as the innovation leader in pickup trucks.
So, a quick rundown. Ford trades with a forward P/E of 12.05. The company:
didn't take bailout money
is arguably innovating more than any other American automaker
is showing good sales growth in the U.S., Asia, and Europe
has a modestly-priced stock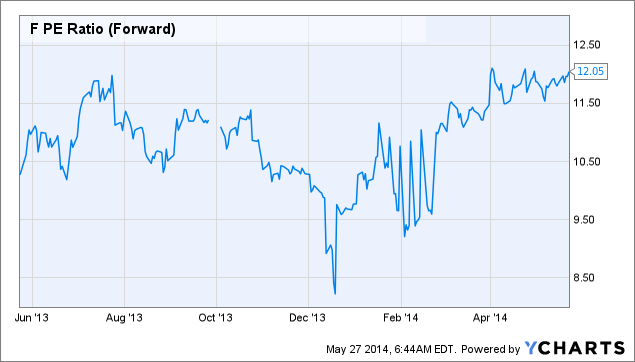 F PE Ratio (Forward) data by YCharts
In addition to the company's growth in Asia and Europe, Ford continues to grow in emerging markets. Aside from China, the company is expecting to build new plants in Brazil, as well. These types of investments in property, plant and equipment that it made back in 2009 in China paid dividends for Ford - it's likely these new properties in places like Brazil could offer the same positive impact for the automaker in the coming years.
Ford is growing across the board.
(Click to enlarge)

(Source: Forbes)
While General Motors has made a mess out of its recall issue in the headlines, Ford has been quietly keeping to itself and executing. The company did recall 700,000 vehicles at one point, but it mostly went unnoticed. Ford has been conducting its business behind the General Motors headlines, and now more than ever, people should be realizing that Ford is a good name to own.
Continually fueled by sales overseas in the next few months - combined with the innovation Ford is bringing to its vehicles here in the States - I continue to remain bullish and long on Ford.
Disclosure: I am long F. I wrote this article myself, and it expresses my own opinions. I am not receiving compensation for it (other than from Seeking Alpha). I have no business relationship with any company whose stock is mentioned in this article.