Recently, Mario Costeja González, a Spanish citizen, requested Google (GOOG, GOOGL) not show links to certain newspaper notices dating back to 1998. The links involved an embarrassing tax episode for Mr. González, which resulted in the auctioning of his house. The issue has long since been resolved.
Gonzalez took the case to the European Court of Justice (the EU's highest court). Surprisingly, the court replied on May 13th that Google should comply with Gonzalez's request.
This comes in the wake of free speech issues for online platforms, such as Twitter (NYSE:TWTR).
Results of the Ruling
The ruling, which is at the moment unable to be appealed, has started a wave of internet panic.
Google has labeled the ruling "disappointing." Activists The Open Rights Group see a serious threat to online free speech platforms. The group fears that censorship could become a regular occurrence if search engines are routinely forced to delete links to public content.
As for Google, it does not have to stop providing links to personal information - only to information that is "inadequate, irrelevant... or excessive," for which no significant interest exists for the public. Google can also reject a request to remove a link; however, if it does, the petitioner can then turn to the local data-protection authority, followed by the courts.
A Google Of Worries
Google is concerned that now it will now be swamped with requests to remove links. The company currently handles over 90% of online searches in Europe, and there is no limit to the number of people who could claim unfair representation. Link deletion requests have significantly increased since the ruling.
Google is also concerned that the stress of trying to balance privacy rights against freedom of information will be a difficult and costly undertaking. No clever algorithms yet exist for this. The cost of streamlining and developing the process for rejecting or accepting requests could significantly impact the company's bottom line.
In a statement, the company stated:
"… this is logistically complicated - not least because of the many languages involved and the need for careful review. As soon as we have thought through exactly how this will work, which may take several weeks, we will let our users know."
Some suggest the simplest and cheapest option might be for the Internet search company to automate the takedown using simple forms, and deal with public interest implications second.
Currently Contained In The EU?
At this time, the court's ruling will probably only apply to searches executed and shown in Europe and to European citizens. However, if an antitrust investigation is initiated and settled by the European Commission, Google could find itself with a different look in Europe than in America.
Wires Crossed For Google Investors
This ruling, following rumblings of free speech concerns over Twitter from the Turkish government, certainly signals a growing concern for online information giants. In the wake of this growing trend, it would likely behoove Google to anticipate additional, similar privacy requests from the public - users, governments, even institutions (even companies and financial institutions).
Google's lackluster Q1 results, along with difficulties keeping up with competitor Amazon (NASDAQ:AMZN) in the cloud computing arena and expensive acquisitions, have some investors concerned about the company becoming unwieldy.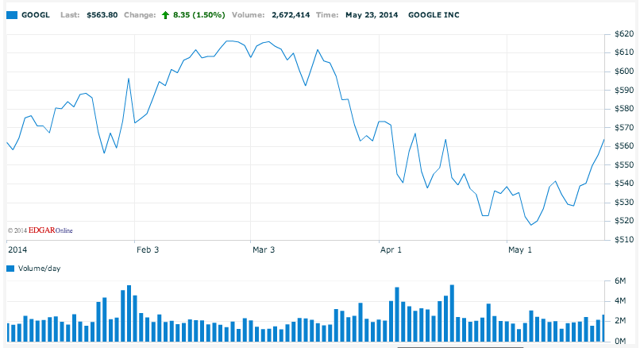 Click to enlarge
(Nasdaq.com)
Q2 results could clarify if now is a time for investors to take some profits - at least until scuffles with foreign governments subside.
Those interested in joining the discussion on Google should click the +FOLLOW button above the title of this article.
Disclosure: I have no positions in any stocks mentioned, and no plans to initiate any positions within the next 72 hours. I wrote this article myself, and it expresses my own opinions. I am not receiving compensation for it (other than from Seeking Alpha). I have no business relationship with any company whose stock is mentioned in this article.