Company Overview
North Atlantic Drilling (NYSE:NADL) is a pure-play harsh environment drilling rig company operating nine rigs including two new builds and one managed rig that it does not retain ownership of. North Atlantic Drilling is a consolidated subsidiary of Seadrill (NYSE:SDRL) as the latter owns around 70% of the former. North Atlantic Drilling completed its IPO on the NYSE in late January although shares had traded in the United States on the OTC Markets beforehand. The company's rigs are able to command premium day rates given their technical superiority and their advanced capability for working in harsh environments. As I will elaborate, these rigs are and will be in high demand as production in the Arctic and northern regions ramps up, especially in the Russian Federation.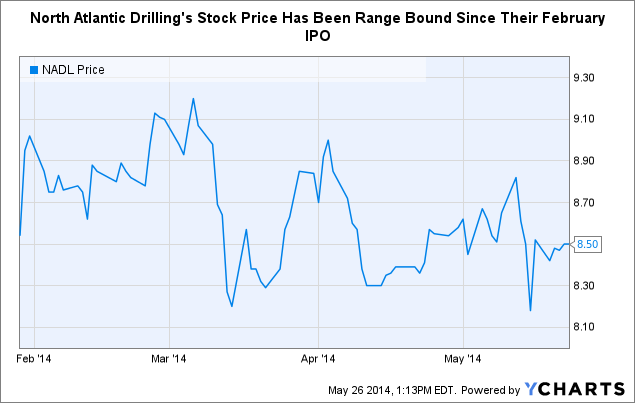 NADL data by YCharts
Rosneft Agreement Details
At the St. Petersburg International Economic Forum this past weekend, Rosneft (OTC:RNFTF) and North Atlantic Drilling signed a cooperation agreement, which has a number of key terms including:
"Rosneft acquiring a significant stake in North Atlantic Drilling" - Rosneft press release
The signing of "a letter of award for 6 harsh environment offshore drilling rigs" - Rosneft press release
The potential lease "of up to 9 offshore rigs to Rosneft with a total commitment of 35 rig years" - North Atlantic Drilling press release
North Atlantic Drilling entering "the onshore drilling market in Russia" - North Atlantic Drilling press release.
The above stipulations are taken from the Rosneft press release "Rosneft, Seadrill and North Atlantic Drilling expand cooperation" and from the North Atlantic Drilling press release "Seadrill and North Atlantic Drilling announce Investment and Co-operation Agreement with Rosneft to partner in Russian market" dated May 24 and 26, 2014, respectively. Obviously this deal is subject to due diligence and other pre-completion deal formalities, yet the significance of this accord is difficult to overstate.
Rosneft And North Atlantic Drilling: Perfect Partners For Arctic Development
In my opinion, the most significant aspect of the agreement is the ownership stake that Rosneft is slated to take in North Atlantic Drilling. While the magnitude of the equity portion of the deal is unclear, the current ownership structure of North Atlantic Drilling does not allow for significant new investors without either Seadrill giving up part of its stake or the diminishment of the free float. While the stake would likely come from Seadrill's equity interest, the resources and capabilities that Rosneft brings to the table are immense. The Russian Federation controls a large portion of Rosneft through OJSC Rosneftegaz. Both the government and Rosneft have a vested interest in securing long term contracts on rigs that have the capabilities that they require to operate in harsh environments such as the Arctic. These rigs are needed in order to successfully extract oil and gas from the Arctic, especially as no other companies are as focused on such specially equipped rigs nor have the expertise and history in managing and operating them. Additionally, it would be very difficult for Rosneft and the Russian government to secure contracts on rigs for their Arctic drilling aspirations on the open market given the limited capacity for such specialized rigs and the increased difficulty of dealing with numerous drilling companies. Russia has been clear about its goals for the development of its Arctic energy resources and this deal with North Atlantic Drilling exemplifies the seriousness of their intentions. North Atlantic Drilling's rigs are intended to operate in such harsh environments and Rosneft needs to have secure long term contracts on such rigs in order to effectively and confidently begin and ramp up their Arctic energy exploration and production efforts.
Partnership Opens The Door For Further Cooperation
This deal provides North Atlantic Drilling with enhanced financial visibility and having such a strong and stable partner will help the company immensely in future business planning. It will be interesting to see how dayrates develop for North Atlantic Drilling's rigs with Rosneft, however I don't believe that former would not enter into such a significant commitment without provisions to ensure long term financial success for the company including receiving favorable dayrates. It is likely that Rosneft would be forced to pay a market premium for the rigs in order to arrange such long term contracts. Additionally I think that Rosneft is making a very savvy move partnering with North Atlantic Drilling and potentially taking a significant portion of the latter's rig capacity. While traditional oil and gas exploration and production companies utilize third party offshore drilling rigs, I think that this partnership between Rosneft and North Atlantic Drilling could take a rather different shape. One of the reasons that traditional exploration and production oil and gas companies do not own their offshore drilling rigs is because of the immense up front capital expense that they present. However, Rosneft does not have as much of a capital restriction, given their immense reserves and strategic support of the Russian government, Rosneft would have the ability to purchase their own rigs if they chose to pursue such a strategy. I believe that Rosneft's goal with partnering with North Atlantic Drilling is to secure drilling rigs to utilize over the long term and to make sure that they have access such high specification rigs regardless of the current market conditions. Given Rosneft's very specific needs, long term ambitions and assets at their disposal, I do not think that it is inconceivable that the company could aim to fully acquire North Atlantic Drilling over the long term. I truly believe that this agreement between North Atlantic Drilling and Rosneft will be beneficial and meet the needs of both companies.
Strong And Predictable Cash Flow Is An Attractive Quality Of North Atlantic Drilling
Many investors simply look towards the income statement to judge a company's performance. However, in the offshore drilling industry cash flow metrics are paramount given the immense up front costs of the rigs and its significant effect on the cash flow and income statements. North Atlantic Drilling generated over $425 Million in cash flow from operations in 2013 which is meaningfully higher than the roughly $235 Million earned in net income for the same period. Obviously this difference is largely due to the non-cash depreciation cost of $188 Million incurred by the company as the rigs aged and declined in book value during the year. As the company relies on fixed contracts for its drilling rigs, they are able to enjoy a rather high level of cash flow predictability, which is important in business planning and gives investors a higher level of confidence in predicting the company's future financial performance.
High Leverage Is A Concern For Some Investors
It is no secret that North Atlantic Drilling has been able to fund their operational and developmental expenditures through high levels of borrowing. As of the end of 2013, the company had approximately $2.4 Billion in total non-current liabilities, which includes just under $1.6 Billion in long-term debt and $700 Million in related party liabilities. While this is a rather large debt load, interest expense came in at just under $85 Million for 2013, which is a manageable expense for the company given their earnings power and their strong cash flow generation. Additionally, the company does not have any significant near term maturities of debt with annual payments under $175 Million until 2017 when the company has to repay just over $1 Billion of debt.
Commitment To Significant Dividend And Earnings Growth Is Important
One of the most attractive qualities of North Atlantic Drilling is their commitment to paying a significant dividend, exemplified by the company's current dividend yield of over 10.8%. This yield is amongst the highest of their peers and there is still upside potential for these dividend payments to shareholders. Recently, there has been some market concern regarding dividend sustainability particularly in the offshore drilling sector. Many who question these strong dividend yields cite large payout ratios as a percentage of net income. While North Atlantic Drilling's dividend may seem questionable given that in 2013 they paid out over 87% of their net income in dividends, the nature of the offshore drilling industry leaves the company bringing in materially higher cash flow than earnings levels given the significant non-cash depreciation charges due to declining value of aging rigs, as I discussed earlier. In contrast, in 2013 the company paid out just over 48% of cash flow from operations in dividends, which seems to be a much healthier and sustainable rate. The company should have the capacity to increase the dividend in the future and such increases could catalyze upside momentum in the stock. Currently, North Atlantic Drilling trades for a reasonable earnings multiple of just under 8.2x TTM earnings. Diluted EPS grew by just under 27% from 2012 to 2013. Management has made a commitment to providing strong shareholder returns and especially with the introduction of the Rosneft deal, the company has exciting prospects for future returns.
Rosneft Deal Combined With Strong Fundamentals Make North Atlantic Drilling An Attractive Investment
North Atlantic Drilling's agreement with Rosneft is significant as it brings on a new strategic partner, which will likely secure long term rig utilization in the Russian Arctic. This has the potential to be very lucrative for North Atlantic Drilling and the possibility of a full takeover by Rosneft is not out of the question over the long term. In addition to this exciting partnership, North Atlantic Drilling has a relatively young and highly specified fleet of rigs, which provides the company with strong operating leverage. The company sports a dividend yield of over 10.8% and trades for just under 8.2x TTM earnings. The immense potential of the Rosneft deal combined with strong fundamentals and a committed management team make North Atlantic Drilling an attractive investment.
Disclosure: I have no positions in any stocks mentioned, but may initiate a long position in NADL over the next 72 hours. I wrote this article myself, and it expresses my own opinions. I am not receiving compensation for it (other than from Seeking Alpha). I have no business relationship with any company whose stock is mentioned in this article.
Editor's Note: This article discusses one or more securities that do not trade on a major U.S. exchange. Please be aware of the risks associated with these stocks.