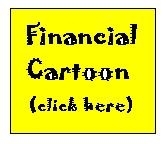 Outlook: To paraphrase "The Rhyme of the Ancient Mariner", by Samuel Taylor Coleridge: "Water, water everywhere and not much of it to drink."
While it is generally noted that ¾ of the earth's surface is water, less than 3% is fresh water; the rest is salty. All living matter on earth is made up of 2/3 water—including ourselves.
Demand Growth: While the demand for potable water is rapidly increasing with both human population growth and the food production to sustain it, the supply of fresh water is currently being outstripped with shortages occurring both in developing as well as developed countries.
Unlike Oil, Water Doesn't Have a Substitute: Today, one out of six people (over a billion) suffer insufficient supplies of safe fresh water and 2.4 billion live in "water-stressed" countries like China. Demand for fresh water will grow 32% over the next two decades in China and double in India. India, with its population of 1.2 billion, will exhaust its fresh water supply by 2050 at its current rate and usage according to the World Bank.
Water Flows Uphill: With apologies to gravity, water flows uphill to money. The problem has been the low pricing of potable water. These policies have not encouraged water conservation or the accumulation of capital reserves for infrastructure maintenance and development.
It's Going to Cost: While there are conservation, usage and technologies (desalination) that can be employed to generate the delivery of more fresh water to global population that will add another 2.0 billion people by 2050, it is going to cost an enormous amount of resources.
Check, Please: It is estimated globally the cost of water related infrastructure and sanitation will cost $22.5 trillion from 2005 to 2030. That's the equivalent of $132.35 per person per year. Simply put: going forward water is going to cost significantly more and be more available for those that have economic or military resources.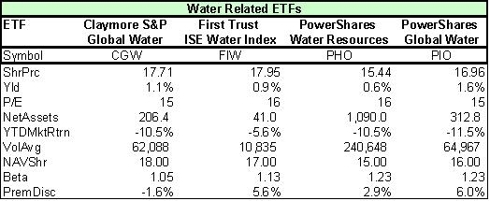 Click to enlargeWater ETFs: The following table is a list of ETFs that invest in water related indexes that may benefit from the increased investment in the delivery of fresh water. A detailed analysis of each of the portfolio holdings is recommended.
Why the Group is Interesting Short and Long Term: The group is of interest because it will likely be swept up in any commodity driven stock market advance if and when an economic recovery takes root. This stock price may be turbo charged as the group has lagged the general market and supports higher than market betas.
The realization of the importance of fresh water will be driven home at the personal level by increased water and sewer bills. PowerShares Water Resource (NYSEARCA:PHO) is the largest of the group with over a billion in net assets and adequate trading volume and may benefit from some of the trends discussed.
CEF Weekly Review: The 13 closed-end fund (CEF) types on average posted a 1.1% increase for the week ending 9/3/10. The high-low spread was +3.2% versus +2.2% the previous week with an average price change of 1.1% and -0.4%, respectively. On an aggregate, unweighted basis the weekly average price change for the 500 plus CEFs was up 0.9%.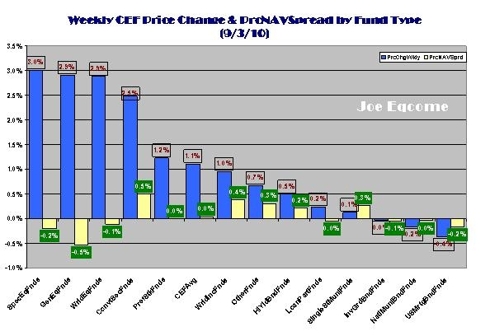 Click to enlarge
The PowerShares CEF Income Composite (NYSEARCA:PCEF), an ETF that invests in taxable income CEFs, was 1.5% for the week. The S&P 500 was up 3.7% for the week and its loss narrowed to 0.9% YTD.
(Click here for YTD CEF Performance. The table is based on a smaller CEF sample size as all the data fields are not available for the CEF universe.)
The Eqcome CEF Fear Index was flat. The average price was up 0.9% as it was for the NAV. The CBOE Volatility Index (VIX), which typically moves inversely with the stock market—but is mostly a measurement of volatility based on stock options' premiums—slid the last three days of the week ending off 12.9%. The VIX was 50% off its May's high.
Despite S&P's 3.8% strong price advance, the weekly average daily trading volume continues to register below 4.0 billion shares. The average volume dropped 5.9% from the previous week to 3.718 billion shares. Clearly, the retail investor has yet to find his/her sea legs. The recent advance just may signal the start of the final quarter of the year for portfolio managers who are hedging not to look stupid if by chance the market accelerates into year-end.
CEF Weekly Fund Type Performance: Funds type performance took on the aspects of the "risk-trade" being back on. Equity-oriented funds surged while debt-oriented fund types barely registered life. SpecEqFnds advanced 3.0% on the strong performance of the real estate funds which advanced 4.6%.
The PrcNAVSprds [*] typically move in the direction of stock prices. This week the three top fund types generating positive price comparisons saw their NAV increase at even a greater pace (see chart above).
Weekly CEF Winners and Losers: One of the CEFs with the greatest positive spread was Pimco High Income Fund (NYSE:PHK). PHK price advanced 6.3% while its NAV rose 0.6% generating a positive spread of 5.8%. PHK announced its June quarterly results of $.29 versus vs. $.24 net investment income per share, YOY. Based upon its cumulative monthly distribution for the quarter, approximately 20.1% of its distribution is attributable to sources other than net investment income.
Interestingly, PHK recorded a net loss of $.41 per share on net realized and unrealized gains for the quarter. It would be interesting to plumb how PHK lost principal value during a quarter of ultra lower interest rates and rising bond values?
PHK declared its regular monthly distribution of $.121875 per share (ex-dividend is 9/9/10). PHK trades at a 45.7% premium and an 11.4% distribution yield. Go figure?
One of the CEFs having the greatest negative PrcNAVSprd for the week is Delaware Investment Dividend and Income Fund (NYSE:DDF). DDF's price declined 5.1% while its NAV increased 2.8% generating a negative spread of 7.8%.
DDF is trading at slight premium and at a 9.36% distribution yield—of which 62.4% is considered a return of capital. Approximately 65% of the portfolio is invested in dividend paying stock with the balance in non-convertible debt securities.
Economic & Earnings Outlook: (Click here for next week's economic calendar; click here for earnings' announcements and estimates.)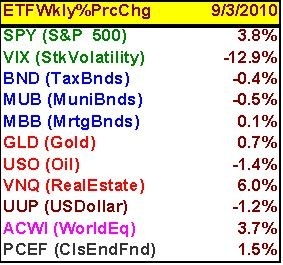 ETFs: For a more detailed EFT performance by sectors, click here .
Insider Trading: Zippo. There was no new insider trading in the CEFs.
(Click here for a hyperlink to the Joe Eqcome's CEF Weekly Insider Report.) This report is from the previous week.
CEF Distribution Announcements This Week: The following is a link to a table of CEF distribution announcements this week as well as the previous week's with yet expired ex-dividend dates. The list is not intended to be inclusive. (Click here for Joe Eqcome's Weekly CEF Distribution Announcements)
Significant CEF Corporate Events: BlackRock Apex Municipal Fund (APX) will be merged into BlackRock MuniAssets Fund (MUA) subject to shareholder approvals and all regulatory requirements the first quarter of 2011.
BlackRock California Investment Quality Municipal Trust (RAA) has approved a Plan of Liquidation and Dissolution for the Fund as previously approved by the Fund's Board of Directors.
CEF Focus Stock(s) for the Week: Templeton Russia & East Europe (NYSE:TRF) is the top CEF whose percentage price change (-0.6%) has lagged its percentage the change in NAV (+10.7%) YTD (see: Top 5 CEFs Price-NAV % YTD—Ready to Advance? (9/1/10). The hypothesis is that a CEF whose price change lagged the NAV may likely experience greater future price appreciation to make up for its previous lag relative to its peers.
Screen Criteria: The 171 CEFs that fit the criteria: 1) market cap of greater than $100 million, 2) currently trading at a discount, and 3) a positive NAV percentage change YTD. This group experienced a 9.8% average price appreciation versus a comparable NAV change of 6.3% generating positive spread of 3.6%. For TRF, those numbers were: -0.6%, 10.7% and -11.3%, respectively.
Caveats: TRF has been highlight as a result of this criteria and its relative ranking. The fundamentals of the company were not materially considered.
Disclosure: Author owns a diversified portfolio of CEFs and ETFs as well as PHO and TRF
---
[*] All things being equal, price and NAV should move in tandem. A price movement greater than the NAV generates a positive PrcNAVSprd and may be interpreted as negative on a near-term basis and indicate that the stock is overvalued relative to its NAV which in theory is the stock's intrinsic value. The opposite would be true for a negative PrcNAVSprd.