A few months ago, I suggested Repsol (OTCQX:REPYY) as a good income investment within the energy sector. The company is an integrated global energy company based in Spain, operating in the Upstream and Downstream sectors throughout the world. Repsol has a market capitalization of about $36 billion, and is traded in the U.S. in the over-the-counter market. At the time, Repsol's dividend yield was above 5% and the company was still trying to receive a fair compensation for the expropriation of its stake in YPF (NYSE:YPF), which was seized by the Argentinean government in 2012.
Since then, Repsol has reached an agreement with the Argentinean government over YPF for compensation of about $5 billion, receiving Argentinean sovereign bonds. Repsol received and then sold the bonds converting it to cash. Additionally, the company sold its remaining 12% equity stake in YPF for an amount of $1.3 billion. This is clearly positive for Repsol's investment case as it eliminates one source of uncertainty but also because the company was able to fully monetize its assets in Argentina. Moreover, this has happened faster than expected and with a lower haircut than initially expected. Initially, Repsol mentioned the intention to sell the bonds in two years, but investment banks were able to attract demand for these assets and a rapid placement was made. The cash proceeds from the bonds sold were $4.989 billion, very close to the agreed $5 billion.
These $6.3 billion in proceeds related to YPF strengthens Repsol's balance sheet considerably, enabling it to distribute a significant portion of these proceeds to shareholders. At the end of the first quarter of 2014, Repsol's net debt was close to $6.5 billion or less than 1x its EBITDA expected in 2014. Taking into account the proceeds from the sale of bonds and the remaining stake in YPF, Repsol's pro-forma net debt is now less than $300 million. This strong balance sheet means the company does not need to deleverage further and can return excess cash to shareholders.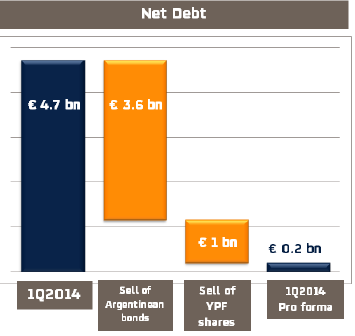 Indeed, the company has recently announced plans to pay a €1.3 billion ($1.8 billion) extraordinary dividend, or €1 ($1.37) per share. The details of the dividend will be announced once approved by Repsol's management board, which is expected to meet later this week. This improves considerably Repsol's attractiveness for income investors, increasing its dividend yield even further. The company's 2013 dividend was €0.97 ($1.33) per share and adding the extraordinary dividend, it means Repsol will double the cash returned to shareholders. At its current share price, Repsol's dividend yield for 2014 is about 9.5% taking into account both its ordinary and extraordinary dividends. Repsol has a dividend payout ratio target of 40-55% for 2012-2016, with dividend expected at around €1 ($1.37) per share. The company has also announced a few months ago, a share buyback program of $685 million, which can now be accelerated as the monetization of Argentinean bonds was quicker than expected.
The proceeds received are also very good for Repsol over the medium term, because it gives the company more financial flexibility to deliver on its growth prospects. Repsol's strategic plan 2012-2016, presented after the seize of its stake in YPF, forecasts investments of about $25 billion during this period, with about 80% of investments dedicated to upstream operations. Its goal is to increase its oil production by an average annual rate of 7%, to around 500,000 barrels of oil equivalent per day in 2016. It also expects to reach a proven reserve replacement ratio above 120% during this period.
Conclusion
Repsol is an interesting income play within the energy sector, which is now even more appealing following the announcement of an extraordinary dividend. Its balance sheet is now very strong making its dividend clearly sustainable over the long term and allowing for a more aggressive shareholder remuneration policy. Moreover, Repsol is trading at only 15x its 2014 estimated earnings, thus it is a high-dividend yield play trading at a reasonable valuation considering its growth prospects.
Disclosure: I have no positions in any stocks mentioned, but may initiate a long position in REPYY over the next 72 hours. I wrote this article myself, and it expresses my own opinions. I am not receiving compensation for it (other than from Seeking Alpha). I have no business relationship with any company whose stock is mentioned in this article.
Editor's Note: This article discusses one or more securities that do not trade on a major U.S. exchange. Please be aware of the risks associated with these stocks.