Kingold Jewelry (NASDAQ:KGJI) may be a triple winner: a gold play, a momentum play and a China play.
Everybody knows that gold is likely to continue climbing. Current debt issues, a potential economic slowdown, and buying of gold by investors as a safe haven and by central banks around the world will put upward pressure on gold. KGJI manufactures and sell gold jewelry in China. So as the price of gold goes up, it can sell its goods for a high price.
KGJI reported impressive numbers, as noted by MSN Money. Both 1st and 2nd quarter 2010 revenue increased from corresponding 2009 quarterly revenues. I expect for that trend to continue.
click to enlarge image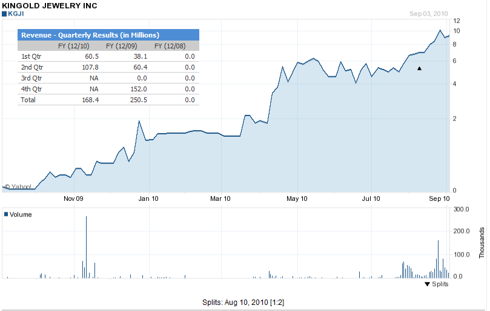 Click to enlarge
Source: Yahoo Finance
The stock has staged an incredible run. In the past year, the stock is up 9200%, according to Yahoo Finance. Although this seems pricy now, the company makes $9.14 per share in revenue. A current price of $9.30 is not much more than what it makes in revenue. Therefore, the market is basically giving it a book value of 1. A book value of less than 1 generally means it is undervalued. A book value of 1 generally means fair value. But as the company grows, its revenue per share increases. Thus, the stock will have to increase if the book value is to stay 1 or above.
Return on equity (ROE) is a whopping 45.95% according to MSN Money.
Definition of ROE (from Investopedia):
Return on equity measures a corporation's profitability by revealing how much profit a company generates with the money shareholders have invested.
Thus, a high return on equity can indicate that the company is doing well and can possibly beat competitors in terms of profitability. This can in turn boost the stock price.
Lastly, a growing Chinese middle class will ultimately buy more goods, including jewelry. Chinese GDP growth, although slowing, is still about 9%, much higher than the United State's 1.6%. Incomes are rising and Chinese workers are demanding higher wages. With a population of 1.3 billion people, China will have a huge middle class, far outstripping that of the United States.
These three factors should push the stock higher.
Disclosure: No positions