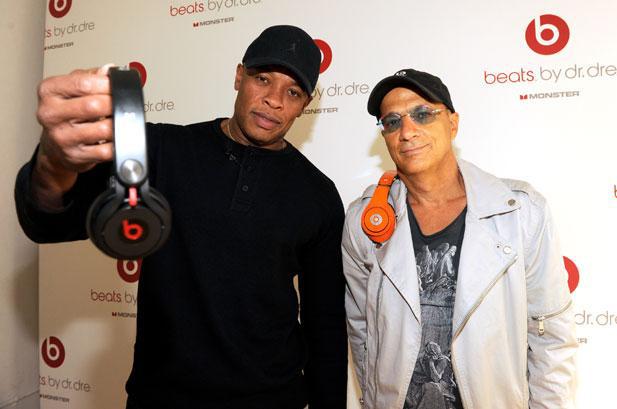 According to reports Apple Inc. (NASDAQ:AAPL) has agreed to acquire Beats, the premium headphone maker, for $3.2 billion or about 3x sales. Known for making smaller deals to acquire technology or managerial talent, the transaction would be Apple's largest to date. This all begs the question, "Why would Apple pay up for a headphone manufacturer whose product can be replicated?" Hip hop impresario Dr. Dre and music executive Jimmy Iovine have produced the coolest entertainment product since the iPod, and they have the relationships with taste makers - artists, professional athletes - to keep it that way.
Apple / Beats Represents Symbiotic Relationship
In Beats, Apple is acquiring a high-margin headphone business with a fledgling music streaming service as a sweetener. With a reported 200 thousand paid subscribers, Beats Music is not yet profitable. And therein lies the rub. In Apple, Beats is getting the 800 pound gorilla of the music industry; Apple is well-connected, deep-pocketed and has the leverage to squeeze artists and record labels for lower royalty rates that Beats Music could not get on its own. The only way for Beats Music to make money in streaming is to (i) grow ads and subscriptions fast enough to cover overhead and startup costs or (ii) reduce costs, the lion's share of which are royalty fees. By partnering with Apple, Beats may have found a way to make the math work.
Apple's Competitive Position Going Forward
As of April 2013 Apple's iTunes controlled 63% of the digital music market. While growth in digital downloads has stagnated, the popularity in music streaming could cause downloads to decline further. A Beats acquisition would improve Apple's competitive position immensely by providing a hedge against declining sales for music downloads. Though revenue from Beats Music is miniscule for now, if Beats can convince headphone buyers to make Beats Music their music streaming service of choice, Beats Music could capture market share quickly. Apparently the market agrees with the transaction's rationale; Apple's share price has increased from $593/share in mid-May when the deal was announced, to $614/share at May 23rd - a gain over 10%.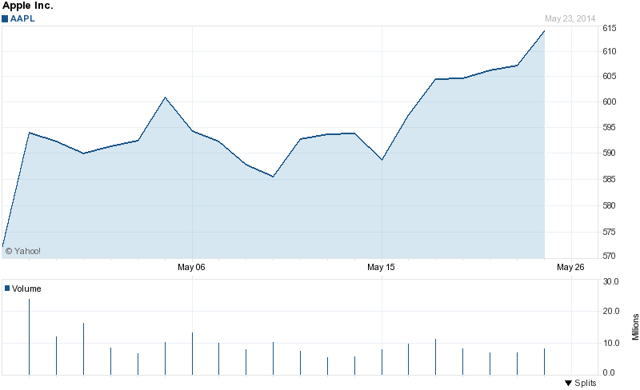 Click to enlarge
The "new math" created by Apple/Beats will force the hand of other industry players like Pandora Media Inc. (NYSE:P) Spotify, Amazon, Inc. (NASDAQ:AMZN) and Google, Inc. (NASDAQ:GOOG) (NASDAQ:GOOGL).
Pandora
Pandora is the self-titled "leader in internet radio in the United States," offering a personalized experience to listeners. The company enables listeners to create up to 100 personalized stations. Through playlist generating algorithms, Pandora predicts listener preferences and further tailors its station based on listeners' reactions to the songs the company picks. At year-end 2013 the company had 200 million registered users. The company has two services:
Free Service - Advertiser supported and allows listeners access to personalized playlists.
Pandora One - Provided to paying subscribers without external advertising. The cost is about $4.99 per month.
Revenues
For the 11 months ended December 2013, the company generated revenues of $600.2 million. Advertising makes up about 81% of total revenues and paid subscriptions represent the rest. Advertising is based upon "listener hours," driven growth in active listeners.
Costs
The lion's share of the company's costs are royalty fees to record labels or performing rights organizations ("PRO") authorized to collect royalties on behalf of sound recording copyright owners. Royalties are calculated based on metrics such as the number of sound recordings streamed or revenue earned. Such royalty payments amount to over 50% of revenues. That said, the company has never been profitable since its existence.
Cash proceeds of about $395 million in 2013 bought the company time to generate profits and positive cash flows. However, there is no indication that Pandora's business model actually works financially. The Apple/Beats alliance may step up the company's timeline to seek out a strategic partner with the influence to help it negotiate more favorable royalty payments or cut other costs. Given how fickle advertising revenue can be, time may be of the essence. With a market capitalization of $5.3 billion and a multiple of 7x trailing 12 months revenue, Pandora won't come cheaply.
Spotify
Spotify is a music streaming service that lets customers listen to music online from record labels. In order to guarantee steady access to content, Spotify brought on three major record labels as investors; while Pandora has to lobby Congress for lower royalty payouts, Spotify would have to lobby its equity partners in order to right-size its cost structure. Though privately held, the company is rumored to pay about 70 cents on each dollar of revenue to record labels. Such high payouts led to a loss of $78 million on $578 million in revenue in 2012.
Last week the company reported 10 million paid subscribers who pay from $5 to $10 per month for the service; it has 40 million active users in total. Valued at around $4 billion based upon a recent private placement, the company is rumored to be preparing an initial public offering. The Apple/Beats transaction may make such an IPO even more saleable to investors.
Google
Google Play is the company's digital entertainment store for apps, movies, books, and music. In 2013 it launched a music streaming service (Google Music) with access to millions of tracks, putting it in direct competition with Spotify. While Spotify has a three-tiered pricing system (from free with ads, to ad-free for $10 per month), Google Music only offers a paid service at $10 per month. According to techradar, outside of Spotify's robust subscriber base, the two services are comparable:
At the Google IO announcement on Wednesday representatives claimed it has "millions" of tracks already available on Google Music. It's been reported that Google has negotiated access to music from Sony, Universal and Warner. Spotify is also well established in this area, offering over 20 million tracks. Exploring the two services, the selection seems extremely comparable. We're personally big Spotify users, and searching Google Music, it had all of our most frequently streamed albums. Ultimately, this will become one of, if not the most, important points of comparison for the two services.
Google entered the music streaming business late. The company has not commented on any potential acquisitions in the space and as far as we know, Google is more than willing to go it alone. However, there is a reason Pandora and Spotify are industry leaders in music streaming. Google can either continue funding Google Music with an uncertain payback, or attempt to partner with an industry leader and become a player immediately.
In my opinion, an acquisition of Pandora would be the most tenable. It would create an opportunity for Google to cross-sell products within its digital entertainment store to Pandora's installed base of customers. Spotify's onerous payout in royalties (70%) makes it a less-attractive property than Pandora. Given Spotify's cost structure, it appears to be more of a vehicle for music labels to make money at the expense of investors.
Amazon
One of the biggest players in music downloading, Amazon has apparently gotten the memo that downloading is slowing being replaced by streaming. The company is planning to offer music streaming to customers of its video streaming service - Amazon Prime - with a limit on how much a customer can listen to a particular song. The hope is that by offering customers a music sample, they will then download the song from Amazon's MP3 store.
Without the consent of major record labels, Amazon's streaming service is merely an idea. According to the Wall Street Journal, Amazon has offered major record labels a fixed payout for content instead of payments based on how often subscribers listen to their songs. However, the record labels and Amazon have yet to come to terms:
Several labels rejected those terms, people familiar with the matter said ... The music industry doesn't want a free service that would compete directly with paid subscription services like Spotify AB, Beats Music and Google's All Access, which offer unlimited access to 20-million-plus song catalogs for about $10 a month and represent a fast growing chunk of record companies' income.
Amazon has been highly-secretive of any plans to enter the music streaming business, let alone talk publicly of acquiring companies within the space. Of the other potential acquirers - Apple and Google - I deem Amazon to be in the weakest position. The company does not have agreements with labels for music streaming; however, it needs a streaming service as a hedge against its digital download revenue stream - it controls over 20% market share.
An acquisition of Pandora or Spotify would improve its competitive position and help soften the blow from declining sales in music downloads. The one caveat is that a deal with Spotify would require Amazon to renegotiate the royalty rates which favor the record labels. Moreover, lower royalty payments would equate to higher operating earnings going forward for Spotify, requiring a higher purchase price from Amazon.
Conclusion
The Apple/Beats proposed transaction will potentially change the competitive landscape for music streaming. Pandora, Spotify, Google and Amazon are likely to enter into transactions to improve their competitive positions, creating volatility in the marketplace and profits for investors who bet correctly. With (i) Apple's ability to negotiate lower royalty payments and (ii) the potential for Beats to convert headphone customers into music streaming customers, I believe Apple/Beats is sitting in the catbird seat. Furthermore, its competitive position is defensible regardless of future acquisitions or partnering arrangements the other players enter into.
Disclosure: I am long P. I wrote this article myself, and it expresses my own opinions. I am not receiving compensation for it (other than from Seeking Alpha). I have no business relationship with any company whose stock is mentioned in this article. I have straddled Pandora with September '14 calls and September '14 puts.