First up is that discount brokerage Charles Schwab (NYSE:SCHW), where we custody client assets, is making meaningful progress with regard to accessing foreign stocks. Very soon, possibly this month, Schwab will make foreign ordinary shares available through the website making the access much cheaper than it is currently. Direct access to foreign exchanges is targeted for 2011 so this could be a few months away or a year and half. Apparently the firms that offer it now have quite a few restrictions (per Schwab) that Schwab hopes to bypass with its rollout.

Given Schwab's presence in the industry, this is clearly several years overdue but it is a positive for do-it-yourselfers who are so inclined to put in the time needed to select individual foreign stocks. Trading tens of thousands of shares will still not be realistic but I do believe that dollar volume of $10,000-$20,000 with limit orders is realistic. While this is a good thing, all things in moderation.

Another byproduct of my conversation with Schwab is that there are a lot of new ADRs being listed, albeit on the pink sheets, which again is a positive in that it creates access for people inclined to do the work. Invariably I know people will get carried away so I will stress the need to do the work.

I stumbled across a couple of stocks that on the surface are interesting but which I have not delved into yet but plan to learn about; I will give any company, no matter how off-the-wall a couple of hours of study in search of a first impression of what might turn out to be a client holding.

First up is RusHydro (OTCQX:RSHYY) which is a Russian hydroelectric company. Hydroelectricity is a valid way to access foreign and alternative energy. The volatility depends on the stock in question. Here is a pretty good summary from Rustocks.com and the company's home page in English. It looks like it has 20 stations, a $14 billion market cap which is quite large, the volume in Russia is pretty healthy and the business has been volatile which could be for reasons economic cyclicality (something I plan to try to figure out). The stock dropped a lot during the global meltdown and is up a lot from its low which creates the expectation, at first glance, that the stock is going to be volatile. Buying Russia comes with tremendous political risks that are not necessarily manageable other than getting out when a stock you own starts to make headlines; sort of a shoot first ask later exit strategy.

I've owned Russia before, but not across the board, with Lukoil (OTCPK:LUKOY) but that was a while ago now. It makes sense to keep tabs on the country given its size and the vastness of the economy but it is a long way from being an easy, for me, hold like Canada or Norway.

The other stock came from a post by David Hunkar. Here is a link to the Seeking Alpha version as I could not find the post on his site. The stock is Komercni Banka (OTC:KMBNY), a bank from the Czech Republic. The English version of the bank's website has plenty of information but not with just a glance and so I know less about the company than I do about RusHydro (which is not a lot to be clear) but David points out it is 60% owned by French bank Soc Gen (OTCPK:SCGLY), yields about 4%, has 1.6 million customers (the total population is 10.4 million) and I see from the website that the shares have been a pretty good proxy for the Prague Index but has recovered from the meltdown much faster than the benchmark index.

The Czech Republic is worth spending the time to learn about. Relative to Eastern Europe it is on firm footing. This particular bank might be a terrible stock pick from here but it does seem like a real company and this is the only Czech ADR I am aware of.

For some clarification I don't own these, have not researched them thoroughly (in the case of Komerchni not at all), I am merely point out the fact that they exist. In the case of the Russian stock it is access to what might be a different sector for that country and for the Czech stock it is access to a country that before was not easily accessible. Getting into these markets is getting easier and these examples show increased breadth in one case and initial access in another. I would also note the ADRs have had almost no volume.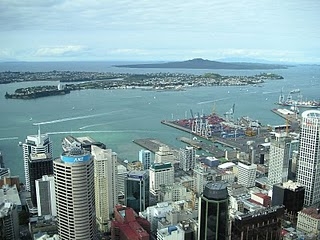 Next up is that the iShares MSCI New Zealand Investable Market Index Fund is up and running with ticker symbol ENZL. This could be a tie in to the NZ National Basketball team currently doing well in the FIBA tournament underway in Turkey, or not. I'll be digging in a little more for a TSCM article but I am glad to see that financial stocks (more precisely REITs) are not a big part of the fund with financials only accounting for 9% of the fund. The fund only has 23 holdings so Fletcher Building is the largest at 19% of the fund with New Zealand Telecom (NZT) the second largest at 16%.

Another interesting note about the fund is that quite a few Australian companies crosslist in Auckland so the fund could have thrown in a lot of those types of stocks for liquidity but did not, making ENZL a purer exposure.

The picture is taken from the Auckland Sky Tower and captures some of the downtown and the harbor.