In order to create a high-yielding stock portfolio that can outperform the market by a big margin, I have used the following screen. It is based on an attempt to search for profitable companies with high dividend yield that their last dividend declared is greater than the last dividend paid.
The screen's method that I use to build this portfolio requires all stocks to comply with all following demands:
The stock does not trade over-the-counter (OTC).
Market cap is greater than $100 million.
Price is greater than 1.00.
Dividend yield is greater than 4.0%.
The payout ratio is less than 100%.
Last dividend declared is greater than the last dividend paid.
The twelve stocks with the lowest payout ratio among all the stocks that complied with the first six demands.
I used the Portfolio123's powerful screener to perform the search and to run back-tests. Nonetheless, the screening method should only serve as a basis for further research. All the data for this article were taken from Yahoo Finance, Portfolio123 and finviz.com.
After running this screen on May 26, 2014, I discovered the following twelve stocks: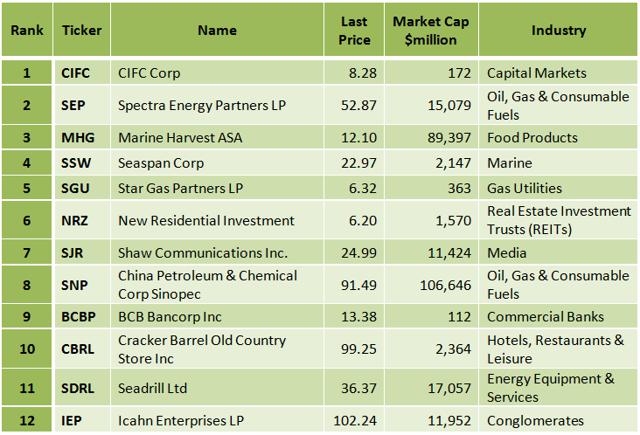 The table below presents the dividend yield, the payout ratio, the trailing P/E, and the price to book value for the twelve companies.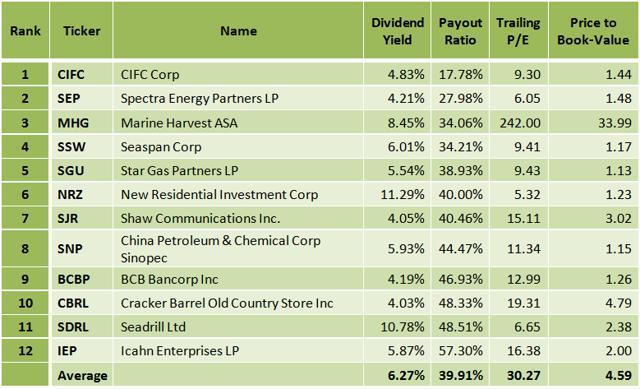 In this article, I decided to focus on the company with the highest yield in the portfolio; New Residential Investment Corp. (NYSE:NRZ).
The Company (Description from New Residential website)
New Residential Investment Corp. is a real estate investment trust that focuses on opportunistically investing in, and actively managing, investments primarily related to residential real estate. The company targets investments in: (1) excess mortgage servicing rights, (2) residential mortgage backed securities, (3) residential mortgage loans and (4) other opportunistic investments. The company was founded in 2011 and is based in New York, New York.
Valuation Metrics
The table below presents the valuation metrics of NRZ, the data were taken from Yahoo Finance and finviz.com.
NRZ's valuation metrics are good; the trailing P/E is extremely low at 5.32, and the forward P/E is also very low at 8.19. The price to book value is low at 1.23, but the total debt to equity is high at 1.97.
Latest Quarter Results
On May 14, New Residential reported its first-quarter 2014 financial results:
First Quarter Financial Highlights
GAAP Income of $49 million, or $0.19 per diluted share
Core Earnings of $42 million, or $0.16 per diluted share
Common Dividend of $44 million, or $0.175 per share
Dividend
The forward annual dividend yield is extremely high at 11.29%, and the payout ratio is only 40%. Since the company generates strong cash flow, and its expected lifetime targeted yield is impressive 20%, I think that NRZ will be able to sustain its high dividend and even to increase it.
Technical Analysis
The charts below give some technical analysis information.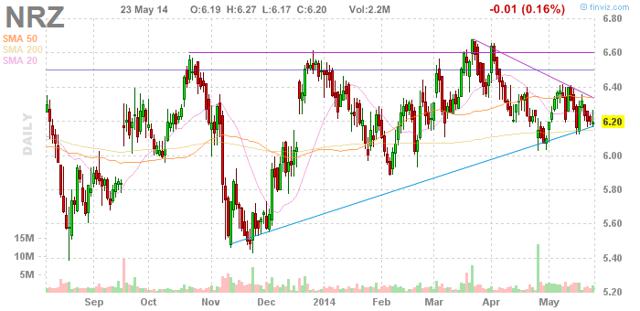 Chart: finviz.com
The NRZ stock price is 0.79% below its 20-day simple moving average, 2.24% below its 50-day simple moving average and 0.78% above its 200-day simple moving average. That indicates a trading range.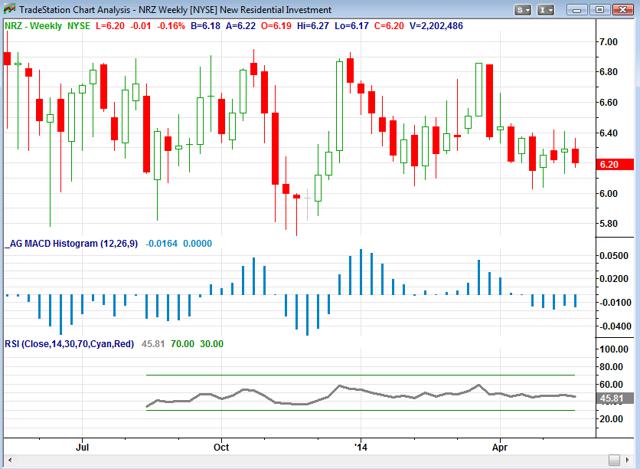 Chart: TradeStation Group, Inc.
The weekly MACD histogram, a particularly valuable indicator by technicians, is negative at 0.0164, which is a neutral signal (a rising MACD histogram and crossing the zero line from below is considered an extremely bullish signal). The RSI oscillator is at 45.81 which do not indicate oversold or overbought conditions.
Analyst Opinion
NRZ stock is almost neglected by analysts. Personally I think that it is rather an advantage than a disadvantage, in general a stock covered by not many analysts has a better chance to increase its price by a significant rate. However, on May 02, New Residential Investment Corp. was reinstated as Outperform with a $7 price target by Credit Suisse.
New Residential Business
According to the company's Quarterly Supplement 1Q 2014, NRZ's portfolio consists of ~$1.5 billion of net investments with an average lifetime targeted yield of 20%. The portfolio consists of: 1) Servicing Related Assets, 2) Residential Securities & Loans and 3) Other Investments (i.e. Consumer Loans).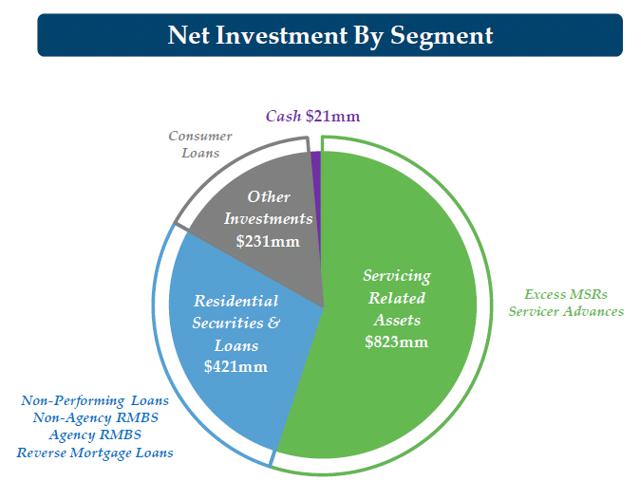 Source: Quarterly Supplement 1Q 2014
Through a transaction that occurred during the last quarter, New Residential purchased approximately $625 million current face amount of Non-Agency RMBS for approximately $553 million.
Conclusion
New Residential benefits from the improving U.S. residential market, and from lower delinquencies, and from lower pre-payment speeds on mortgages. Moreover, the company expects an impressive average lifetime yield of 20% on its $1.5 billion of net investments. New Residential has compelling valuation metrics; its trailing P/E is extremely low at 5.32, and its forward P/E is also very low at 8.19. The company is paying an exceptionally high dividend; current yield is at 11.29%, and it appears to be sustainable. The NRZ stock has done nothing since it was launched in May 2013, and I believe it has plenty of room to move up.
Back-testing
In order to find out how such a screening formula would have performed during the last year, last 5 years and last 15 years, I ran the back-tests, which are available by the Portfolio123's screener.
The back-test takes into account running the screen every four weeks and replacing the stocks that no longer comply with the screening requirement with other stocks that comply with the requirement. The theoretical return is calculated in comparison to the benchmark (S&P 500), considering 0.25% slippage for each trade and 1.5% annual carry cost (broker cost). The back-tests results are shown in the charts and the tables below.
One year back-test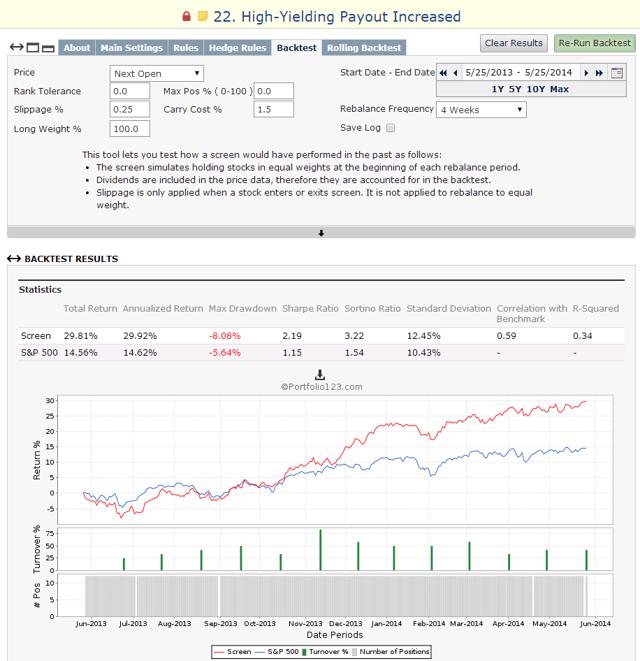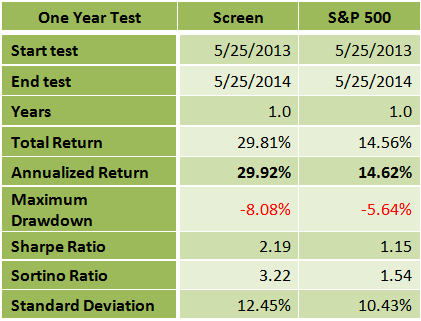 Five years back-test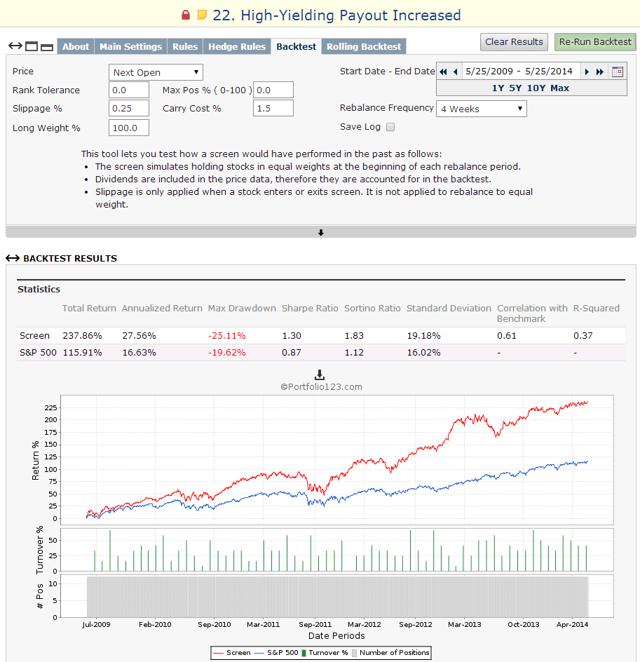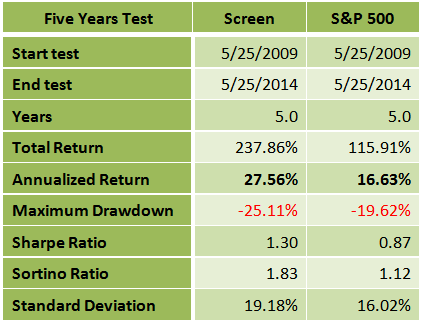 Fifteen years back-test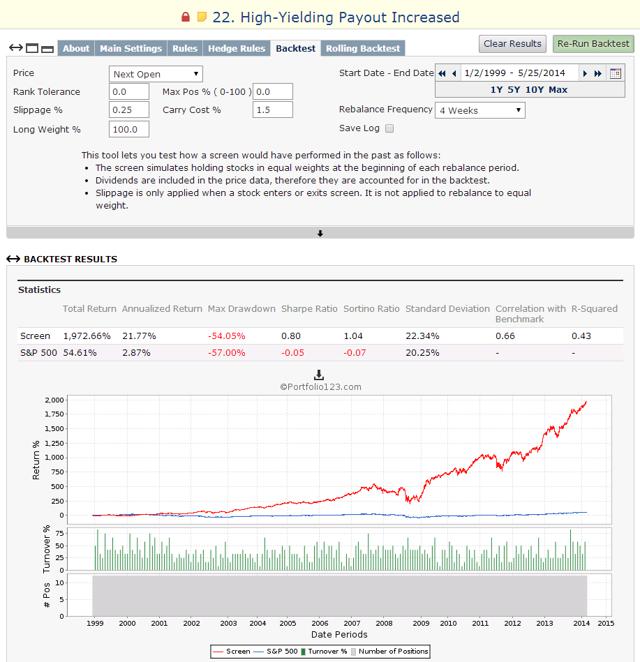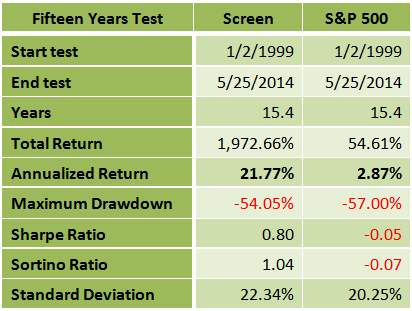 Summary
The high-yielding screen has given much better returns during the last year, the last five years and the last fifteen years than the S&P 500 benchmark. The Sharpe ratio, which measures the ratio of reward to risk, was also much better in all the three tests. Furthermore, the maximum drawdown, which normally is much bigger in a small portfolio than in the benchmarks, was smaller in the 15-year tests.
One-year return of the screen was high at 29.92%, while the return of the S&P 500 index during the same period was at 14.62%. The difference between the high-yielding screen to the benchmark was even more noticeable in the 15 years back-test. The 15-year average compound annual return of the screen was extremely high at 21.77%, while the average annual return of the S&P 500 index during the same period was only 2.87%. The maximum drawdown of the screen was at 54.05%, while that of the S&P 500 was at 57%.
Although this screening system has given superior results, I recommend readers use this list of stocks as a basis for further research.
Disclosure: I have no positions in any stocks mentioned, and no plans to initiate any positions within the next 72 hours. I wrote this article myself, and it expresses my own opinions. I am not receiving compensation for it (other than from Seeking Alpha). I have no business relationship with any company whose stock is mentioned in this article.