Prologue
I want to express my extreme gratitude to all the Seeking Alpha members who have taken the time to comment on my previous articles on this subject. This article is really more of an amalgamation of all the most prescient insights regarding the pros and cons made by Seeking Alpha members in the comments section of my articles. I was going to list everyone by name at first, but the list has grown too long at this point. My knowledge base on the subject has increased exponentially from all your prescient and succinct input. Kudos to you all.
Introduction To Sponsored MLPs
Over the past few years, many midstream energy companies have restructured into Master Limited Partnerships, or MLPs. The sponsored, or traditional, MLP governance model is the governance model of choice presently for Kinder Morgan (NYSE:KMI) and is the most widely used model in the midstream industry today.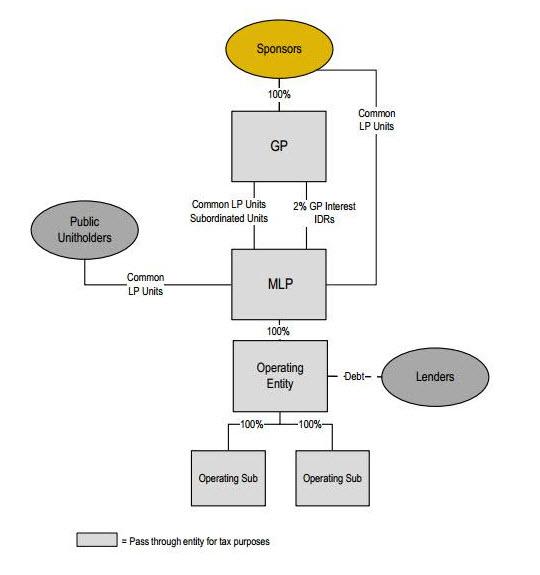 (Source: Paulhastings.com)
This transition in structure of the midstream energy players has occurred due to the ever-increasing demand for midstream energy infrastructure in North America. The formation of an MLP offers a way for midstream players to leverage their fee-based income producing assets to acquire and/or construct new midstream energy infrastructure. This is essential in order to meet the incredibly voracious demand to gather, transport and store the newly discovered and abundant production.
In this article, I will do my best to crystallize the positive and negative implications for investors considering investing in an MLP rather than other income producing investment choices such as bonds or high yielding stocks. So for you experts out there, this article may seem a bit parochial. The target audience for this piece are investors who are looking to possibly invest in an MLP and want to know the basics. So take it easy on me, would ya?
Big Picture Overview
The development of new technologies able to detect and unlock the previously inaccessible petrochemical gas and liquids locked within the abundant North American tight rock and shale plays. The number and size of new unconventional tight rock and shale plays has risen dramatically over the last few years, as more effective technologies and techniques for finding and extracting these precious commodities have come to fruition for upstream players. Below is a current map of the North American tight rock and shale plays.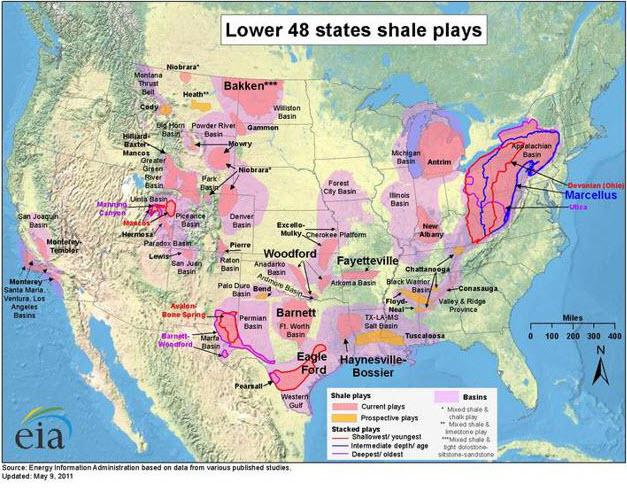 Kinder Morgan investors should benefit greatly from these developments for many years to come. Kinder Morgan operates like a giant toll road and receives a fee for the company's services. This significantly reduces commodity price risk. The company owns an interest in or operates approximately 80,000 miles of pipelines and 180 terminals. The pipelines transport natural gas, gasoline, crude oil, CO2 and other products, and the terminals store petroleum products and chemicals and handle such products as ethanol, coal, petroleum coke and steel.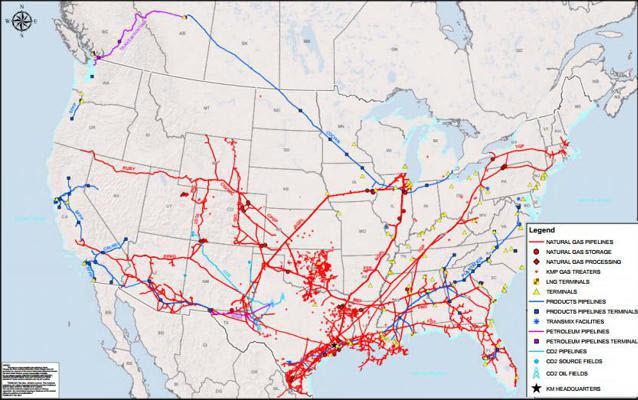 (Source: KinderMorgan.com)
The company's strategy is to expand, build and acquire primarily fee-based energy infrastructure in growing markets.
Drill Down on Pros and Cons
MLPs have traditionally been governed using the sponsored MLP governance model. This is the model of choice for Kinder Morgan. Kinder Morgan Inc., which is the general partner, and Kinder Morgan Energy Partners L.P. (NYSE:KMP) is the limited partner. KMI is basically a derivative play on KMP. As KMP goes, so goes KMI. So, for the purpose of this article, I will focus on the pros and cons of owning an MLP. In a future article, I will delve into the advantages and disadvantages of investing in KMI vs KMP. The following is a list of the pros and cons of investing in an MLP.
Pros
MLPs offer income investors a low-risk opportunity to participate in the North American Energy boom.
The absence of taxes creates a lower cost of capital.
The slow and stable cash flow from midstream assets such as pipelines and storage terminals offer stable and dependable cash distributions.
These investments have minimal exposure to commodity price volatility.
Midstream MLPs are high-yield securities that offer reliable tax-deferred distributions.
Midstream MLPs only have one level of taxation, so more cash available to distribute and typically they offer higher yield than other income investment vehicles.
Expected increases in distributions.
Tax shield typically equivalent to 80-90% of cash distributions.
Potential appreciation of units due to oversold conditions.
Cons
The tax liabilities for unitholders may be hard to determine. Each unitholder is responsible for paying their share of taxes on distributions. This can become a nightmare based on all the possible jurisdictions large midstream players operate in.
Valuation of the units can be impacted if growth prospects begin to decline.
The investment offers little chance for capital appreciation based on the fact they trade more along the lines of bonds rather than stocks.
An economic downturn resulting in declines in the price of petrochemical products could reduce volume levels, thereby reducing distributions.
According to upstream oil and gas industry expert Charles W. Peterson ll, midstream MLPs have a certain level of risk related to their dependence on upstream operators. Peterson ll states:
"A significant amount of uncertainty in ultimate per well recoveries and sustainable daily flow rates still exists regarding most unconventional tight rock or shale plays. This presents a challenge for a midstream player's long-term decision making regarding capital expenditures. Furthermore, not all upstream operators' skills, capabilities and techniques for recovery are created equal. These factors can complicate the challenge for midstream operators capital allocation plans."
MLPs could be negatively affected by any regulatory or tax changes regarding the MLP's status.
Pipelines have an inflation-adjusted tariff structures. Any changes to these regulated pipeline tariffs present a risk to MLP investors.
If the government doesn't move to relax federal laws banning crude oil exports, the price of oil may fall, causing a glut. Some wells may be shut in based on the fact they are no longer profitable, thereby reducing throughput and profits for midstream operators.
Pipeline spills or accidents could drastically reduce distributions.
Local municipalities may delay pipeline projects or require additional funds be set aside for potential accidents.
If interest rates increase, this may escalate capital investment risk.
The Bottom Line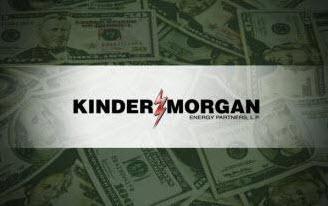 Kinder Morgan is now the largest midstream energy infrastructure operator and the fourth-largest energy company in the world as of this writing. What's more, Kinder Morgan has the potential for remarkable capital expansion due to a profound revitalization of North American oil and gas production. This fact is evidenced by the $14 billion backlog of future projects due to be implemented within the next five years. On top of this, Kinder Morgan has delivered consistent annualized distribution growth for nearly 20 years.
The tax-preferred nature of the MLP structure allows Kinder Morgan to pay a higher yield than those of traditional energy companies. Upstream energy companies have much lower dividend yields averaging closer to 3% with much capital loss risk. Downstream player yields are lower as well. Furthermore, distributions from MLPs enjoy a tax preferred status. Investors are allowed deductions for expenses such as depreciation and depletion. Nevertheless, this is only applicable until the return on capital reaches 100%.
All in all, I'd say at this time Kinder Morgan represents a solid total return play. This opportunity is underpinned by the recent downturn in shares. Although since the start of this series of articles a little over two weeks ago, KMI's share price has increased 4.7% and a full blown technical reversal of trend appears imminent.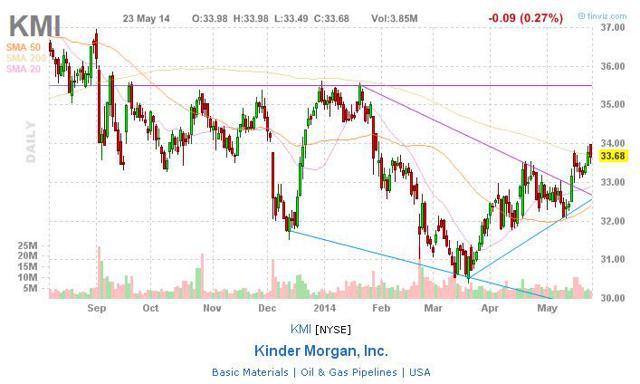 (Source: Finviz.com)
Final Note
I would like this article to become the go-to piece for new KMI and potential KMI investors to turn to when looking for information on this investment. Please add any and all pros and cons I may have left out. There is only so much content you can include in one article. As evidenced by my last few articles, much of the "beef" lies within the comments thread.
Disclosure: I have no positions in any stocks mentioned, and no plans to initiate any positions within the next 72 hours. I wrote this article myself, and it expresses my own opinions. I am not receiving compensation for it (other than from Seeking Alpha). I have no business relationship with any company whose stock is mentioned in this article.