It is once again "Merger Monday" but this week's version has an interesting twist to it as we have a number of companies moving in on others' deals. It has been a while since we saw true competitive bids and multiple offers for companies in boring industries. This, paired with the recent highs in the general market, is good news for investors and paints a bullish picture moving forward. In recent weeks we have been buyers of the battered index ETFs and think that this value buying shall be rewarded heading into the second half of the year.
Chart of the Day:
We have been bullish of the Russell 2000 since the 10% pullback and think with recent moves that we should see a clear path higher once the index breaks through all of the "noise" in the 1130-1140 range.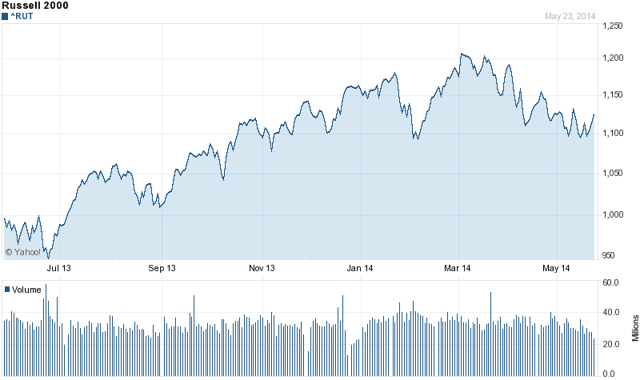 Source: Yahoo Finance
We have economic news today, and it is as follows:
Durable Orders (8:30 a.m. EST): Est: -1.3% Act: 0.8%
Durable Goods-Ex Trans (8:30 a.m. EST): Est: -0.2% Act: 0.1%
Cash-Shiller 20 City In (9:00 a.m. EST): Est: 11.8% Act: 12.4%
FHFA Housing Price In (9:00 a.m. EST): Est: N/A Act: 0.7%
Consumer Confidence (10:00 a.m. EST): Est: 82.7 Act: 83.0
Asian markets are lower today:
All Ordinaries -- down 0.02%
Shanghai Composite -- down 0.34%
Nikkei 225 -- up 0.23%
NZSE 50 -- down 0.15%
Seoul Composite -- down 0.63%
In Europe, markets are higher this morning:
CAC 40 -- up 0.17%
DAX -- up 0.52%
FTSE 100 -- up 0.47%
OSE -- up 0.31%
M&A Deals Falling Apart
Hillshire Brands' (NYSE:HSH) deal to purchase Pinnacle Foods (NYSE:PF) appears to be on the rocks now that Pilgrim's Pride (NYSE:PPC) has launched a takeover bid for Hillshire Brands itself. There are rumors that Pilgrim's Pride recently discussed a possible deal with Hillshire Brands but never got far enough to discuss a price. This has some wondering whether the deal for Pinnacle Foods was a defensive move to keep Pilgrim's Pride away or a ploy to bring them to the bargaining table in order to actually sell Hillshire. The break-up fee for the Hillshire and Pinnacle deal is close to $170 million but Pilgrim's Pride is including that in their "superior" offer.
Hillshire shares are trading close to the $45/share offer price from Pilgrim's Pride while Pinnacle Foods shares are trading lower on the news as it now appears the company will be accepting a cash payout between $160-170 million rather than a buyout.
Another deal which appears to be in limbo now is General Electric's (NYSE:GE) offer to buy Alstom's power systems assets. It appears that the French government's preferred buyer, Siemens, is putting the finishing touches on an offer which will be higher than GE's but offer less cash. As readers know, we have said any deal with Siemens will be quite complicated and tough to pull off due to the two companies' past history.
Although there are different factors affecting both of these deals the fact that there are other suitors and they are having an easy time lining up credit highlights the competitiveness in the M&A market right now. We think investors need to watch how these scenarios play out because it could cause the market to revalue deals moving forward and create opportunities for traders when deals are first announced.
Biotech Name Riding High
It seems that we were wrong in regards to BioCryst Pharmaceuticals (NASDAQ:BCRX) a few months back. We have made money trading this name a few times over the years, but our perception of the pipeline was far less optimistic than it should have been. BioCryst has had a few successes come out of its pipeline recently with today's news focused on its BCX4161 orally-administered treatment for patients with hereditary angioedema. The treatment reduced attacks in patients by 0.45 attacks per week as the BCX4161 patients experienced 0.82 attacks per week while on the treatment versus the placebo patients who saw 1.27 attacks per week during the Phase 2a study.
Disclosure: I have no positions in any stocks mentioned, and no plans to initiate any positions within the next 72 hours. I wrote this article myself, and it expresses my own opinions. I am not receiving compensation for it (other than from Seeking Alpha). I have no business relationship with any company whose stock is mentioned in this article.