It is okay to be curious about potential investments, especially after a stock has declined so quickly. The common metaphor "Curiosity Killed the Cat" does not apply to investment research, in my opinion. Rather, curiosity actually seems to be an excellent trait to have. The quote "Question everything" directly contradicts the cat quote, and is far more applicable in research. For this reason, I spent an hour acting on my curiosity.
In a prior article, I detailed why and how I would begin performing one hour of preliminary research on potential investments with an emphasis on reasons not to invest before delving any further into the idea. In this article, I will organize my findings on PetSmart (NASDAQ:PETM).
Business Overview
PetSmart operates about 1300 stores in the US, Canada, and Puerto Rico, selling pet-related products and services. The company was founded in 1986 and went public in 1993.
Invest Where You Shop
I've been interested in PetSmart for a while because I am in the stores quite frequently. My girlfriend owns several hermit crabs. She purchased the crabs and most of their supplies at PetSmart (all but some Crabworx decorations that she could only get online).
We both believe the selections at Walmart (NYSE:WMT) and Target (NYSE:TGT) are far smaller and less interesting than PetSmart. PetSmart offers 10k-11k SKUs per store. We've also been to Petco a few times. Petco is privately held so little info is available, but according to the company's website, the company has 1000+ locations, comparable to PetSmart. Petco scores better than Target and Walmart, but we both believe PetSmart has a wider selection, especially in items relevant to our needs. From the few times I've been in a Petco, the store was smaller, had a smaller overall selection than PetSmart and far smaller selection of hermit crab-relevant SKUs. The in-store experience was also less interesting, and I noticed that there were no veterinary services offered.
Peter Lynch made a living investing in companies whose goods and services he, his wife, and his daughter purchased and used. Jim Cramer has also endorsed this approach.
Extremely Timely
I always try to enter investments at recent lows as a form of security of last resort. After tanking on a Q1 earnings disappointment, the stock is well below all of its moving averages:

(Source: Finviz.com)
The stock is at a 2 year low in price and 4 year low in ttm P/E: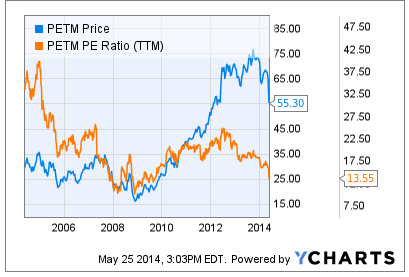 My only concern is whether the stock has fallen too far too fast. The earnings release came just last Wednesday before market open, so there have only been 3 trading days of reaction thus far. The decline could still have some legs, but then again, the stock seems to be stabilizing and 3 bullish articles have been published on SA since the earnings release.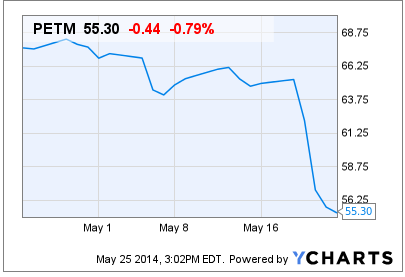 Sentiment seems to be shifting. I think the stock is perfectly timely right now.
Economics
Competitive Position
Operating in a niche pet expenditure market with a strong brand and clever name, along with the scale that goes along with 40% market share, PetSmart seems to have an attractive competitive position. I don't think the word "moat" is appropriate, though. Retail is one of the most competitive industries going, and the "specialty retail" tag is hardly reassuring. On the demand side, PetSmart seems to have loyal customers, but on the supply side, there is little stopping new entrants from selling pet products. The animals themselves and the vet and grooming services are more protected, but these all combined only make up less than 15% of revenue.
Amazon (NASDAQ:AMZN) sells pet products on its primary site and its subsidiary, Quidsi, launched Wag.com to exclusively sell pet products. Obviously, the vet and grooming services are protected from e-commerce, and live animal purchases, though offered by some e-retailers, are also essentially protected. However, I don't see why pet foods, supplies, and medicines can't be sold online. Most foods are non-perishable, I believe. These categories make up 62.1% of estimated pet expenditures for 2014 and 86.2% of PetSmart's mix, so the industry and business are quite vulnerable. As to whether consumers will make the shift, that is unclear. Again, my girlfriend has ordered items online in addition to shopping at PetSmart, but seems to enjoy the experience of looking around the store over online. PetSmart also has its own e-commerce site, and it seems well-developed with essential omnichannel capabilities like in-store pickup.
Overall, I have a mixed outlook on the company's competitive position. The company has many of the necessary characteristics for a moat, but retail is really tough and the business seems exceptionally vulnerable to an e-commerce shift.
Industry Prospects
An excellent prior article presents some good data on the pet industry. US pet expenditures have more than tripled since 1994, growing at a CAGR of 6.44%. Growth has slowed some recently, but is still impressive at 5.22% annually in the last 5 years. Pet ownership has more than tripled since the 1970s. I see no reason why this trend won't continue.
Performance & Valuation
PetSmart has performed remarkably well in the past few years. In the last 5 years, the company has grown net income 16.1% annually and reduced share count 4.6%, for EPS growth of 21% annually, all while paying a small but noteworthy dividend (yield current 1.41% and averaged 1.03% in the last 5 years).
Performance has deteriorated lately, though. All major metrics have trended negatively in the past 2 quarters, besides FCF, and the company revised its full year 2014 guidance lower.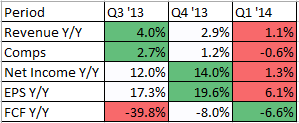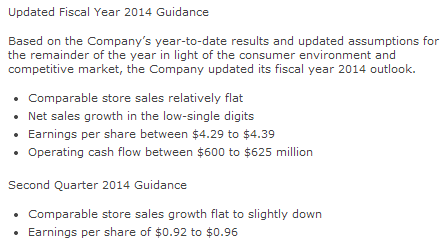 (Source: PetSmart Investor Relations)
Valuation multiples at $55.30 quote:
P/ ttm EPS: 13.5
P/ 2014 est. EPS: 12.7
P/ 2014 est. Operating Cash Flow: 9
Dividend yield: 1.41%
These multiples coupled with the dividend yield imply 9-11% EPS growth going forward. A good chunk of that can be achieved through share repurchases alone, but I am not sure net income growth will be above the necessary 5%-6%+ to fill in the gap. Value Line and the analyst consensus estimates for earnings growth are 11%-12%, but the Value Line estimate has not been updated since the disappointing Q1 results, and I suspect Yahoo's analyst data has not been updated yet, either. Fixed costs are very high in retail and PetSmart's earnings growth has been largely driven by operating leverage in the past. The difference between 9%-11% earnings growth and no growth is probably only a few hundred basis points of sales for PetSmart. With comps and total revenue trending lower, operating deleverage could do some real damage if the trend continues.
Conclusion
PetSmart is an excellent company, but I am passing for now. All in all, I cannot get past the uncertainty surrounding forward growth, the threat of Amazon, and the negative performance trends. PetSmart has too excellent a track record and I enjoy visiting the company's stores too much to ignore the company forever, but it is just too high risk/reward to be a conviction buy for my heavily concentrated portfolio. I will set a price alert at $50 and move on for now. At $50, I'd still feel uncertain about forward growth, but find comfort in less growth being priced in. It would be worth another look.
Disclosure: I have no positions in any stocks mentioned, but may initiate a long position in PETM over the next 72 hours. I wrote this article myself, and it expresses my own opinions. I am not receiving compensation for it (other than from Seeking Alpha). I have no business relationship with any company whose stock is mentioned in this article.