In a period of economic instability, like we have seen for the majority of this year, consumer spending is usually low. The low buying power that consumers hold during uncertain times wreaks havoc on a slew of companies whose profit relies on the consumer's willingness to buy. So it came as a bit of a surprise last quarter when Intel reported stellar earnings, sending semiconductor funds soaring. Amid what appeared to be low spending habits, Intel generated a healthy profit. It seemed that the tech industry was on the road to recovery, but that may have just been the eye of the storm, as new information from Intel (NASDAQ:INTC) points to a foggy future for the semiconductor industry [see also ETFs To Play A U.S. Export Boom].
Intel recently cut its third quarter revenue projection, fearing that the rebound in spending on technology may be sputtering out. In July the company predicted revenues between $11.2 billion and $12 billion for the third quarter, but this outlook was slashed to a range of $10.8 billion to $11.2 billion. And Intel is not alone with its bearish outlook, as the head of Cisco Systems (NASDAQ:CSCO) commented that there is an "unusual uncertainty" in the global economy that could hurt sales.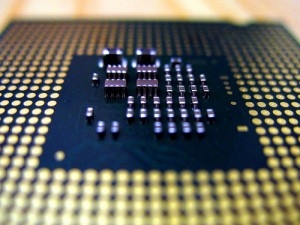 As if the outlook was not gloomy enough, the Apple (NASDAQ:AAPL) iPad is poking holes in the sales of many semiconductor manufacturers. The iPad uses the Apple A4 chip, which was designed by Apple and is manufactured by Samsung (SSLNF.PK), as opposed to one of the major semiconductor focused companies such as Intel or AMD.
While the exact damage is still unknown, the tablet is dampening the sales of many more traditional PCs, which is beginning to trickle down to weaker semiconductor demand. To compete with Apple, several big name firms have plans in place to create a tablet computer of their own, like Research In Motion (RIMM), which may allow for a variety of chipmakers to sink their teeth into the cutting edge industry [see also Three Tech-Heavy International ETFs].
With an uncertain outlook for the global semiconductor industry, we outline three ETFs that offer exposure to this often-volatile sector:
PowerShares Dynamic Semiconductors (NYSEARCA:PSI)
This ETF tracks the Dynamic Semiconductors Intellidex Index, which is simply comprised of stocks of semiconductor companies. Of the 31 securities this ETF holds, major names like Altera (NASDAQ:ALTR) (5.7%), Texas Instruments (NYSE:TXI) (5.1%), and Intel (INTC) (4.9%) appear in the top ten holdings. From a market cap standpoint, PSI has assets all across the board, with a tilt towards medium sized firms. The fund has turned out a disappointing loss of nearly 12% this year, which may continue if the semiconductor industry does not hold its ground [see all of PSI's fundamentals here].
HOLDRS Merrill Lynch Semiconductor (NYSEARCA:SMH)
This HOLDRS fund is comprised of just 18 securities, with industry bellwethers like Intel (22.5%), Texas Instruments (19.7%), and SanDisk (SNDK) (3.2%) finding their way into the top ten holdings. Unlike PSI, this ETF holds the majority of its assets in companies of medium market cap size of greater, shying away from the volatility that smaller companies present [see all of SMH's holdings here]. SMH has dropped roughly 9.3% this year, but has been able to pay out a decent dividend yield of 1.7%.
SPDR S&P Semiconductor ETF (NYSEARCA:XSD)
State Street's XSD measures the S&P Semiconductor Select Industry, which represents the Semiconductor sub-industry portion of the S&P Total Markets Index. This fund holds smaller firms than the previous two, making it more susceptible to the volatility that may arise if chip sales slow. Some of the top holdings in this ETF include Skyworks (NASDAQ:SWKS) (4.3%), Xilinx (NASDAQ:XLNX) (4.2%), and Analog Devices (NYSE:ADI) (4%). XSD has lost over 12% on the year and may continue to slip with weakening demand in the tech sector.
Disclosure: No positions at time of writing.
Disclaimer: ETF Database is not an investment advisor, and any content published by ETF Database does not constitute individual investment advice. The opinions offered herein are not personalized recommendations to buy, sell or hold securities. From time to time, issuers of exchange-traded products mentioned herein may place paid advertisements with ETF Database. All content on ETF Database is produced independently of any advertising relationships.