It seems NQ Mobile (NYSE:NQ) has been fairly quiet lately on their seemingly long overdue 2013 Annual Report (20-f), the results of their so called "independent audit", and not to mention their Q1 of 2014 earnings, creating a news vacuum. However unlike NQ Mobile, we do have some news we would like to share.
One of which is that the business relationship between NQ Mobile and Yidatong seems to be completely unnecessary if NQ Mobile is legitimate and has a strong business relationship with China Mobile and the other Chinese wireless carriers as the company suggests. Another is that a recent market share report for mobile security apps in China shows NQ Mobile is not in the top 7 and suggests they have less than 3% market share.
NQ Mobile and Yidatong Business Relationship Seems Unnecessary & Financially Detrimental
We had recently spoken with an employee of a game publisher which helps mobile game developers outside of China localize and publish their games within China. We were originally discussing FL Mobile, NQ Mobile's Chinese mobile game publisher, but in the process he told us that the business relationship between NQ Mobile and Yidatong seems to be absolutely unnecessary if NQ was legitimate.
As a brief reminder, Yidatong is apparently NQ Mobile's largest service provider (payment processor/bill collector) inside of China. However Muddy Waters claims that Yidatong is nothing more than a shell company controlled by NQ Mobile and is being used to fraudulently inflate their revenue. Also a former employee of NQ Mobile is stated as the owner of Yidatong.
The individual we spoke with explained that if NQ Mobile is really generating as much revenue in China as they are reporting and has the strong business relationship with China Mobile and the other Chinese wireless carriers like they claimed they do, then NQ Mobile could have easily obtained billing codes directly from China Mobile long ago. This in turn would allow NQ Mobile to bill smartphone users directly in China and they wouldn't need to use service providers such as Yidatong as a middle man.
As further clarification to those unfamiliar with this matter, according to NQ Mobile, Yidatong helps NQ Mobile collect payments from Chinese wireless carriers, mostly from China Mobile. In turn Yidatong gets to keep a percentage of the payments they help collect and then sends the payments to NQ Mobile after 30 days. However if NQ Mobile is really generating the revenue they reported and does have a strong business cooperation with China Mobile, they should been able to easily negotiate with China Mobile to allow them to directly collect proceeds from paying users without having to use service providers such as Yidatong as intermediaries. This in turn would improve NQ Mobile's margins and reduce the time it takes to collect payments. From a business perspective it makes very little financial sense for NQ Mobile to not choose this route compared to relying on service providers like Yidatong which results in lower margins and longer DSOs.
We asked the employee of the mobile game publisher if he can name some mobile value added service companies that can directly bill users through carrier billing in China without having to use service providers. One of the companies he named was China Mobile Games and Entertainment Group (NASDAQ:CMGE). CMGE is a leading mobile game publisher in China and so they are a competitor of NQ Mobile's FL Mobile Chinese mobile game publishing subsidiary.
As a note, CMGE is not controlled or partially owned by China Mobile in any way. Rather this company is a spinoff from VODOne, an online Chinese media company that trades publicly in Hong Kong.
Later we checked to see if we can confirm that CMGE and the other companies he named can directly bill users and not have to rely on service providers. From CMGE's 2013 Annual Report it does indeed state that:
Our VIE, Yingzheng, was recognized as a quality content provider by China Mobile in October 2010 and since then it has been granted access to fee-collection codes from China Mobile, which enables it to collect proceeds from our games directly through China Mobile, without having to use service providers as intermediaries.
Therefore the claim that mobile companies which have a good business relationship with China Mobile can get access to fee-collection codes to bypass service providers as intermediaries for collecting payments is indeed true. So it seems very suspicious that NQ Mobile didn't choose to do the same in order to improve their margins and reduce the collection period.
Furthermore looking at CMGE's 2012 Annual Report, it says:
We collect payments from our users primarily through the billing and collection systems of China's three largest network operators, including China Mobile and China Telecom, who dominate the wireless telecommunication sector in China. We collect payments from these mobile network operators directly for our revenues from games on smartphones ...
This shows CMGE has been directly collecting payments for their smartphone games/apps on all three major wireless carriers in China for years and doesn't have to rely on service providers like NQ Mobile does with Yidatong.
As a comparison, CMGE reported total revenue of $58.3 million for the year 2013. Meanwhile NQ Mobile reported they had $196.7 million in total revenue for 2013 with apparently $103 million coming from mobile value added services (MVAS).
For 2012 CMGE had total revenue of $30.1 million while NQ Mobile reported $91.7 million in revenue with $68.3 million from MVAS.
Assuming the reported numbers by NQ Mobile are real and somewhere between 50% to 80% of their MVAS revenue is from within China, NQ should be generating as much if not quite a bit more revenue through carrier billing in China than CMGE.
In addition, NQ Mobile has been telling investors they have a strong business relationship with China Mobile and the other major wireless carriers in China for some time now. Such as in this press release dated July 30, 2013 announcing; "FL Mobile Becomes A Key Game Content Partner of China Mobile's Game Center". In the press release it says:
This partnership extends the already strong relationship that exists between NQ Mobile and China Mobile.
Given the fact that if NQ Mobile really did have enough revenue and the self proclaimed "strong relationship" with China Mobile, it should be a simple task for them to negotiate a deal to directly bill smartphones users in China. It is hard to think of any legitimate reasons why NQ Mobile would rather choose to rely on the likes of Yidatong and other service providers as intermediaries. Normally companies do not prefer lower margins and taking longer to receive payments.
Recent Mobile Security Market Share Report Shows NQ Mobile Almost Non-Existent in China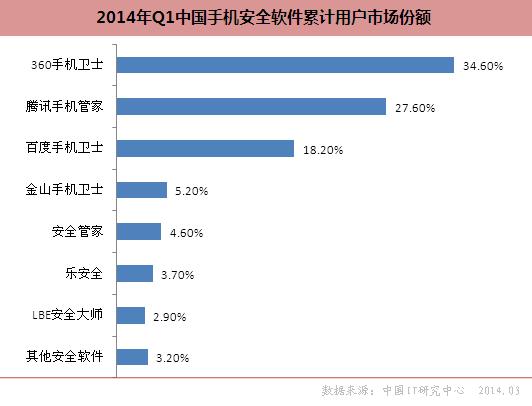 It's no real secret how so many smartphone users in China said they never heard of NQ Mobile or their security apps even though NQ claims to be a leading consumer mobile security provider in China. A recently released mobile security market share report in China for Q1 of 2014 conducted by CNIT Research shows NQ has very little to possibly no market share.
The report stated that Qihoo 360 (NYSE:QIHU) had market share of 34.6%, Tencent had 27.6%, and Baidu (NASDAQ:BIDU) had 18.20%. The report also states that the recently IPOed Cheetah Mobile (NYSE:CMCM), a spinoff from the Chinese software maker Kingsoft, had 5.20% market share.
Meanwhile NQ Mobile is nowhere to be found in the top 7 in this market share report. Therefore NQ Mobile's market share for mobile security apps in China would have to be less than 3% based on the figures.
NQ Mobile's Curious Marketing Strategy in China
This section is also related to the topic of the lack of consumer recognition of NQ Mobile in China. Recently a user on here contacted us and said he found a lot of pictures online related to the business activities of NQ Mobile which makes the company look very strange. He sent the pictures to us and said that we should take a look at them and possibly share it with others publicly.
While his specific concerns regarding NQ Mobile seems minor in the grand scheme of things, we see no harm in sharing some of the pictures as they do help illustrate NQ Mobile's curious marketing strategy in China.
As they say a picture is worth a thousand words and investors can look at the pictures themselves to decide which words they would use to describe NQ Mobile as a company.
One of the main reasons for the lack of brand recognition for NQ Mobile is likely how there's seems to be little to no marketing and advertising done by NQ Mobile for their security apps in China, their original core bread and butter business.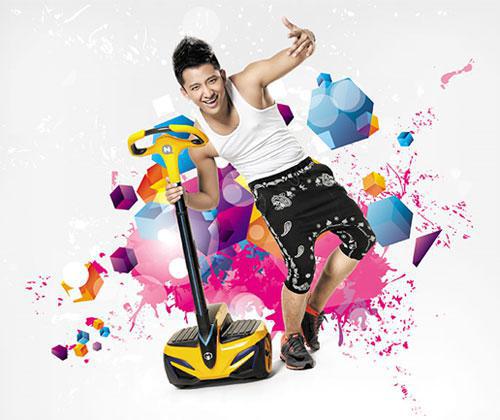 However there's seems to be an exception from the company when it comes to the NQ Inmotion SCV, a Chinese knockoff of the Segway. As I mentioned in the past, NQ Mobile had apparently invested in the company that makes these personal transport devices called Inmotion SCV through one of their venture funds. Although NQ Mobile never disclosed publicly how much they invested in this company and what percentage they own.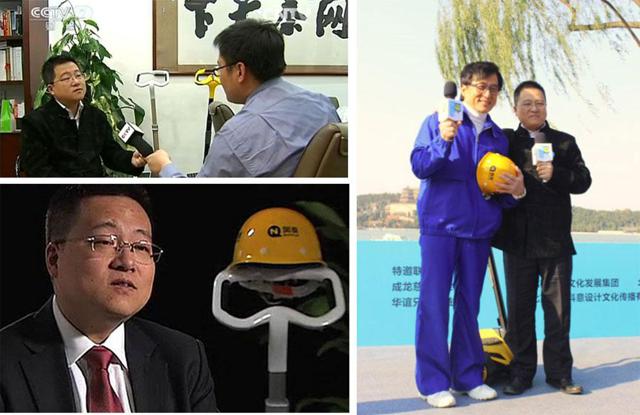 Either way, as we have also pointed out in the past, NQ Mobile's co-founder and co-CEO Dr. Henry Lin Yu does seem especially fond of these Inmotion SCVs.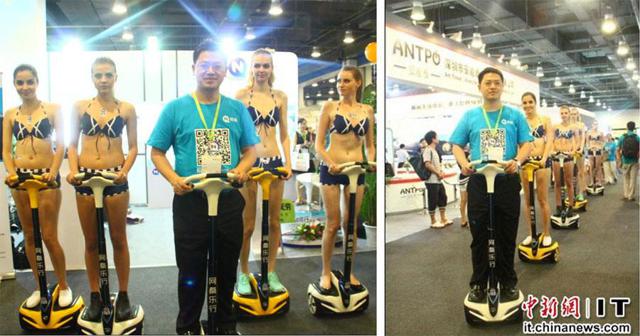 In addition NQ Mobile's other co-founder and COO, Dr. Vincent Wenyong Shi, seems to be enjoying the Inmotion as well.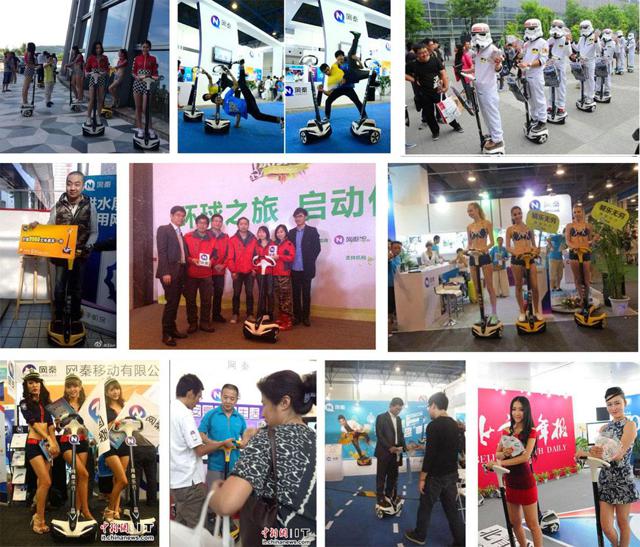 However that still doesn't quite explain from a business perspective why the Inmotion SCVs seems to be the most heavily marketed product by NQ Mobile in China (a few examples can be seen above) compared to the seemingly lack of marketing for their mobile security apps. It is a curious strategy that NQ Mobile appears to spending so much more effort publicly marketing a Segway knockoff as opposed to their core business of mobile security apps, which supposedly accounts for the majority of their revenue for many years.
Judging from the majority of NQ Mobile's promotional activities in China alone you would think they are in the business of selling personal transport devices rather than mobile apps and software.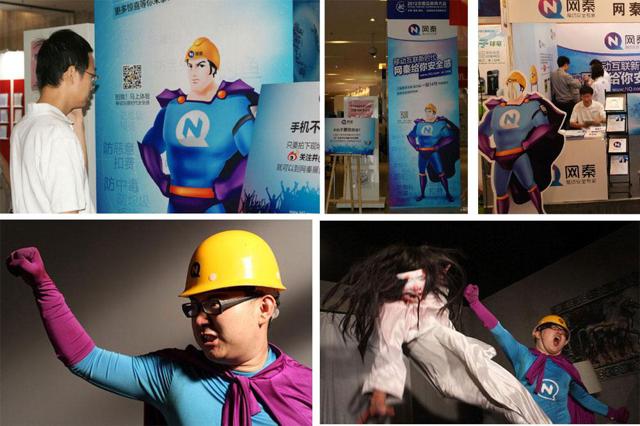 Unlike the numerous occasions where NQ Mobile is showing off their knockoff Segways, finding instances where the company seems to be promoting their consumer security software in China proved to be a much, much more difficult task.
One of the few rare cases we found where NQ Mobile appears to be publicly marketing their mobile security apps (somewhat) in China would be a campaign where they created a super hero character wearing NQ Mobile's logo and their trademark yellow hardhat a year or two ago. But unfortunately this character seems to have been discontinued now.

However to be fair it appears NQ Mobile is trying slightly harder to brand themselves (sans knockoff Segways) in China now after the allegations of fraud by Muddy Waters.
No Response from NQ Mobile
We emailed NQ Mobile investor relations over 3 days ago regarding the issues addressed in this article. This includes:
Why hasn't NQ Mobile negotiated with China Mobile to directly bill their users like other companies instead of relying on Yidatong given the supposed strong business relationship NQ has with China Mobile?
Do they believe a recent market share report showing NQ Mobile has less than 3% market share for mobile security apps in China is accurate? If not, why?
Why does NQ Mobile seem to be doing so much more marketing for the Inmotion SCV transport devices in China when compared to their core business of mobile security apps?
What percentage of the Inmotion SCV company does NQ Mobile actually own, if any?
So far we have not received a response.
Disclosure: I am short NQ. I wrote this article myself, and it expresses my own opinions. I am not receiving compensation for it (other than from Seeking Alpha). I have no business relationship with any company whose stock is mentioned in this article.
Additional disclosure: While I hold a short position on NQ at the time this article was submitted, I have been actively trading NQ both long and short the past month. I may continue to do so in the near future.