BioTime (NYSEMKT:BTX) is primarily a human embryonic stem cell (hESC) biotech company focused on selling stem cell products for research and development, and on developing proprietary therapeutics for age-related diseases using hESC. The company has over 600 key patents in the field of regenerative medicine, and is led by Dr. Michael West, a pioneer in the field.
BioTime also owns exclusive worldwide license rights from the University of Utah for human therapies for a technology called HyStem. HyStem hydrogel is a hyaluronan-based semi-synthetic extracellular matrix. Basically, HyStem is an injectable matrix capable of polymerizing in vivo to increase viability of grafted cells. It also acts as a scaffold to prevent undesired migration of transplanted cells to undesired places in the body. The combination of HyStem with BioTime's stem cell lines provides a compelling platform for the development of regenerative therapies.
The Carpenter Patent
Over the years, BioTime has cobbled together one of the broadest and most extensive patent portfolios in the field of regenerative medicine. The patents cover a wide range of technology from the very beginning of hESC discovery. However, when reviewing BioTime's IP, one patent in particular caught my attention.
Patent #8,252,585 (the "Carpenter Patent") is a composition patent for neural progenitor cell populations. The abstract reads as follows:
This invention provides populations of neural progenitor cells, differentiated neurons, glial cells, and astrocytes. The populations are obtained by culturing stem cell populations (such as embryonic stem cells) in a cocktail of growth conditions that initiates differentiation, and establishes the neural progenitor population. The progenitors can be further differentiated in culture into a variety of different neural phenotypes, including dopaminergic neurons. The differentiated cell populations or the neural progenitors can be generated in large quantities for use in drug screening and the treatment of neurological disorders.
A composition of matter patent is one of the four types of patents in the US, which has been defined as "an instrument formed by a intermixture of two or more ingredients, and possessing properties which belong to none of these ingredients in their separate state."
What makes this patent extremely relevant is the stage in which the process is utilized. Per the description in the Technical Field section within the patent:
this invention relates to the directed differentiation of human pluripotent stem cells to form cells of the neuronal and glial lineages, using special culture conditions and selection techniques.
Part of the patent claim is as follows:
1. A first and second cell population comprising a) a first in vitro population of cells comprising human embryonic stem cells; and b) a second in vitro cell population comprising progeny of a portion of the first population of cells, wherein the progeny express NCAM.

2. The first and second cell populations of claim 1, wherein the first and second populations of cells are contained in separate containers.
NCAM is a binding molecule expressed on the surface of neurons. In other words, the patent covers the early stage of hESC differentiation for neural progenitor cells. The ontology tree structure diagram below, as referenced at the website of LifeMap Sciences, Inc., an affiliate of BioTime, provides a good illustration.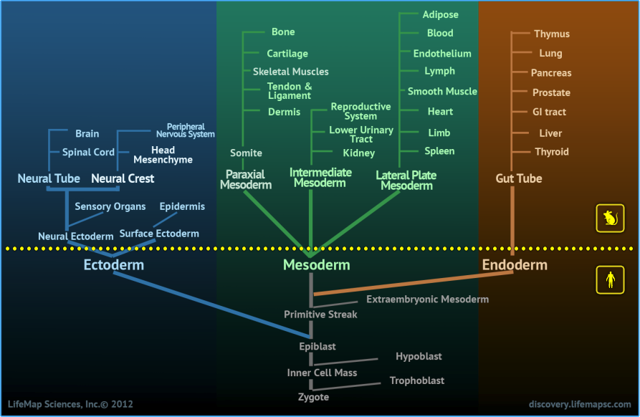 Click to enlarge
The patent covers the arm of the tree relating to Ectoderm. This includes cells such as Retinal Pigment Epithelium (RPE) cells derived from hESC, which BioTime plans to use, similar to Advanced Cell Technology's (ACTC) platform, in developing a therapy for Age-Related Macular Degeneration (see "BioTime Joins Advanced Cell Technology In The AMD Race").
Why Biomatter Matters
There have been a number of papers written regarding the utility of HyStem combined with progenitor cells. An issue of Science Translational Medicine, a multidisciplinary group of thought leaders in the field of biomaterial research and development, focused on the efforts of seven research groups to mature, deliver and retain therapeutic cells at sites in need of clinical repair or regeneration. Each of the papers demonstrated that retention of cells in an anti-inflammatory matrix supports cell growth and proliferation, which improves outcomes.
An authoritative discourse on the subject written by the scientists who developed HyStem at the University of Utah titled "The translational imperative: Making cell therapy simple and effective", which looks at four different pre-clinical therapeutic uses for HyStem; repairing injured vocal folds, improving post-myocardial infarct heart function, regenerating damaged liver tissue and restoring brain function following ischemic stroke, presents a compelling case.
Path To Profitability
BioTime is working on a number of applications for HyStem. However, the one that gets our attention is Renevia. Renevia is a delivery matrix for adipose cells to restore normal skin contours in patients where the subcutaneous adipose tissue has been lost due to lipoatrophy. The matrix could be used for a number of applications, including cosmetically for age-related lipoatrophy. The dermal filler market has huge multi-billion dollar potential, particularly for a product like Renevia that would allow for a longer lasting and more stable procedure.
BioTime received approval from the Spanish Agency of Medicines and Medical Devices (AEMPS) to begin clinical trials of Renevia in August 2013. The safety trial was conducted at Stem Center in Palma de Mallorca, Spain, and consisted of 10 volunteers.
An update on Renevia from BioTime's most recent 8-K is as follows:
Renevia TM was injected subcutaneously without cells and all responses were localized, minor, and transient. Completion of this trial paves the way for a pivotal clinical efficacy trial planned for the second half of 2014 in which the matrix will be tested in combination with adipose stromal fraction for the treatment of lipoatrophy. The pivotal trial, if successful, could lead to an application for CE Mark approval for marketing in Europe and other markets outside the United States.
BioTime Shakes Up Its Board
On April 14, 2014, BioTime announced the addition of two board members, Deborah Andrews and David Schlachet. The addition to the board of David Schlachet is very telling. Mr. Schlachet is the former chairman and chief executive officer of Syneron Medical Ltd., an Israeli aesthetic medical device company.
Mr. Schlachet clearly brings valuable experience to the table when it comes to understanding the medical-aesthetics market. If Renevia achieves success in its pivotal trial scheduled for later this year and obtains CE Mark approval, commercialization as a best-in-class aesthetic product could be achieved relatively quickly, particularly if BioTime partners with a company like Syneron.
Key Risks
As a developmental-stage biotech company, BioTime operates at a loss while pursuing the commercialization of products and therapies that will generate revenue. There are no assurances those therapies will be successful. While Renevia shows promise as a potentially best-in-class aesthetic product, a pivotal trial has not been initiated, and there's no guarantee efficacy will be demonstrated.
The longer it takes for BioTime to bring therapies to market, the more dilutive capital raises will be required to operate the business. BioTime has been fortunate to have the support of long-term shareholders and institutional investors, which minimizes the volatility of more toxic financing arrangements. However, dilution is a fact of life.
Conclusion
BioTime's grand strategy for the future of age-related regenerative medicine consists of integrating pluripotent stem cells with biomatter in order to enhance the therapeutic effect of cell replacement. HyStem, in combination with BioTime's extensive stem cell lines, provides the perfect foundation to achieve its strategy. However, developmental-stage biotech companies spend decades working to develop therapies, getting them into the clinic, and finally to commercialization.
An investor's goal is to maximize return on investment, and in the long run, it's difficult for a developmental-stage biotech's science to keep up with the dilution required to generate enough capital to support the operation. BioTime's Renevia strategy provides a shorter pathway to profitability, while advancing the science forward.
I'll conclude with my usual disclosure. Investing in developmental-stage biotechs is highly speculative and risky. The road to commercialization is long and full of peaks and valleys. Take profits when offered, and most importantly, diversify.
Disclosure: I am long BTX, ACTC. I wrote this article myself, and it expresses my own opinions. I am not receiving compensation for it (other than from Seeking Alpha). I have no business relationship with any company whose stock is mentioned in this article.